Kings calling for Haula to be suspended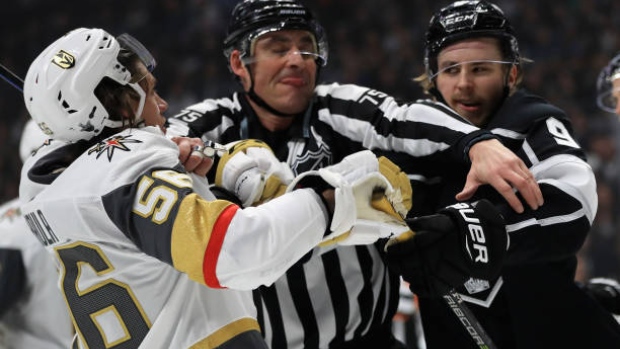 Vegas Golden Knights forward Erik Haula may be hearing from the league's department of player safety on Monday after striking Anze Kopitar in the face with the butt-end of his stick on Sunday night.
The incident occurred in the second period of Game 3, when Haula struck the Los Angeles Kings forward after being checked to the ice.
Haula, 27, did not receive a penalty on the play and Kings head coach John Stevens sounded off on the Golden Knights forward after the game.
"We get a guy suspended for making a hockey play, and he [Haula] butt-ends one of the best players in the world in the face with the butt end of his stick," Stevens said. "So, if I was confused before, I'm bewildered now. That's an intent-to-injure play … you guys make the judgment, because it's a bunch of BS, to be honest with you."
As Stevens mentioned, the series between the two teams has already seen one player suspended as Drew Doughty missed Game 2 for a hit to the head of William Carrier. The Golden Knights took a 3-0 series lead with their 3-1 win on Sunday night.
Haula, who has one goal in the postseason this year, has never been suspended in his five-year career.