Kings place C Richards on waivers
The Los Angeles Kings waived Mike Richards on Monday, finally shaking up their relationship with the veteran centre who has lost his scoring touch. A person familiar with the move informed The Canadian Press and The Associated Press on Monday on condition of anonymity because the Kings had not announced the decision.
with TSN.ca Files, The Canadian Press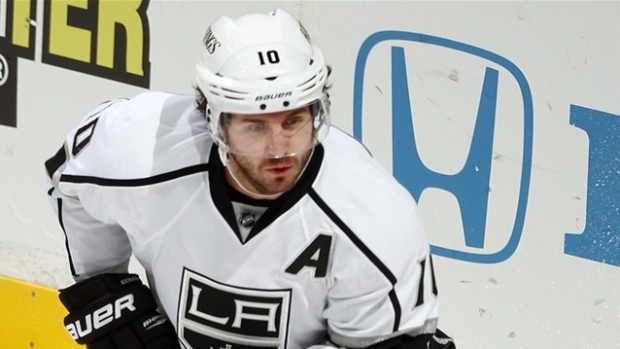 LOS ANGELES, Calif. - The Los Angeles Kings waived Mike Richards on Monday, finally shaking up their relationship with the veteran centre who has lost his scoring touch.
A member of Cup-winning teams with the Kings in both 2012 and last season, Richards is in the seventh year of a 12-year deal that comes with an annual cap hit of $5.75 million per season. He's being paid $7 million this season, with $6 million, $5.5 million, $4.5 million, $3 million and $3 million in each year.
If Richards clears waivers and is sent to Manchester of the American Hockey League, $925,000 of his $5.75 million cap hit comes off the Kings' cap and Richards would represent $4.825 million of dead cap space.
"I don't expect him to get picked up on waivers," Kings general manager Dean Lombardi told TSN Hockey Insider Pierre LeBrun on Monday. "But, there's still time here. He knows what he has to do. That part I am not questioning. The way the schedule is down there, it allows him to get his innings in and conceivably he could be back here. That's the way we're approaching this. That's the short term. On the long term, he could be a different player. If you remember when Teemu Selanne when he went to Colorado it looked like he was done. He looked done. But all of sudden things changed. He went on for a longer career. They're different players but I see no reason why this can't happen here, either."
Richards has been a key part of the Kings' two Stanley Cup championship teams in the past three seasons, playing a responsible two-way role and providing leadership. But his plummeting offensive production hasn't matched his exorbitant contract for years in Los Angeles, which acquired him from Philadelphia in 2011.
Richards, who turns 30 next month, has only five goals and 10 assists in 47 games with Los Angeles this season. He has a minus-7 rating and has won only 48 per cent of his faceoffs while playing on a depth line with the Kings — not the numbers expected of a player with a $5.75 million annual salary cap hit for the next six seasons.
Los Angeles coach Darryl Sutter and general manager Dean Lombardi have ardently defended Richards and his declining offence in recent years, but Lombardi finally made the move long anticipated by Kings fans after apparently trying to trade Richards in recent weeks.
Richards scored 89 goals over three seasons with the Flyers from 2007-10, and the club signed him to a 12-year, $69 million contract extension in December 2007. The Kings traded Wayne Simmonds and Brayden Schenn for Richards when Philadelphia general manager Paul Holmgren decided to break up his core by trading his captain and goal-scorer Jeff Carter, who ended up being reunited with Richards in Los Angeles several months later.
Richards' contract still runs through 2020. His scoring production has dropped every year since 2010, down to just 11 goals last season.
The Kings missed an opportunity to use a compliance buyout on Richards over the summer.
The Kenora, Ont., native became the first hockey player to win Olympic gold, world-junior gold, the Memorial Cup and Stanley Cup. He was part of the 2010 Canadian Olympic team that won gold in Vancouver.
In 704 career NHL games, Richards has 133 goals and 216 assists. His career high in points was 80, back in 2008-09 with the Flyers.
The Kings' payroll already has been squeezed this season by the suspension of defenceman Slava Voynov. If Richards clears waivers and gets sent to the AHL, the Kings would clear $925,000 in cap space.
The defending Stanley Cup champions are in need of a lineup spark after hitting the All-Star break in ninth place in the Western Conference. Los Angeles slumped into the break, losing four straight and seven of eight.
Los Angeles is likely to recall youngster Nick Shore to take Richards' roster spot.