Kings trade Pearson to Penguins for Hagelin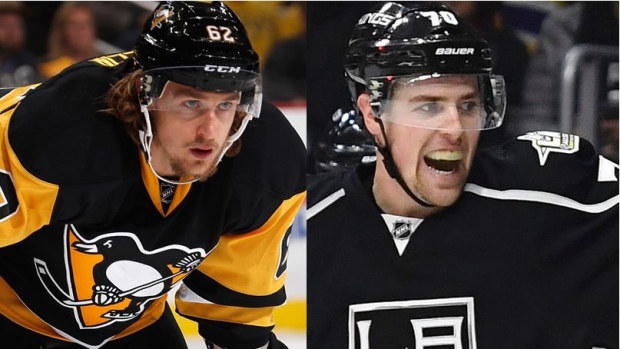 The Los Angeles Kings traded winger Tanner Pearson to the Pittsburgh Penguins on Wednesday for foward Carl Hagelin.
Pearson has just one assist in 17 games this season with a minus-9 rating. He carries a $3.75 million cap hit through the 2020-21 season. The 26-year-old, who scored a career-high 24 goals in 2016-17, had 15 goals and 40 points last season. He was drafted 30th overall by the Kings in 2012.
"He's off to a slow start this year, but he's had a good career," Penguins general manager Jim Rutherford said of Pearson on Wednesday. "I believe a change will be good for him and he'll be a good fit for us. He's a little younger than Carl, he's locked into a contract for a couple of years that we like.
Hagelin, 30, has one goal and three points in 16 games this season with a plus-8 rating. He carries a $4 million cap hit this season in the final year of his current deal, though TSN Hockey Insider Pierre LeBrun adds the Penguins retained $250,000 to make the deal an even swap in salary this year.
The Kings sit last in the NHL this season with 11 points through 17 games, while the Penguins are seventh in the Metropolitan Division with 17 points in 16 games.
"This could be the start of more changes. We'll see how it goes," Rutherford added. "The way things have gone, it's obvious that we had make a change. I feel bad - Hagelin is a popular guy. I like him a lot personally. He was part of winning a Cup... but changes are necessary."
Hagelin was traded to the Penguins by the Anaheim Ducks in 2016 and won back-to-back Stanley Cups with the team in 2016 and 2017. He had 10 goals and 31 points in 81 games last season.
Rutherford added some excitement to his media conference for his three-year contract extension with the Penguins earlier on Wednesday, when he announced the trade was coming. The general manager said he couldn't elaborate on who'd been traded, but told members of the media, "See you guys in about a half hour."