Koe downs Jacobs to win All-Star Skins title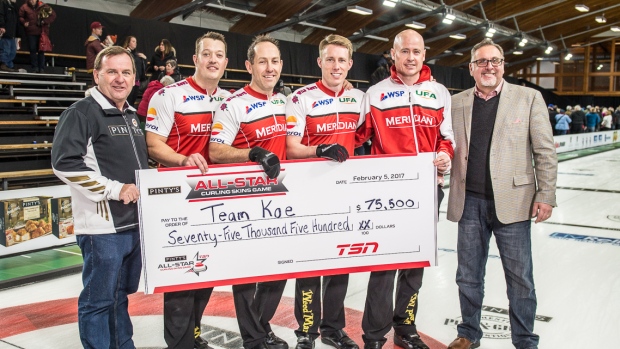 Team Koe earned $57,000 in skins to defeat Team Jacobs in the men's final at the Pinty's All-Star Skins Game in Banff, Alberta.
The team of Kevin Koe, Marc Kennedy, Brent Laing and Ben Hebert earned a grand total of $75,500 throughout the competition.
Brad Jacobs and his rink of Ryan Fry, E.J. Harnden and Ryan Harnden earned $12,500 on their quest for a third straight title.
Koe started strong, opening the draw with a steal in the first end, then forcing Jacobs to make a runback pick for a carry-over in the second. With the last rock of the third, Koe drew the lid to score two and increase his lead to $7,000. Koe scored another steal in the fourth when Jacobs attempted a soft tap back and couldn't move it far enough. The final stone of the fifth went to a measurement, confirming Jacobs was too heavy on his draw, and the skin went for a carry-over. After Jacobs missed a runback with his last rock of the sixth, Koe was able to draw the full eight-foot for a skin and double his lead to $20,000. After the seventh end went for a carry-over, the championship was on the line in the eighth and final end, but Koe's draw secured him a single point, resulting in a carry-over, setting the stage for a draw to the button for the title.
Koe's flawless throw secured the championship.