Komarov healthy, may not dress for Game 7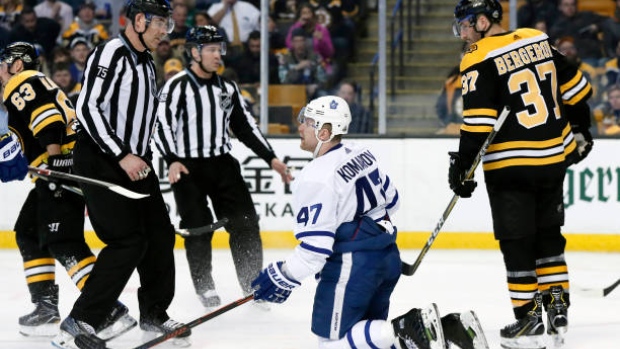 Toronto Maple Leafs head coach Mike Babcock said Tuesday winger Leo Komarov has been cleared to play Game 7, but it's unclear if he'll crack the team's lineup.
Komarov sustained a lower-body injury in Game 2 of the first round series against the Boston Bruins and has not played since. Babcock said Sunday the injured winger was at 85 per cent and had not been cleared for Game 6. He did, however, take warmups with the team before the 3-1 win on Monday.
Babcock he will make a decision on whether Komarov will play on Wednesday morning. He noted he was concerned about throwing the 31-year-old into the high stakes winner-take-all game in his return from injury.
Andreas Johnsson has filled Komarov's spot in the lineup and Leafs have overhauled their lines since his injury. Johnsson, who did not play in Game 1, has one goal and two points in the series. Johnsson played on a line with Tomas Plekanec and William Nylander in Game 6. He played with Nylander and Nazem Kadri in Game 5.
Komarov scored seven goals and posted 19 points in 74 games during the regular season.
While the Leafs held only an optional skate on Tuesday - which Komarov took part in - the Bruins had a full practice and used the opportunity to shake up their lines.
Danton Heinen moved up to the second line with David Krejci and Jake DeBrusk, while Rick Nash dropped down a line to join Riley Nash and David David Backes. Heinen served as a healthy scratch in Game 6, when Tommy Wingels took his spot in the lineup. Wingels was practising on the extra forward line Tuesday:
Marchand - Bergeron - Pastrnak
DeBrusk - Krejci - Heinen
Rick Nash - Riley Nash - Backes
Schaller - Kuraly - Acciari
Donato - Gionta - Wingels
Game 7 will take place Wednesday night in Boston.