Koskinen contract the latest perplexing decision in Edmonton
Peter Chiarelli's tenure as Oilers general manager ended with a risky multi-year deal to a goalie with very limited NHL action on his resume, Travis Yost writes.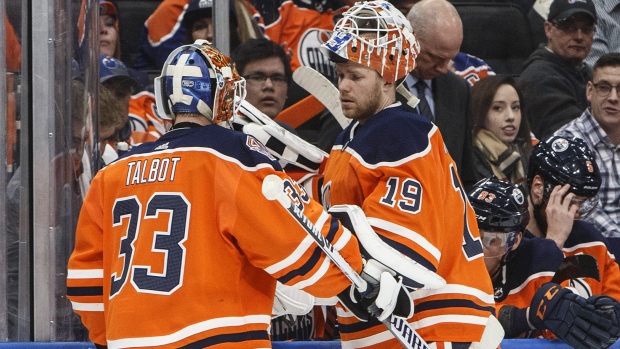 Peter Chiarelli's tenure as the Edmonton Oilers general manager is over. His reign was bookended by two of the most perplexing decisions of his three-and-a-half-year stint.
On the front end, you had the ill-fated decision to trade a bona fide first-line winger and future Hart Trophy candidate Taylor Hall to the New Jersey Devils for a second-pairing defenceman in Adam Larsson. The deal was perplexing for a multitude of reasons, not the least of which was the fact that Hall was tremendously (and consistently) productive in every single season with the Oilers.
Whichever way you slice the deal, the Oilers made a critical misevaluation. Either they thought Hall wasn't as valuable as his Oilers' career statistically showed, or they believed Larsson would develop far more than he has during his time in Edmonton. Perhaps it was a combination of the two factors.
A few minutes after the deal was announced, I remarked that the trade was a fireable offence. Turns out that was an appropriate forecast of Chiarelli's future with the team.
Any front office is capable of making a move that backfires. The analytics community was sharply – and rightly – critical of the Hall deal, but that was one move in a vacuum. To me, the real grade of a general manager's performance needs to focus on the entire body of work.
Chiarelli's body of work, of course, was objectionable – from the Jordan Eberle trade, to the Griffin Reinhart deal, to the poisonous seven-year contract for Milan Lucic, there was comprehensive evidence that the Oilers general manager was failing.
There is something poetic about Chiarelli's last move as Oilers' general manager being comparatively perplexing. Thirty hours before his termination, Chiarelli completed the negotiations to extend goaltender Mikko Koskinen on a three-year, $13.5 million deal with the oversight of the rest of the Oilers organization.
Koskinen has certainly been respectable for the Oilers this season, but another sizable cap hit – and at the goaltender position – for a team already up against the ceiling? It seemed curious. Whether or not Chiarelli had exclusive say or partial say on the extension, the reality is the front office signed off on this move to improve the long-term outlook of this team.
The underlying facts of the contract are concerning. Koskinen has played all of 32 games in his NHL career; four of them with the Islanders in 2010-11 and another 28 with the Oilers in 2018-19. In those 32 games, he has faced 708 shots at 5-on-5 and has posted a 91.3 save percentage.
On the surface 700 shots may seem like enough to get a feel for a goaltender's true talent. But that's not true. Consider Cam Talbot, Koskinen's counterpart in Edmonton. Talbot, who is around the same age, has faced 6,500 5-on-5 shots in his career. So in a vacuum, we should be about nine times more confident in what type of goaltender Talbot is than Koskinen.
Using similar methodology as Brian Macdonald (former director of analytics for the Florida Panthers), we can come up with reasonable approximations of each goaltender's true talent when it comes to stopping shots. As I mentioned earlier, we would expect that Talbot's band is much tighter in nature due to the impressive sample size of data we have with him relative to Koskinen, who is effectively a rookie.
Here is our best guess on each of the two Edmonton goalies:
Our best guess for Koskinen right now is a goalie who can stop about 92.0 per cent of shots he faces at 5-on-5. But the range on that forecast is quite wide. To the 95 per cent confidence interval, we could reasonably expect Koskinen's performance to finish somewhere between a goalie stopping 91.1 per cent of shots and 92.8 per cent of shots. If that seems like a wildly variant forecast, it is. We just don't know much about Koskinen as a player in this league. Moreover, we've seen goalies play like this in the past – some of them end up evolving into journeymen roles, others establish themselves as starters. At any rate, it's close to impossible to know what to make of Koskinen right now.
Contrast that with a player like Talbot, who has nine times the sampling data. We assess his true talent save percentage around 92.2 per cent, but our band is much narrower – somewhere between 91.9 per cent and 92.7 per cent. The ceiling for Koskinen is marginally higher than Talbot, but the floor is much more daunting. Talbot has fully established himself as a goaltender in this league on the base of thousands upon thousands of shots.
I bring up Talbot for a couple of reasons, but the key point here is that this contract reeks of desperation and recency bias. Even if the Oilers felt there was a soft future goaltender market and believed they had to overpay on the position, it's not clear why they would target a player with such limited NHL action for a fairly sizable and obviously risky multi-year deal.
Quite frankly, I think the better bet is that Talbot rebounds after this poor season than it is that Koskinen becomes a bona fide starter in this league, which is really what Edmonton is betting on now.
It's this type of move that has killed Edmonton over, and over, and over. It is death by a thousand paper cuts on their salary cap situation and an overpay for performance that hasn't even been there – if not because Koskinen hasn't been a great player this season, then because we just have so little performance data on the player.
While I don't think you can nail Chiarelli on this transaction (mostly because the organization publicly stated on Wednesday that they surveilled the contract and agreed with it), it speaks to a larger issue within the franchise – one that suggests an inability to properly assess and evaluate talent.
The next Oilers general manager, whoever it ends up being, will have his work cut out for him.