Latest updates on COVID-19 and the sports calendar
As more cancellations and postponements are announced across the sporting world as precautions against the outbreak of COVID-19, TSN.ca keeps you abreast of the latest news. The NHL has supended operations.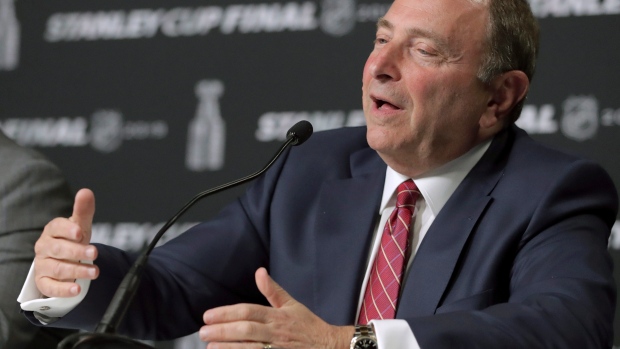 As more cancellations and postponements are announced across the sporting world as precautions against the outbreak of COVID-19, TSN.ca keeps you abreast of the latest news.
(All time ET)
---
8:23 - Adam Silver announces hiatus will be at least 30 days
The NBA will be on hold for "at least 30 days," commissioner Adam Silver announced Thursday night.
When asked if it is possible that the season would not continue, Silver responded with "Of course it's possible. I just don't know more at this point."
Adding, "At this point we're just waiting, one of the things we want to do during this hiatus is address how we want to use this time. Will the players stay in their market, will they be rejoining their families, what's the best way to keep them safe, best way to keep them in shape. All of those things are still on the table."
7:16 - XFL cancels regular season
The XFL will not be playing the remainder of the regular season, the league announced.
There is no word about the postseason.
4:16 - NCAA cancels remaining winter and spring championships
The NCAA announced that all winter and spring championships have been cancelled, a list that includes both men's and women's Division 1 basketball tournaments.

3:58 - Bellator to run show, but closed to public
TSN's Aaron Bronsteter reports that Bellator 241 will still take place on Friday, but it will be behind closed doors.
The show will still be held at Mohegan Sun Arena in Montville, CT with a main event of Patricio "Pitbull" Freire defending his featherweight crown against Pedro Carvalho.
---
3:57 - CHL to suspend operations
The CHL had its conference call and also decided to follow suit with almost every other league in North America and suspend the season.
TSN Hockey Insider Darren Dreger notes that players have been given permission to return to their homes.
---
3:55 - MiLB will also suspend operations, delay start to the season
Echoing the MLB, Minor League Baseball has also delayed the start to its season.
---
3:50 - Women's world curling championship cancelled
Set to start on Saturday, the women's world curling championships to be held in Prince George, B.C., have been cancelled.
This marks the cancellation of all three major winter tournaments to be held in Canada with the world figure skating championship and the women's world hockey championship having already been cancelled.
---
3:11 - MLB OFFICIALLY ANNOUNCES POSTPONEMENT OF REGULAR SEASON
MLB commissioner Rob Manfred released a statement on Thursday afternoon announcing the official suspension of the remainder of spring training and a postponement of the regular season by at least two weeks.
Spring training games are suspended as of 4pm Thursday. World Baseball Classic qualifiers have also been postponed indefinitely.
"MLB and the Clubs have been preparing a variety of contingency plans regarding the 2020 regular season schedule," a statement read. "MLB will announce the effects on the schedule at an appropriate time and will remain flexible as events warrant, with the hope of resuming normal operations as soon as possible. Nothing is more important to us than the health and safety of our players, employees and fans. MLB will continue to undertake the precautions and best practices recommended by public health experts. We send our best wishes to all individuals and communities that have been impacted by coronavirus."
---
2:55 - IIHF U-18 tournament officially cancelled
TSN Hockey Insider Bob McKenzie spoke with IIHF president Rene Fasel who confirmed to him that the men's U-18 worlds have officially been cancelled.
The tournament was scheduled for Ann Arbor and Plymouth, MI for next month.
Fasel noted that it's likely that all other IIHF tournaments for April will also be cancelled, but nothing will be determined until Tuesday when a members' conference call is scheduled.
---
2:36 - MLB to ask players to stay put
The New York Post's Joel Sherman reports that the MLB will ask players to stay at each team's respective spring training sites in Florida and Arizona.
The logic in doing so is that players will still have access to medical personnel and can work out at team facilities, as well. It also means they won't be spreading across the country.
This, of course, is not binding.
---
1:54 - Duke suspends athletic operations - UPDATE: Kansas does the same
Duke has announced the suspension of all athletic operations.
What is interesting about this is that Duke's athletic director, Kevin White, is also the NCAA Tournament Committee chair, which could suggest the way the NCAA will lean when it comes to make a call on March Madness.
---
1:50 - NHLPA releases statement on the NHL's suspension of operations
The NHLPA has responded to the decision to suspend league operations.
"The decision to temporarily suspend play due to the COVID-19 pandemic is an appropriate course of action at this time," the statement read. "The NHLPA will continue to closely monitor this very dynamic situation and remain in daily discussions with the league, our medical consultants, and our players regarding all aspects of this matter. The players are looking forward to the opportunity to resume play in front of hockey fans everywhere."
---
1:45 - BioSteel All Canadian Games postponed
The BioSteel All Canadian Games, the annual event that features the best Canadian high-school basketball talent, has announced a postponement of their events originally scheduled for March 27 to 29 in Toronto.
This was to be the sixth edition of the showcase.
---
1:36 - OFFICIAL STATEMENT FROM GARY BETTMAN
"In light of ongoing developments resulting from the coronavirus, and after consulting with medical experts and convening a conference call of the Board of Governors, the National Hockey League is announcing today that it will pause the 2019‑20 season beginning with tonight's games.
"The NHL has been attempting to follow the mandates of health experts and local authorities, while preparing for any possible developments without taking premature or unnecessary measures. However, following last night's news that an NBA player has tested positive for coronavirus – and given that our leagues share so many facilities and locker rooms and it now seems likely that some member of the NHL community would test positive at some point – it is no longer appropriate to try to continue to play games at this time.
"We will continue to monitor all the appropriate medical advice, and we will encourage our players and other members of the NHL community to take all reasonable precautions – including by self-quarantine, where appropriate. Our goal is to resume play as soon as it is appropriate and prudent, so that we will be able to complete the season and award the Stanley Cup. Until then, we thank NHL fans for your patience and hope you stay healthy."
---
1:32 - CFL cancels CFL Combine, regional combines
The Canadian Football League has announced the cancellation of all of its combines - regional editions in Montreal and Edmonton, scheduled for Friday and next Friday respectively, as well as the March 26 to 28 main combine in Toronto.
"Here at the CFL, we are optimistic by nature," commissioner Randy Ambrosie said in a statement. "We remain very hopeful that circumstances will allow us to resume our normal activities soon and well in advance of our regular season, which is scheduled to open June 11."
---
1:30 - NHL SEASON HAS BEEN SUSPENDED
The NHL season has been suspended. More to come.
---
1:15 - MLB EXPECTED TO SUSPEND OPERATIONS
Major League Baseball is expected to formally announce a suspension of operations at some point Thursday.
ESPN's Jeff Passan reports that the decision was made during an owners conference call earlier Thursday, meaning that spring training will be suspended and the opening of the regular season will be delayed, as well. Passan says that it's a formality at this point.
---
12:47 - Heyward lays bare his fears
Chicago Cubs outfielder Jayson Heyward says COVID-19 is bigger than sports.
"I'm more worried about going and saying hello to my parents," Heyward said. "They're 62, 63 years old. I got teammates with kids. Relatives. I'm just more worried about that - the safety of everyone else that may not be able to fight it off."
---
12:26 - Pac-12 suspension carries over to all sports
On top of the Pac-12 cancelling their basketball tournaments, the conference announced that other sports have been affected by the coronavirus.
Every ongoing sport, including baseball and soccer, has been suspended.
UPDATE: The SEC follows suit.
---
12:20 - GRAPEFRUIT LEAGUE TO SUSPEND SPRING TRAINING
Major League Baseball is expected to announce the suspension of spring training in the Grapefruit League, reports MLB Network's Jon Heyman.
The Toronto Blue Jays are among the 15 clubs who have their camps in Florida.
---
12:15 - City postpones Champions League tie
Manchester City announced on Thursday that next Tuesday's return leg in the Champions League Round of 16 against Real Madrid has been postponed.
The match was set for the Etihad with City carrying a 2-1 aggregate lead into the match.
---
12:05 - Multiple NCAA conference tournaments cancelled
The SEC, Big Ten and AAC have all announced that their conference tournaments have been cancelled.
UPDATE: Big 12, Pac-12 and WAC have also cancelled their tournaments.
As of right now, the Big East tournament is ongoing.
---
12:02 - PGA to close galleries
PGA commissioner Jay Monahan announced that The Players will continue on without spectators.
The policy will remain in effect through April 2 to 5's Texas Open.
---
11:55 - NFL teams to take precautions
ESPN's Adam Schefter reports that multiple teams are talking about shutting down their training facilities.
The 2020 NFL Draft remains scheduled for April 23.
---
11:44 - MLS issues statement
MLS announces it is suspending its season for 30 days.
---
11:39 - WNBA issues statement
Though the league is not in season, the WNBA issued a statement on Thursday as to where the league stands right now.
"The health and safety of players and employees – with our teams and at the league level – is of the utmost importance," said commissioner Cathy Engelbert. "With regard to COVID-19, we are in touch with the teams, consulting with infectious disease specialists and monitoring guidance from the CDC and WHO. The WNBA is currently not in season, but together with the WNBPA and teams, we have been in close communication and will continue to connect with and offer resources to players in the U.S. and those playing overseas.
In addition, we continue to scenario plan around our upcoming events and season including the 2020 WNBA Draft scheduled for April 17, the start of training camp on April 26 and the tip of the WNBA season on May 15. Further details will be shared later this month."
---
11:34 - NLL TO SUSPEND PLAY
The National Lacrosse League has announced a suspension of its season.
"The National League has is in the interests of our fans, our players, coaches and our to temporarily suspend play until further notice due to concerns over COVID-19," a statement read. "We will continue to evaluate this situation and remain in constant communication with health, team, and league officials across North America and safety is our top priority and focus in these challenging and unprecedented times and we will to provide updates on resumption and rescheduling of play as they are determined."
---
11:31 - CHL to issue update later Thursday
The Canadian Hockey League is meeting on Thursday to discuss the next steps for the league and will provide an update at a later time.
The league announced president Dan MacKenzie will meet with David Branch, Gilles Courteau and Rob Robison, the respective commissioners of the OHL, QMJHL and WHL, later on Thursday.
---
11:28 - Redskins suspend travel
Washington Redskins owner Dan Snyder announced on Thursday that travel had been suspended for team staff.
"Due to health and travel concerns surrounding COVID-19, Redskins have informed all coaches and scouts to suspend all travel until further notice," a statement read.
---
11:06 - Mitchell only Jazz player to test positive
Some good news, I guess?
The Athletic's Shams Charania reports that Donovan Mitchell was the only person of 58 players/personnel/media to test positive for the coronavirus from the 58 tests administered in Salt Lake City on Wednesday night.
---
11:00 - MLS TO SUSPEND SEASON UNTIL FURTHER NOTICE
Major League Soccer will suspend its season until further notice with an announcement forthcoming, reports SI's Grant Wahl.
Week 3 of play was set to begin on Saturday with both Toronto FC and Vancouver Whitecaps set for action.
---
10:49 - Mitchell tests positive
A second Utah Jazz player has tested positive for the coronavirus.
ESPN's Adrian Wojnarowski reports that Donovan Mitchell has tested positive for COVID-19 with Jazz players blaming the infection on Rudy Gobert's carelessness in the locker room touching other players and their belongings.
---
10:42 - TFC training cancelled
Toronto FC's morning training session has been called off.
As of right now, the team is still set to host expansion side Nashville SC at BMO Field on Saturday, but obviously, the situation remains fluid.
---
10:40 - IIHF worlds still a go as of now
The International Ice Hockey Federation denied a report from earlier on Thursday that the men's world championships set for May in Switzerland have been cancelled.
"There has been no change in the status of the tournament at this time," it said in a statement.
For now, the tournament is still set to begin on May 8.
---
10:27 - ATP ISSUES SIX-WEEK SUSPENSION
The ATP has announced a six-week suspension to its tour due to the outbreak of the corona virus.
With the suspension, the following events have been cancelled - the Miami Open, U.S. Men's Clay Court Championships in Houston, the Grand Prix Hassan II in Marrakech, the Monte Carlo Masters, the Barcelona Open and the Hungarian Open.
These cancellations come on the heels of the cancellation of the BNP Paribas Open in Indian Wells, CA, announced earlier this week.
"This is not a decision that was taken lightly and it represents a great loss for our tournaments, players, and fans worldwide," said ATP chairman Andrea Guadenzi in a statement. "However we believe this is the responsible action needed at this time in order to protect the health and safety of our players, staff, the wider tennis community and general public health in the face of this global pandemic. The worldwide nature of our sport and the international travel required presents significant risks and challenges in today's circumstances, as do the increasingly restrictive directives issued by local authorities. We continue to monitor this on a daily basis and we look forward to the Tour resuming when the situation improves. In the meantime, our thoughts and well-wishes are with all those that have been affected by the virus."
---
10:21 - Gabbiadini tests positive
A second Serie A player has tested positive for the coronavirus, according to multiple reports.
Sampdoria and Italy forward Manolo Gabbiadini has tested positive on the heels of Juve defender Daniele Rugani's diagnosis on Wednesday.
Gabbiadini played 61 minutes in the team's 2-1 win over Verona on Sunday.
---
10:15 - Leicester players in quarantine
Leicester City manager Brendan Rodgers announced on Thursday that three of his first-team players have entered self-quarantine after showing symptoms consistent with the coronavirus.
The Foxes sit third in the Premier League table and were 4-0 victors over relegation-threatened Aston Villa on Monday.
Leicester is set to visit Watford on Saturday.
---
10:00 - All morning skates across the NHL have been cancelled according to TSN Hockey Insider Darren Dreger.
This also applies to team meetings and practices, TSN Senior Hockey Reporter Frank Seravalli adds.
Dreger also reported earlier on Thursday that the NHL was expecting to hold a conference call around 1:00 p.m. ET to discuss next steps.
More to come.