Leaf teammates taking note of Matthews' drive
Frederik Andersen was asked if he senses an increased maturity in Auston Matthews so far this season. "He's more hungry," Andersen told reporters Monday after Matthews picked up four points against Montreal. TSN's Mark Masters explains what Matthews has brought to camp to begin his sophomore season.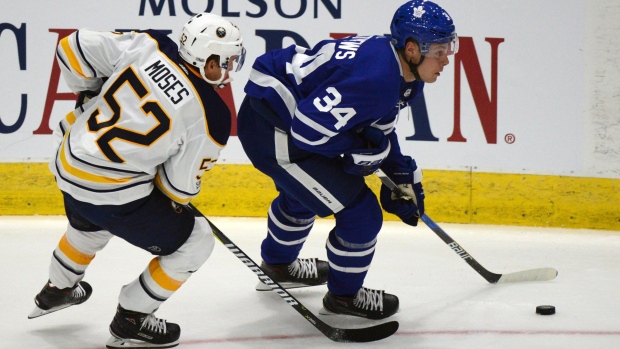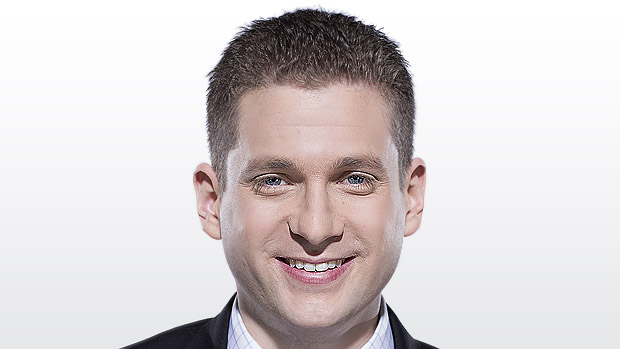 Frederik Andersen was asked if he senses an increased maturity in Auston Matthews so far this season. "He's more hungry," Andersen told reporters Monday night after Matthews picked up four points against Montreal. "He's hungry to be better. He's not satisfied with what he did in the first year."
In the Leafs' dressing room, that "hungry" description rings true.
"That's the word that comes to mind," said defenceman Connor Carrick. "He looks super poised to take a run at anybody in terms of what his ceiling is and the conversation of players he wants to be in. It's very clear where he's heading. It's easy for us to see it."
How to best describe Matthews and what he's accomplished at such a young age has become an almost daily discussion for fans, media and even some players. Last week, Sabres centre Jack Eichel, a friend of Matthews, raised eyebrows by telling PostMedia, "I think Auston has a bit of a confidence and a swagger to him. He's got a bit of that, 'F— you!' mentality in him. And that's a good thing. He doesn't think he has to owe anyone anything."
Perhaps that has to do with growing up in relative obscurity in Arizona. Everywhere he went early in his career, people wondered what the kid could do. "There was a lot of that growing up until I was basically at the (US Development) Program," Matthews said.
"I think that's just how I've always been," he added. "Nothing's really ever been given to me. You got to work for everything that you earn. I want to be the best player I can be and with that you need to have confidence, you need to have confidence in yourself and your teammates and have a good work ethic."
Matthews has proven himself time and time again. Now, it's time to show he can build off last year's incredible 40-goal debut.
"He's a real improved player," head coach Mike Babcock said. "His skating through the neutral zone from a year ago to now is night and day. His confidence without the puck so he has the puck all the time is way better. He's just a much better player."
Matthews, Rielly hope summer skills camp boosts competitive edge
Babcock will often say his players need to earn the right to feel confident and Matthews has done just that. He attended a skills camp run by Leafs player development consultant Darryl Belfry in the summer.
"He's an elite player and he's pushing harder to get better," said Babcock. "Whether that's by working with Belfry or working with his nutritionist or his strength coach or working with other people, he's doing everything he can to get better."
And despite the swagger Eichel noted, Matthews remains humble. On Tuesday, he came in No. 10 on TSN's list of the NHL's top 50 players. Matthews was the biggest climber in the rankings.
"It's tough to put myself that high, put myself in front of a lot of players that are on that list, because one year doesn't make a career," he said. "But, yeah, it's obviously, at the same time, a pretty big honour to be in the same sentence, same category as some players on the list."
A new No. 1: McDavid edges Crosby in TSN's Top 50 player poll
It's likely Matthews will be even higher on that list next season.
"You can just tell, Mats is just, he's hungry," Carrick said. "It's demeanour. It's command of the way he's coming into faceoffs, the speed that he's attacking through the neutral zone, less looking for permission to be that player that he is."
Connor McDavid is the top-ranked player on the TSN list. He led the NHL in scoring in his second season. Matthews was asked if he has any specific goals set for his sophomore campaign.
"I have goals, yeah, for myself," he said.
Want to share them?
"No," he said with a smile.
***
After declining interview requests on Monday, defenceman Ron Hainsey met briefly with the media on Tuesday.
"I'll start for you," Hainsey said before a question could be asked. "I'm not going to talk about anything political so if you want to ask a hockey question, shoot."
After a couple awkward seconds of silence, Hainsey smiled and said, "I figured that'd be quick," and walked away.
Hainsey was part of Pittsburgh's Stanley Cup-winning team last season and has yet to say if he'll join his old Penguins teammates when they travel to the White House for a ceremony with President Donald Trump.
***
Kasperi Kapanen is in a tough fight to make the Leafs. The team is incredibly deep on the wings and the speedy Finn doesn't have to pass through waivers to be sent to the AHL. Considering Kapanen scored a couple big goals down the stretch last season, including a double OT winner against the Capitals, that seems like a bitter pill to swallow. But Kapanen refuses to get down on himself. Why?
"I've had some ups and downs, but just looking at my dad's career and how he got to the NHL, you know, mine's nothing compared to his. I just try to push myself every day and be like him," Kapanen said.
Sami Kapanen was passed over a couple times before the Hartford Whalers took a chance on the undersized winger in the fourth round of the 1985 draft. He went on to play 831 NHL games and 87 more in the playoffs.
"He was told two or three times that he'd get drafted in the first or second round and then he didn't get drafted at all and every time he'd come back and he went straight to the gym and started working out. So, stories like that make you want to push that much harder."
***
In his introductory news conference as Leafs head coach, Babcock famously said that pain was coming. Now, just starting his third season in Toronto, the bench boss was asked if it's safe to say the pain is done with.
"I wouldn't say that. I coached lots of good teams in Detroit. We had 124 points (in 2005-06), fifth best of all-time and we lost in the first round of the playoffs (against Edmonton). I mean, there's lots of things that can happen. There's no guaranteed success."
For the moment, Babcock's focus is on staying "steady on the rudder." It's clear he wants to stop any sense of complacency from setting in despite all the positivity in the marketplace.
"I said it to the players, as your talent base grows so does your work ethic ... and your preparation has to grow too if you want to have success. To think you can skill your way around the rink, you can't. You got to put your work in first."
The Leafs have won three straight pre-season games, but Babcock wasn't thrilled with how the group played late in the game on Monday. And the coach is quick to point out that the competition for the few jobs available is far from over. After getting a couple questions about Miro Aaltonen, who appears to have the inside edge for the fourth-line centre job, Babcock noted that Dominic Moore and Eric Fehr would get a chance to play and make a statement.
On the defence side, Roman Polak is also progressing although he won't play on Wednesday when Toronto travels to Quebec City to face the Habs.
***
Lines in 10am practice
Rychel-Mueller-Kapanen
Martin-Aaltonen-Brown
Johnsson-Greening-Soshnikov
Lindberg-Smith-Grundstrom/Clune
T. Moore
Marincin-Carrick
Rosen-Holl
Valiev-Polak
Paliotta-LoVerde
McElhinney
Sparks
Lines in 11:30am practice
Hyman-Matthews-Nylander
van Riemsdyk-Bozak-Marner
Marleau-Kadri-Komarov
Leivo-Moore-Fehr
Rielly-Hainsey
Gardiner-Zaitsev
Dermott-Borgman
Nielsen-Liljegren
Andersen
Kaskisuo