Leafs continue to cool down in loss to Blues
The Maple Leafs' high-flying offence grounded to a halt for the second straight game on Saturday night in a 4-1 loss to the St. Louis Blues, and Toronto is reeling for answers on how to adjust to a league that's rapidly adjusting to it. TSN Maple Leafs reporter Kristen Shilton has more from Toronto.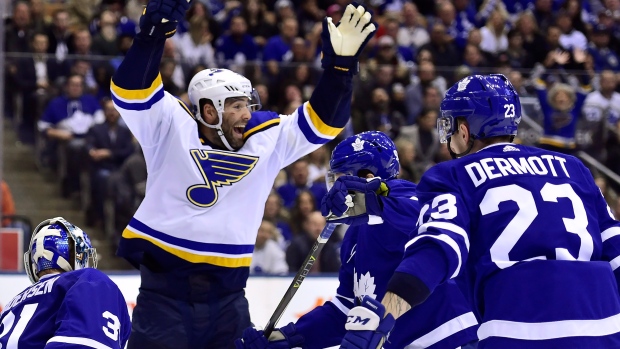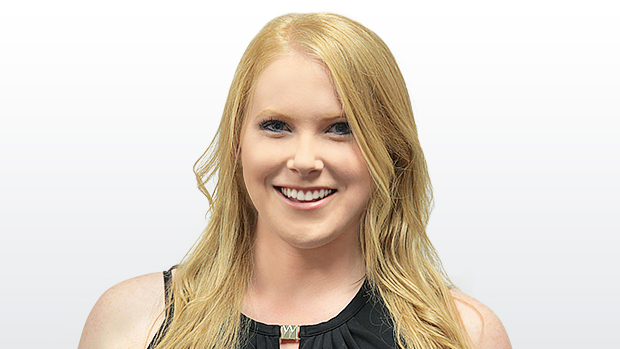 TORONTO – The Maple Leafs' high-flying offence grounded to a halt for the second straight game on Saturday night in a 4-1 loss to the St. Louis Blues, and Toronto is reeling for answers on how to adjust to a league that's rapidly adjusting to it.
Earlier this week, Toronto was leading the NHL with 33 goals-for and riding a five-game win streak. Then Pittsburgh blanked the Leafs 3-0 on Thursday, and St. Louis played a similar air-tight game for over two periods on Saturday. The Leafs went 116:37 without scoring a goal until Morgan Rielly finally ended that slump in the third frame, but it was too little, too late for the Leafs to rebound.
"We're figuring it out…that we scored early [in the season], we scored when it was pretty loose and everything was great," said Mike Babcock. "Now we're finding out it's the NHL, it's hard to score, teams can be hard on you, teams adjust and play you hard. So we have to get our mojo back by going back to work. It's not good enough."
The first period was slow for both teams, where they combined for only 10 shots in a goalless frame. After 40 minutes, Toronto had doubled its shot total from four to eight, but were trailing St. Louis 3-0.
Just like Pittsburgh, the Blues held the Leafs to the outside, played them physically along the boards, won most of the puck battles and didn't yield much ice for the likes of Auston Matthews or John Tavares to exploit. St. Louis got bodies to the net, like on Robert Bortuzzo's opening score that went off a stick, and capitalized on the Leafs' mistakes.
"We have to do a better job, obviously," said Rielly. "[Fewer] turnovers, playing off the cycle a little more. Get it in and grind a little more than we did tonight. It starts with clean breakouts…and more talk to one another. The better we do that, the better we get through the neutral zone and the better off we'll be."
Possession-wise the game was fairly even, with Toronto holding a marginal 52 per cent advantage, but the Leafs held a 21-9 edge in giveaways that helped doom their hopes of a comeback time and again.
Toronto's timing on passes never seemed right, and Babcock tried tinkering with his lines in the third period to find some momentum. He briefly tried Mitch Marner on a line with Matthews and leaned heavily on Rielly (24:37 TOI) and Jake Gardiner (22:06 TOI) as a pairing, but neither that nor a couple of power play chances with 7:19 to go in the final frame netted the Leafs what they were looking for.
"There have been some adjustments by a couple of our opponents, and they're competing hard," Tavares said. "We didn't generate a whole lot tonight, starting with myself. All we can do is try to put this one behind us and move forward. We know we're going have some tough games. We have to battle through that…and establish our game."
"Once you play a couple games and watch videos of other teams, you're able to prepare a little better," Rielly added. "And maybe that's on us to do a better job as players to prepare ourselves to be ready for the start of games."
To solve some of their emerging problems, Babcock said he may decide to stick with the instinctive lineup changes made Saturday. But with the Leafs' next game not until Wednesday, there's plenty of time to figure out how, exactly, they can combat this dry spell and get back in the win column.
"[St. Louis] was above the puck, numbers at their line, inside, working hard, competing hard," he surmised. "But that's the NHL. You can't expect it to be like it was [in the beginning]. We got off to a good start and we haven't been as a good as we need to be to be successful. Let's get it turned around and get feeling good about ourselves."
Takeaways
Difficult day for Dermott-Ozhiganov
Through Toronto's first eight games, Travis Dermott has shown nice progress from his rookie season playing on the Leafs' third pairing with Igor Ozhiganov. Saturday's performance illustrated where they still have room to improve as they finished a collective minus-five in the loss. Dermott was on the ice and directly involved with all of the Blues' first three goals scored, while Ozhiganov was out for two. In the second period, Dermott lost his battle along the boards that set up Bortuzzo's shot, and then in defending Brayden Schenn in front of the net, Dermott inadvertently tipped the puck past Andersen for the game's opening score. On St. Louis' second goal Dermott lost the puck battle with David Perron and then lost his stick before Perron teed up Zach Sanford's goal to make it 2-0 St. Louis. Dermott's second penalty kill outing was a struggle as well, when both he and Rielly failed to clear the zone and then appeared to miscommunicate in both trying to win the puck from Patrick Maroon along the boards, which set up Ryan O'Reilly's goal just as the man advantage expired. Rielly said after that "a number of things happened" on that play without identifying any specific confusion.
Once Babcock started rolling with Rielly and Gardiner for most of the second half of the third period, Dermott and Ozhiganov didn't see as much action. Dermott finished at 17:17 TOI with one shot on goal, while Ozhiganov was at 14:00 TOI and zero shots.
No help for Andersen
Saturday was the second straight game the Leafs failed to provide goal support for Frederik Andersen, but unlike Thursday's loss, Andersen didn't provide a 36-save performance to keep his team alive through 57 minutes. By the end of the second period against St. Louis, Andersen had ceded three goals on 13 shots, for a .769 save percentage. The game had started well enough for him with some key saves including a superb one on the power play against sniper Vladimir Tarasenko late in the first period. When the Leafs were down 1-0, Andersen's post-to-post stop on Schenn (set up by Tarasenko) could have been a game-changer if Toronto managed to get back in the game, but it was right after that Sanford easily went high glove to put the Leafs in a 2-0 hole. Down by three goals in the third, Toronto roared back with 15 shots on goal to challenge the Blues, and Andersen made all 11 stops at the other end, but the damage was done. After playing so well against the Penguins two nights before, making 21 saves for an .875 save percentage is in line with the up-and-down start to Andersen's October. In his seven starts, he's posted a save percentage above .900 three times.
Beginner's luck
All four of the Blues who scored on Saturday (Bortuzzo, Sanford, O'Reilly and Ivan Barbashev) notched their first goals of the season in the game.
Welcome back, Bozak
For the first nine years and 612 games (regular season and playoffs) of his NHL career, Tyler Bozak was a Toronto Maple Leaf. On Saturday night, he played against the Leafs team for the first time ever, as a member of the Blues. Bozak signed a three-year, $15 million deal with the Blues as a free agent last July, and brought his whole family back to town for his Toronto homecoming. The Leafs celebrated Bozak's tenure with a 42-second videoboard tribute (a nod to his jersey number in Toronto) and the gathered fans gave Toronto's former alternate captain a long, loud standing ovation. Bozak looked a tad emotional as he saluted the crowd, and got back to the business at hand on the ice.
Blue and White Trending
Tracking Leafs' trends all season long
Against St. Louis, Toronto's power play went without a goal for the second straight game. The Leafs also gave up the first goal of a game for the seventh time in nine games this season.
Next up
The Leafs hit the road to visit the Winnipeg Jets on Wednesday.
Open "Mike"
"We'll look at it carefully, without emotion, and we'll see."
- Mike Babcock post-game, in response to how he's going to change his lineup following Saturday's 4-1 loss to the Blues. ​