Leafs F Booth practices for first time since breaking foot on Sept. 28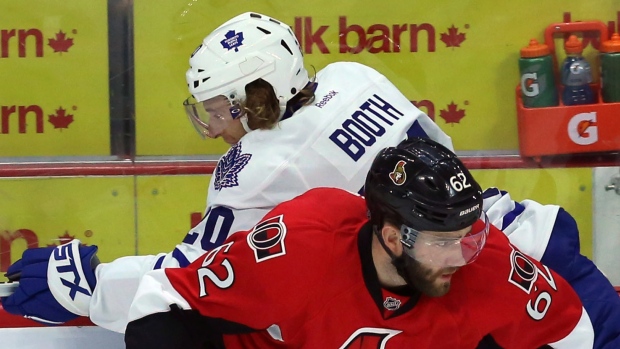 David Booth is inching closer to his first regular-season game as a member of the Toronto Maple Leafs.
The forward, who signed a one-year deal this past summer, participated in practice for the first time Monday since breaking his right foot blocking a shot in a preseason contest against the Buffalo Sabres on Sept. 28.
Head coach Randy Carlyle said there is no timeline for Booth's return and that he would need a few more practices before he is ready for game action.
In other injury news, forward Joffrey Lupul has yet to join the club for any on-ice workouts since breaking his hand on Oct. 30.
Lupul's timetable had him returning to practice around the three-week mark - this coming Saturday - however it is not likely he will be on schedule in the healing process.
The 31-year-old Alberta native hit the ice without his teammates in full equipment for the first time since his injury on Nov.8, skating with strength and conditioning coach Anthony Belza, but he did not shoot any pucks.
Lupul has two goals and an assist with six penalty minutes in nine games this season.
PRACTICE LINES:
van Riemsdyk - Bozak - Kessel
Winnik - Kadri - Clarkson
Komarov (Booth) - Holland - Santorelli
Panik - Smith - Leivo
Phaneuf - Franson
Gardiner - Polak
Rielly - Robidas
Bernier/Reimer
Injured: Booth (foot), Kozun (ankle), Lupul (hand)