Leafs favour experience over youth as roster trimmed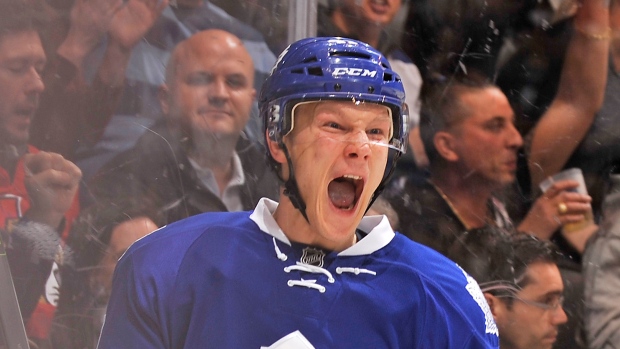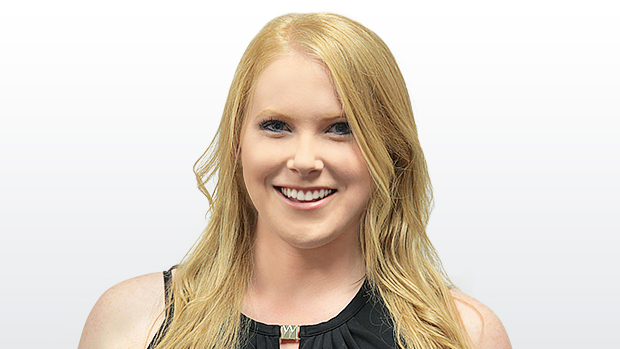 The Toronto Maple Leafs' youth movement may not be over, but it's no longer the main focus.
Nikita Soshnikov and Kasperi Kapanen were NHLers at the end of last season, but an excess of veteran wingers put the youngsters back in the AHL Monday when Toronto trimmed its roster.
Rookie Miro Aaltonen, who had a solid preseason in his quest for a fourth-line centre job, was also sent to the Marlies in favour of keeping veterans Eric Fehr and Dominic Moore for the Leafs to decide between. For now, the kids will have to wait.
"You're just honest with them," general manager Lou Lamoriello said of sending NHL-ready players to the minors. "Both Sosh and Kap, they've played extremely well. Unfortunately there's a business decision involved because they have the ability to go down [without] waivers. When you have the depth we have right now, you have to make those decisions. But they're knocking on the door; they'll be back in the NHL."
The writing was on the wall for Soshnikov and Kapanen since last summer, when the addition of Patrick Marleau and lack of subtraction anywhere else on the wings put them on the outside looking in. Short of an injury, nothing would have earned them a roster spot ahead of veterans the Leafs would risk losing.
Winger Josh Leivo is in a similar situation, but without the added benefit of being waiver-exempt. He spent almost the entire season with Toronto last year, and was scratched for all but 13 games. While Soshnikov and Kapanen will at least get the opportunity to play, Leivo appears destined for the press box as a victim of the numbers game again.
"He's here because we believe in him, we believe in his abilities," Lamoriello said of Leivo. "He's a National Hockey League player. The question is just about waiting for his time and going from there."
As a centre, Aaltonen found himself in a different conversation than the wingers. Of the three guys fighting for the fourth-line job, he arguably played best these last two weeks. But the 24-year-old, who spent last season with the KHL's Podolsk Vityaz, also made more mistakes than Fehr or Moore, which was the ultimate tipping point.
"[Fehr and Moore] are veterans, they know how to play," said Leafs head coach Mike Babcock. "I thought Aaltonen had a really good camp, he's real competitive. We expect him to be back. But Fehr and Moore right now, just because they know the league and they're reliable, that's what we've decided to do."
"He had an outstanding camp," Lamoriello added of Aaltonen. "It was a very difficult decision we all had to make. When time is on your side, you use it, and you never have to worry about bringing up a player a little late rather than too soon."
The Leafs were less cautious a year ago, when six rookies populated their opening-night roster and eight played at least 20 games over the course of the season. Indications now are Toronto will have just a single freshman on the roster when the season opens Wednesday in Winnipeg – Andreas Borgman or Calle Rosen.
The Swedish defencemen, who signed with the Leafs this off-season, survived Monday's cuts, but to avoid risking losing Moore, Fehr or Leivo, Toronto will carry just seven blueliners. Four of those spots appear spoken for already by regulars from last year and veteran addition Ron Hainsey is the fifth.
Martin Marincin has been on the bubble throughout camp, but would require waivers too, while Rosen and Borgman do not. It's not inconceivable that Marincin is waived, but his penalty-killing abilities suggest he'll get one last shot to prove himself.
"I'm happy I made it this far," Borgman said. "Now I just want to work hard, keep going and hopefully I'll be on the roster every day. [I've been] a little bit nervous, but you know how to play hockey. Maybe not here to the fullest, but you're getting there."
Rosen is a stronger skater than Borgman, which lends itself well to the Leafs' system, but Borgman's physicality adds an edge to Toronto's blueline. Both are strong puck movers. Choosing between them will be the toughest decision the front office has to make out of this camp.
"We knew of their abilities. In Borgman's case, he was [the Swedish Hockey League's] Rookie of the Year by the end of the year," Lamoriello said. "In Rosen's case, he played in an elite league and people had an eye on him. [Director of Player Evaluation] Jimmy Paliafito was following him for a long period of time. We obviously haven't been disappointed."
The Leafs have until 5 p.m. Tuesday to submit their final 23-man roster to the NHL. Babcock has said several times over the course of camp they may not get the roster chemistry right immediately, and if that's the case there will be no hesitation in making a change.
Should that be needed, Toronto hasn't had a pool of talent this deep to substitute from in years.
"We're a long way from sorting it all out, but it gives us a place to start," Babcock said. "We have time so we're buying it. It's very tight…in deciding what we have to do. There's a business side to the game too, so we'll work it all out."
Futures of Polak, Liljegren up in the air
What makes the Leafs final roster pare down a bit easier is that two of the three cuts needed to be made are essentially already done.
Defencemen Roman Polak and Timothy Liljegren remain on the 26-man slate, but neither will be part of the active roster come Wednesday. Polak remains in Toronto on a Professional Tryout, and can stick around the Leafs as a practice player indefinitely without counting towards the roster. He can also opt to leave and sign with another NHL team at any time.
Polak is still working his way back from a fibula break in Game 2 of the first round of the Eastern Conference playoffs last April. He appeared in one preseason game with Toronto after participating in all of training camp.
"He asked to come back and try to see where he was at," Lamoriello said. "There's a good chance he might stay for a while, continue to work out, but he's certainly not back to where he was when he left. That injury he had was some injury. To be where he is today, it's amazing. As far as what the future brings, I wouldn't know. I wouldn't be surprised if he stayed and practised."
Liljegren can either return to Rogle BK of the Swedish Hockey League or remain with the Marlies. The 18-year-old, who was the Leafs' first-round draft choice in June, was also drafted by the OHL's Niagara IceDogs, but Lamoriello has removed any possibility of him taking the junior route.
Liljegren appeared in two preseason games for the Leafs and showed further signs of improvement after getting a feel for the Leafs system at July's development camp. Like the rest of their young players, the Leafs aren't in any hurry to move Liljegren along.
"There's been no decision on Timothy yet," Lamoriello said. "His progress has been outstanding. Right now, while we have some time, we'll just use it. He'll practise with the Marlies and we'll make a decision in a short period of time."​