Leafs hold off Senators for third straight win
The Toronto Maple Leafs got a scare from the lowly Ottawa Senators Wednesday night en route to registering their third consecutive victory prior to embarking on a six-game road trip, Kristen Shilton writes.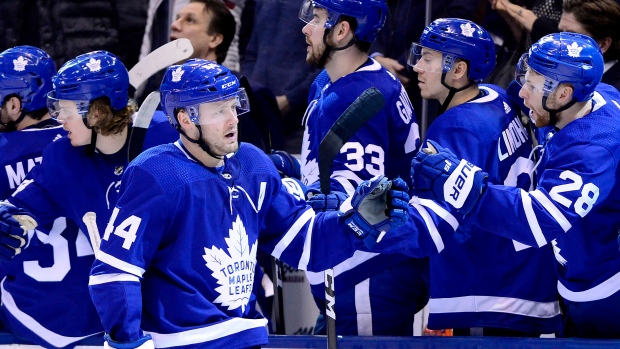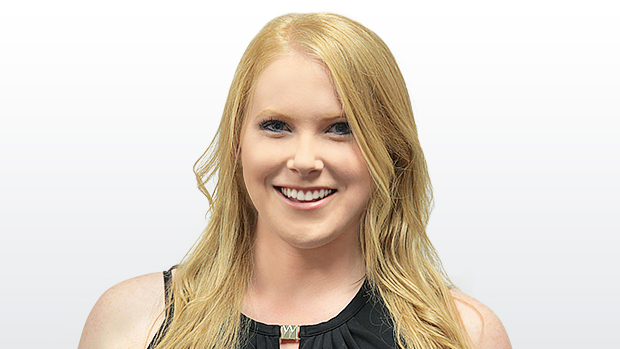 TORONTO – In the afterglow of the Maple Leafs' 5-4 win over the Ottawa Senators on Wednesday night, head coach Mike Babcock arrived for his media press conference wearing a sly grin.
"That was entertaining, eh? Fans left happy."
The Atlantic Division bout was far too entertaining for Babcock's blood, though. It was a 60-minute affair replete with four lead changes, eight different goal-scorers and too much general disarray from the Leafs against the NHL's last-place team.
The opening 10 minutes by Toronto suggested the night would be long for Ottawa, with the Leafs dominating in every facet and jumping out to a 9-1 lead in shots and 1-0 lead in goals courtesy of Zach Hyman. From there out, the Leafs alternated short spurts of tenacity with lagging dips in execution.
"The bottom line is I thought we were really ready to play, thought we were playing well," Babcock observed. "And then we just got careless and never really seemed to be able to get it back. When you're a good team and you win games, sometimes they're not very pretty but you still won. When we get up tomorrow and look at the standings, it's going to look pretty."
Recently, matchups against the NHL's bottom teams haven't frequently broken Toronto's way. Before Wednesday, the Leafs were 1-4-1 against clubs not in playoff position since Jan. 14, and it took until the final whistle Wednesday for them to hold off the lowly Senators.
The difference in this outing compared to when Toronto routed the 26th-place Anaheim Ducks 6-1 on Monday is Anaheim didn't show as much effort as the Senators, something the Leafs were tasked with trying to match.
"It's the NHL. It doesn't matter who you're playing on any given night, doesn't matter what the standings say," said Auston Matthews, who tallied his 24th goal of the season. "They're going to work hard and they're going to give you a game…[and] we just stopped playing. It's good for us to learn from that, and come out with the two points."
After Mitch Marner set up Hyman's game-opening goal with a slick two-on-one feed, the crispness in Toronto's game was gone, and Magnus Paajarvi pounced with his first of two goals to tie the game 1-1 after 20 minutes.
In the second period, Matt Duchene scored shortside on Frederik Andersen to give the Senators a lead, and in quick succession Toronto had to kill a four-minute double-minor to Jake Gardiner.
That special teams success wasn't the momentum swing Toronto was looking for, though; that came from Andreas Johnsson's game-tying backhand score. Over the span of four minutes, the Leafs went from trailing 2-1 to leading 4-2, off goals by Johnsson, Matthews and John Tavares.
Less than four minutes into the third, that two-goal cushion was gone again, erased by goals from Thomas Chabot and Paajarvi in a rapid 3:19. Paajarvi had only six points in 50 games entering Wednesday's contest, but gave Toronto all it could handle.
"I think sometimes you start to get to this time of year and some teams that are down in the standings, they start to play with a little bit of an [attitude] like, might as well go for it all," Tavares said. "There's no reason to hold back with the way their season has gone. They have a lot of guys that are motivated and they have a ton of talent."
Morgan Rielly ended the back-and-forth once and for all midway through the third, securing the game-winner off a feed from Hyman, and giving Toronto its third straight win.
"There were periods of the game where we felt really good about how we were playing," Rielly mused. "That being said, there were parts where we got away from our game plan a little bit. But I think, for the most part, there were some good things that happened and the end result is what you want."
Not only did the victory keep Toronto's winning streak alive, it showed resiliency the team previously lacked while not registering a single back-to-back win through late December and January. If Wednesday is what it looks like when the Leafs are turning a corner, as messy as it was, they'll take it.
"It's a different time of year [now]; these games are important," said Rielly. "The points on the line are big so we're motivated. We understand what's at stake. We're prepared. That's really the only difference.
"We feel good about where we're at, we have confidence and it's just a matter of working hard and making sure we're ready to play every night."
TAKEAWAYS
Real good, Rielly
With his game-winning goal, Rielly established a new career-high in points with 53, accrued in only 53 games. That puts him on the third-best point-per-game pace among defencemen in the NHL.
Whatever means necessary
If it weren't for a series of improbable stops Andersen made in the second period, the deficit Toronto was climbing out of in that frame against Ottawa would have been even greater, and perhaps even insurmountable.
After a fine first period, Andersen raised his game with a difficult stop on Brady Tkachuk from in tight, halting the winger's shot with his knee right before it fully crossed the goal line. Later in the frame, after a regrettable sequence by Andersen where he deflected a puck that temporarily impaired Nikita Zaitsev right before Duchene's goal, the goalie executed his most acrobatic stop, going from sitting position to leaning into a kick-save and holding off the Senators' attack.
Babcock couldn't help but joke about the move ("When you start making the save when you're on your back and the puck is behind the net, it's probably going to be ugly") but with so little room for error against Ottawa, Toronto needed Andersen to come up big when it mattered.
Toronto's netminder was the far busier of the two, facing 44 shots to Craig Anderson's 30, and Andersen did have his own lapses, like on Chabot's goal off the cycle in the third and being beat shortside multiple times. In the game's frantic final minute, though, he didn't break, and had enough big moments to deliver a victory. Andersen recorded a .909 save percentage on the night.
Money in the bank
One day after Matthews inked a new five-year, $58.17 million contract with Toronto, the centre showed off what makes him such a unique talent.
With Toronto riding a wave of momentum off Johnsson's goal, Matthews spied an opening of his own – holding a loose puck, the centre danced through multiple sticks in front of Anderson before roofing a puck over the goalie and giving the Leafs back their lead.
Matthews isn't always the most effusive celebrator, but on his occasion he didn't hold back, yelling "let's go, baby!" in a clear sign of relief his line was finally showing some life. His unit with Patrick Marleau and Kasperi Kapanen struggled throughout the game against the Senators' tight forecheck, producing a team-low 33 per cent possession.
Matthews acknowledged their issues after the game, but was pleased to have still contributed something, and it's that ability Matthews has to turn seemingly nothing into something that Toronto hopes will only continue to grow over his career.
Speaking of contract talks, Marner didn't seem remotely troubled by the drama surrounding his contract situation on Wednesday. The winger had two highlight-reel worthy assists on Hyman's and Tavares' goals, while that line dominated possession at 59 per cent. Marner's three shots on goal was tied for second-most among Leafs.
This is 500
For the first 496 games of his NHL career, Jake Muzzin was a steady, hard-hitting defenceman for the Los Angeles Kings. For the last four games, he's been a steady, hard-hitting defenceman for the Leafs, and it was in just his fourth game since being traded to Toronto last week that Muzzin celebrated the 500th game of his NHL career on Wednesday.
The milestone outing didn't pass without a dash of drama for the Woodstock, Ont., native, either. While Muzzin was trying to take the shot away from Chabot in front of Andersen, the Senators' rookie defenceman collided with Muzzin's head and sent Toronto's blueliner straight to the dressing room.
Muzzin didn't return to the Leafs' bench until just over three minutes remained in the opening frame, after having undergone concussion protocol. Toronto has come to rely on Muzzin already, and his absence from the Leafs' backend was apparent.
When he did get back, Muzzin wasn't as effective as in his first three games with Toronto, being credited with a team-high four giveaways in 18:27 time on ice. He still finished plus-1, with three shots on goal, a solid showing for his landmark evening.
Blue and White Trending
Tracking Leafs' trends all season long
After giving up 44 shots on goal to the Senators Wednesday, the Leafs have allowed 40 or more shots against in back-to-back games for the first time this season.
Next up
Toronto takes on the Canadiens in Montreal Saturday, the first stop on a six-game, 12-day road trip.
Last Word
"It isn't something I was really thinking about, up until just now. We have lots of hockey left, we have lots of important games down the stretch. There are more important things to be thinking about."
– Morgan Rielly, on setting a new career-high in points with 53 on Wednesday