Leafs lean on depth with Matthews out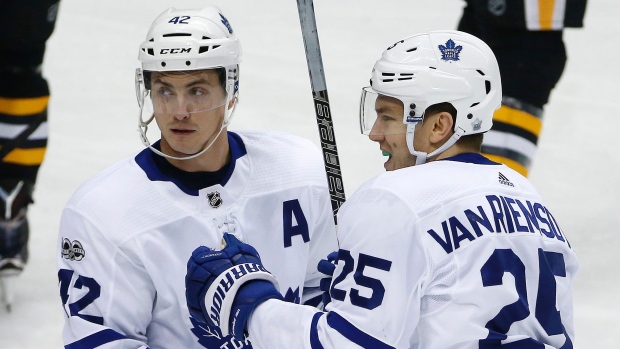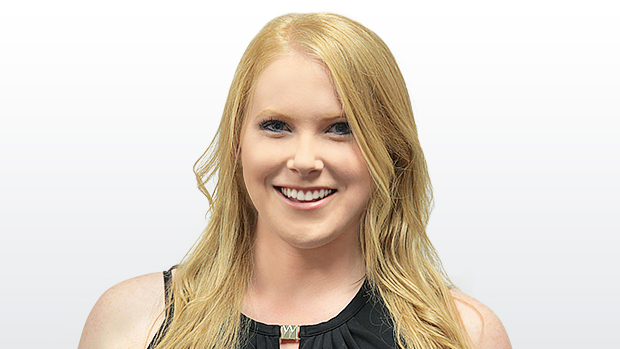 TSN reporter Kristen Shilton checks in daily with news and notes from Maple Leafs practices and game-day skates. The Maple Leafs held a morning skate Tuesday at Wells Fargo Center before facing the Philadelphia Flyers.

For the sixth time this season, the Maple Leafs will be without leading scorer Auston Matthews.
The sophomore will sit out his second consecutive game while nursing an upper-body injury suffered in Saturday's win over Pittsburgh. While not confirmed, it seems likely Matthews was shaken up after colliding with teammate Morgan Rielly late in the third period. He finished the game, and coach Mike Babcock said afterward he thought his top-line centre was fine.

That didn't end up being the case, and Matthews was held out of Sunday's 1-0 win over the Edmonton Oilers with what Babcock deemed "bumps and bruises." Matthews did join the Leafs on their three-game road trip but wasn't on the ice for the morning skate in Philadelphia.

"I think he's playing [on this trip]. He's day to day, so I think he's playing every day," said Babcock. "Day to day is normally 10 days, but we'll go day to day until he's ready. But he's here this morning and doing everything. But he didn't skate and he's not playing."
Asked if Matthews went through concussion protocol following the incident with Rielly, Babcock responded, "Well I don't know exactly what happened there but I didn't know he had a concussion."
William Nylander had slotted in to replace Matthews at centre on Sunday for the first time this season, but being on the road without last change, Babcock put Patrick Marleau back in the middle ahead of Tuesday's game.
----

It's a rarity that a team can play just as well, if not a bit better, without its best player in the lineup, but the Leafs have a pristine 5-0-0 record when Matthews sits out. While his offensive skill set has stolen the Leafs a few victories this year, when they don't have that to lean on, Matthews' teammates are finding another level of their own games to draw from.
"[Auston]'s a huge part of our team. You can't really replace what he brings to the table," said James van Riemsdyk. "So you try to do some things maybe a little differently as far as team wise, and we have to make sure our details are good and we're not giving anything up for free. When you have the depth that we have, it gives guys a chance to play a little bit bigger role. It's a healthy thing and it creates that kind of healthy competition. I think we have guys who can slot in to different spots because of all the depth we have."
The terrific goaltending Toronto has gotten from both Frederik Andersen and Curtis McElhinney has played a major role in their winning six of their last seven games, but without Matthews, the Leafs have even less offence to counter with. That's when improved defensive play has to be a priority.
"I think the group is starting to grasp what we need to do away from the puck as well, but we're still getting better at it," said Marleau. "I think obviously with Auston out a lot of that offensive power isn't there, so being focused on all the other areas of the game helps us out."
Admitting there is pressure on the rest of the team to fill the void left by Matthews, Marleau touched on how the recent extended road trips (Toronto had played 12 of their last 20 games on the road and will play eight of their next nine away) have helped bolster the team's overall chemistry.
"We've been on the road a lot so I think that helps," he said. "It's a chance for us to go out to dinner together and hang out in hotel rooms so you get to know each other a little bit better. Playing in the system for a little while, too, you get to know where everyone is going to be out there and we've definitely felt a little more comfortable with each other."
----
As soon as van Riemsdyk was asked about making yet another return to Philadelphia to face his former team, the winger couldn't help but smile.
Van Riemsdyk was the Flyers' second-overall pick in 2009 and skated in the Stanley Cup Final with them as a rookie, losing to the Chicago Blackhawks. In 2012, the Flyers shipped van Riemsdyk to Toronto after just three seasons. While his time in Philadelphia was brief, he still looks back on it fondly.
"It's always fun, fun to come back here," he said. "Have some good memories from playing here and living here for a few years. You remember certain things when you walk down the hallway and different games over the years. It's always special coming back here."
The Flyers and Leafs are the only NHL clubs van Riemsdyk has played for to this point, but that could change come July 1 if he hits unrestricted free agency. Van Riemsdyk put together a career season last year with 62 points and currently leads the Leafs in goals (14) and is third in points (21) in another strong campaign.
In 12 meetings with the Flyers since being traded, van Riemsdyk has five goals and two assists. After missing the season's first matchup in October with an injury, he'll be looking to add to that tally Tuesday. The Flyers' home crowd is notorious for vocalizing their displeasure when the team isn't playing well, and van Riemsdyk could surely expect a few boos if he does light the lamp.
"Yeah, yeah," he said with a knowing smile about the tough home crowd. "I'm sure it's an interesting atmosphere. The fans here are very passionate about all their sports teams."
----
The Leafs made a minor roster move early Tuesday when Nikita Soshnikov was placed on injured reserve with a lower-body injury and Kasperi Kapanen was recalled from the Toronto Marlies. It seems unlikely Kapanen will play on the road trip unless there's an injury, but the timing of the call-up, right when the Leafs were travelling to his de facto hometown growing up, couldn't have been better.
While the family technically resided in New Jersey at the time, Kapanen spent several of his formative years watching father Sami play for the Flyers from 2002-08.
"It's always going to be a special place for me to be in," Kapanen said. "My dad played here for a while and just being on the ice again, and seeing the seats I sat in when I was little, it brings back a lot of memories."
The Flyers' long-time dressing room attendant spotted Kapanen first thing Tuesday morning, even before his recall had been announced. He couldn't resist reminiscing with Kapanen about his dad's time with the club.
"If you have a person like that who works here for such a long time, of course it's going to be something special [to see him]," Kapanen said. "It was great seeing him today and having a quick chat. There are a lot of memories for me in this city."
The attendant won't be the only familiar face Kapanen sees by the end of the night.
"I made some friends [living in the area]," he said. "I'm going to see a buddy of mine tonight which is nice. I haven't seen him in a while so that puts a smile on my face."
----
Projected lineup vs. Philadelphia:

Hyman-Marleau-Brown
Komarov-Kadri-Nylander
van Riemsdyk-Bozak-Marner
Martin-Moore-Leivo

Rielly-Hainsey
Gardiner-Zaitsev
Borgman-Polak

Andersen
McElhinney