Leafs RFA Brown: 'We'll get it figured out'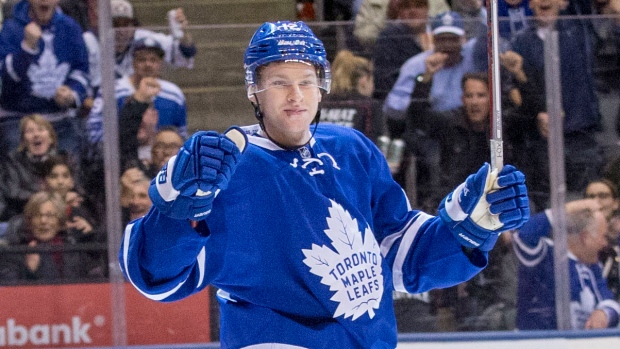 Connor Brown is lone remaining restricted free agent on the Toronto Maple Leafs roster, but he insists he's not feeling the pressure to get a deal done.
Brown was at the Nazem Kadri Charity Golf event on Thursday and said he's keeping his focus squarely on improving for next season.
"You gotta control the controllables, and I'm going to do my part, which is go to the gym every day and it'll all take care of itself," Brown said.
Brown said he's leaving contract negotiations to his agent and the Maple Leafs but said he doesn't believe it's a big deal that he doesn't yet have a contract in place.
"Obviously it's my first time going through something like this," Brown said of restricted free agency. "I don't think it's as stressful as the media would make it out to be. I'm very confident things will get sorted by season time. We'll get it figured out."
Brown scored 20 goals and added 16 assists in 82 games as a rookie last season. He posted one assist in the team's first-round playoff series against the Washington Capitals.
The 2012 sixth-round pick spent seven games with the Leafs during the 2015-16 season, scoring one goal and adding five assists. He spent the majority of that season with the Toronto Marlies, scoring 11 goals and posting 29 points in 34 games.
Fellow restricted free agent and teammate Zach Hyman signed a four-year, $9-million contract with the Maple Leafs in early July. Hyman, who will carry a $2.25 million cap hit, scored 10 goals and added 18 assists while playing alongside Auston Matthews last season.
Brown is one of 19 restricted free agents in the NHL who have not signed a contract for the upcoming season. David Pastrnak, Leon Draisaitl and Bo Horvat, all of whom also scored 20 or more goals last season, are also awaiting deals.