Leafs trade Soshnikov to Blues for 4th-Rd pick
The Toronto Maple Leafs have traded forward Nikita Soshnikov to the St. Louis Blues in exchange for the Blues' fourth-round pick in the 2019 NHL Entry Draft. The Blues announced the trade on Thursday evening, saying that Soshnikov will report to the team once he attains a U.S. work visa.
Kristen Shilton, TSN.ca Staff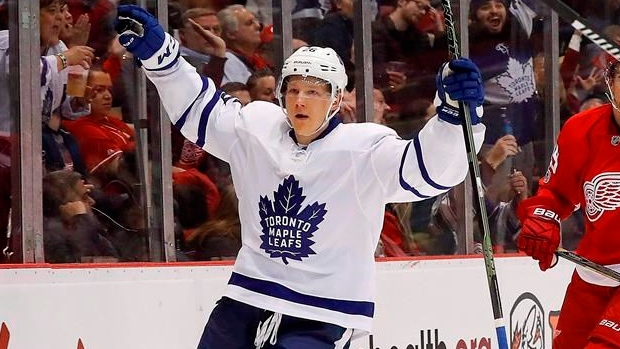 TORONTO — The Toronto Maple Leafs announced on Thursday that forward Nikita Soshnikov has been traded to the St. Louis Blues in exchange for a fourth-round pick in the 2019 NHL Entry Draft.
Soshnikov has been on Injured Reserve since Dec. 12 with a lower-body ailment. In preparation for his return to the Leafs' active roster, Soshnikov rejoined the team last Monday following a five-game American Hockey League conditioning stint.
He told TSN.ca on Tuesday that he was feeling "pretty good" and just needed a couple practices before he'd be ready to return to game action.
When the time came for Soshnikov to be activated, the Leafs were facing a roster crunch that meant one of Kasperi Kapanen, Josh Leivo or Matt Martin would have to be returned to the AHL, waived or traded in order to make room on the active roster.
Per a contract clause negotiated by former general manager Dave Nonis, Soshnikov was free to return to the KHL – where he had played two seasons with Atlant Moscow Oblast – if he wasn't on an active NHL roster by early November this season. That tied the Leafs' hands in terms of making room for him as an extra forward.
The 24-year-old Russian was originally signed by the Leafs to a three-year, entry-level contract as a free agent in March 2015. Soshnikov made his NHL debut under new head coach Mike Babcock the following season, appearing in 11 games and tallying two goals and three assists.
Last season, Soshnikov started the season on IR but went on to appear in 56 games, producing five goals and four assists before a concussion sustained against Boston in late March ended his season.
Toronto's organizational depth at the winger position was the catalyst for Soshnikov starting the 2017-18 season with the Toronto Marlies, where he had 17 points in 19 games. At the time, general manager Lou Lamoriello and Babcock both said Soshnikov was NHL-ready – they simply didn't have space for him.
The Leafs' recalled Soshnikov before the KHL clause set in and he skated in three contests for Toronto, registering no points, before he suffered the lower-body injury that's kept him on the sidelines since late November.
For Soshnikov, this trade means a fresh start with a team that could use some scoring depth of its own and where he has a chance to potentially have an impact when he's healthy. He is expected to report to the Blues within 7 to 10 days, after he's able to acquire a U.S. work visa.
The winger's agent, Dan Milstein, tweeted on Thursday of the trade, "[Nikita] would like to thank the entire Leafs organization for everything they have done for his development. He is extremely excited for the next chapter with the St. Louis Blues."