LeBron, Kyrie ready for round two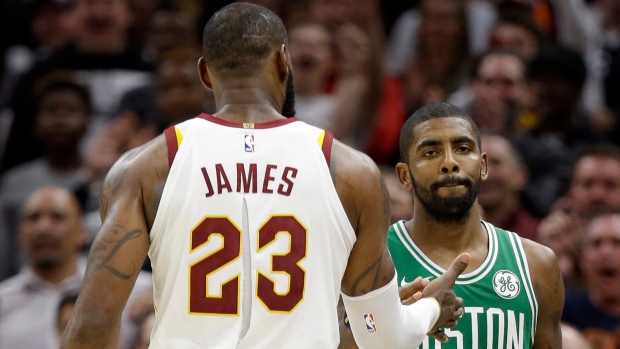 The Boston Celtics and Cleveland Cavaliers face off Wednesday for the first time since the opening night of the season.
That night saw LeBron James taking on his former teammate Kyrie Irving for the first time since the dramatic off-season trade between the two teams.
The Cavs escaped TD Garden with a 102-99 win but the Celtics' loss proved to be even more costly as a gruesome leg injury less than six minutes into the game ended Gordon Hayward's season.
Despite the injury, the Celtics have managed to post a 30-8 record after starting the season 0-2.
Irving has been leading the way by averaging 24.8 points per game, while a supporting cast of Al Horford Jaylen Brown and rookie Jayson Tatum have been equally impressive.
Since Nov. 30, Irving has averaged 27.2 PPG on 50 per cent shooting. In 40 games this season, Tatum boasts an NBA best .471 three-point field goal percentage.
The Cavaliers have been inconsistent at times this season, but sit third in the Eastern Conference with a 25-12 record. Despite three losses in their last four, Cleveland were 19-2 in their previous 21 games and did this all without a true starting point guard.
Cleveland has spent the majority of the year struggling at the one with five different players sharing the role throughout the season. They've found some stability since giving the job to Jose Calderon, as the Cavs have been 15-5 with the Spaniard in the starting spot.
That role will ultimately go to Isaiah Thomas, who is back in the fold after a 17-point performance off the bench against the Portland Trailblazers on Tuesday.
Cleveland will have to continue giving Calderon minutes tonight as Thomas will not be in the lineup against his former team. Coach Tyronn Lue has decided be cautious with the all-star point guard as he works his way back from a hip injury.
Where the game could be won or lost is in the paint. Since Christmas the Cavaliers are averaging an NBA-worst 30.7 points per game in the paint while shooting an NBA-worst 46 per cent, which means Horford versus Kevin Love could be the most important matchup of the night.
Horford leads the Celtics in rebounds per game with 7.9 while Love is averaging 10.1 boards per game.
But as always, the main factor will be LeBron.
Despite Irving's fantastic start to the season, James has been better.
LeBron is averaging more points, assists, rebounds steals and blocks while also shooting a better percentage from the field than Irving.
All eyes will be on "The King" as he looks to stay undefeated against his former teammate.