Leonard exorcises Raptor demons with historic Game 7 winner
Poetic.That's the first thing that came to mind in the immediate aftermath of watching Kawhi Leonard hit a shot you had to see to believe. And if you saw it, you aren't likely to forget it.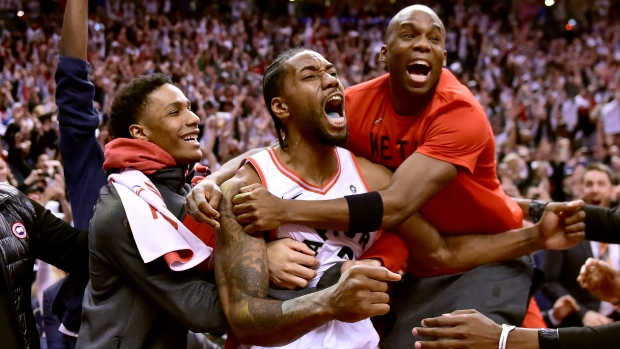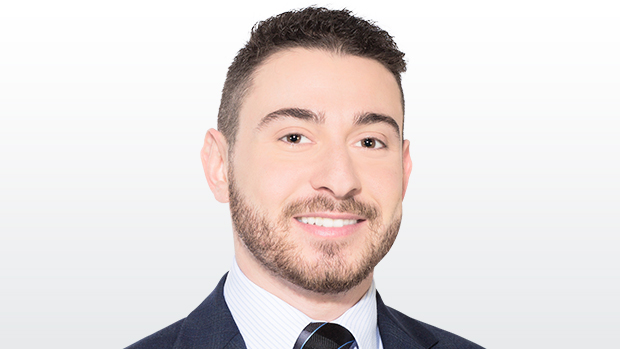 TORONTO – Poetic.
That's the first thing that came to mind in the immediate aftermath of watching Kawhi Leonard hit a shot you had to see to believe. And if you saw it, you aren't likely to forget it.
With four seconds remaining in a series-deciding Game 7 between the Toronto Raptors and Philadelphia 76ers, the score tied at 90 apiece, Leonard caught the ball off an inbounds pass from Marc Gasol.
The Raptors' forward drove right, past 76ers all-star Ben Simmons and into Philadelphia's other all-star Joel Embiid, who came over to help. There was less than a second left on the clock when Leonard released the ball over the outstretched arm of the seven-foot Embiid.
The sell-out crowd at Scotiabank Arena was on its feet and there was a momentary hush in the building as Leonard crouched by his team's bench waiting to see if the shot would fall.
The ball hit front rim and bounced. Then it bounced again. It bounced four times before it fell.
"I think at first a lot of us were like, 'Ah, it doesn't look too good'," said Raptors guard Danny Green, a long-time teammate of Leonard's. "Then it got one bounce and it was like, 'OK.' And then the second bounce it was 'Oh s---, we might have a chance here.' Once it went in I think everyone was just ridiculously excited. The whole building. I think they're still yelling out there."
"It was just like a movie moment where you're waiting for the ball to go down," said Fred VanVleet, who had a front-row seat on the bench. "Just a special moment."
"It was cool, all the fans, the team, everybody around, it was crazy," Kyle Lowry said. "It was a good emotional moment for everybody to be there and just kind of a sigh of relief and enjoyment - like a 'phew!' It was great. It was a pretty awesome moment."
Lowry was standing in the opposite corner at the time, but was somehow one of the first Raptors players to make it over to Leonard. The rest of his teammates weren't far behind. His uncle, Dennis Robertson, rushed onto the court to hug his nephew. Team president Masai Ujiri ran through the lower level of the arena and out of the tunnel.
Then there was Kawhi. In a rare show of emotion, the famously stoic superstar let out a primal roar.
"Pretty much I'm a guy that acts like I've been there before," he said soon after. "So probably the last time you've seen me scream was when we won [the championship with the Spurs]. Whenever it's a moment I haven't really experienced, I'll probably try to give some emotion, show some emotion, and let it just come out. Tonight was one of those nights. I've never been in that situation before."
Nobody had been in that situation before. On Sunday, Leonard became the first player in NBA postseason history to hit a game-winning buzzer-beating in a Game 7. Michael Jordan is the only other player to do it in a winner-take-all playoff game, hitting the go-ahead bucket in Game 5 of Chicago's opening-round series against the Cavaliers in 1989, before the first round was extended to best-of-seven.
With their 92-90 win, and the shot that made it possible, the Raptors advanced to the Eastern Conference Finals for the second time in franchise history, where they'll face the NBA-best Milwaukee Bucks beginning on Wednesday.
It came almost exactly 18 years after Vince Carter missed a similar shot over 76ers forward Tyrone Hill, also in the seventh game of the second round against Philadelphia – a moment that has haunted the Raptors and their fans for nearly two decades.
You probably remember where you were when Carter's jumper clanked off the back of the rim that Sunday evening in 2001, same as you will probably remember this Sunday in 2019, when Leonard exorcised Toronto's demons. He didn't just save the Raptors' season and make team history in the process, he gave us a truly iconic moment in sport.
Even his teammates, many of who have been around the league long enough to possess their own collection of memorable moments, admitted this was something entirely unique.
"That one, I haven't seen that one," said Green, who came to Toronto with Leonard in the trade from San Antonio over the summer. He's won a championship, watched Leonard earn Finals MVP, and played with future hall of famers in Tim Duncan, Manu Ginobili and Tony Parker.
"Oh man, that was incredible man, I don't know what to say," Serge Ibaka exclaimed. "You know, I used to play with guys like Russell [Westbrook] and [Kevin Durant] so I saw a lot of crazy shots, but this one tonight? Oof! In the moment too? This one was unbelievable."
Remarkably, this wasn't even Leonard at his best. He scored 41 points, but he needed 39 shots to do it, hitting just 41 per cent of them. It was an usually high-volume game from a typically efficient player. Prior to Sunday's Game 7 he had never attempted more than 30 shots.
However, the Raptors needed every bit of offence he could give them. It wasn't pretty. On a night when everybody was struggling to find their rhythm – the team shot 38 per cent from the field – Leonard bailed them out again.
As usual, Lowry was better than his shooting numbers (4-for-13 from the field, 1-for-7 from three-point range) would indicate. In fact, he was excellent, making big hustle plays on both ends of the floor. Ibaka came up big scoring 17 points and grabbing eight boards of the bench. Bouncing back from a bad Game 6 loss in Philadelphia, the Raptors' defence gave them an opportunity to come away with the win.
But Leonard took that opportunity and ran with it. He scored 15 points on 6-of-9 shooting in the fourth quarter, including a go-ahead 24-footer with 100 seconds left and then the eventual game-winner. It was a fitting way to cap off a series he so thoroughly dominated from start to finish.
In seven games against Philadelphia, Leonard averaged 34.7 points, 9.9 rebounds and 4.0 assists while shooting 53 per cent and playing nearly 40 minutes per contest. That was Leonard's way of saying 'This is why they brought me here'. If there was ever any doubt why Ujiri and the Raptors traded beloved former face of the franchise DeMar DeRozan for him, or even why the team rested him regularly throughout the regular season, there certainly isn't now.
"It's unbelievable to be a part of something like this, in the middle of some historical stuff." VanVleet said following Game 7. "It wasn't scripted. I'm sure if you asked him, he's probably shot that shot a million times. As a kid, those are the types of shots you dream of growing up."
"It was great," said Leonard. "That's something I've never experienced before, Game 7, game-winning shot. It was a blessing to be able to get to that point and make that shot and feel that moment. It's something I can look back on in my career.