Lethal power plays carry Sharks and Caps
Keep Washington and San Jose at 5-on-5, and you've got a puncher's chance. Spend half of the game killing penalties, and you might be in big trouble, Travis Yost writes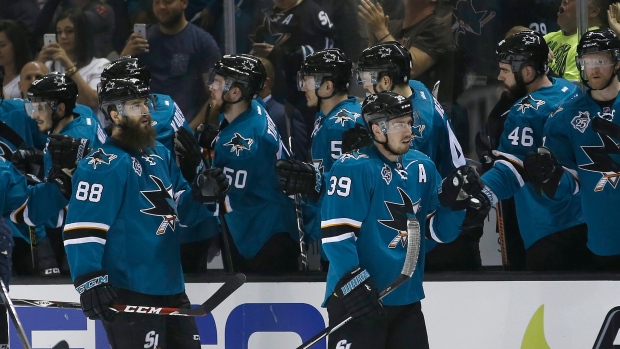 If there's one shared trait between the Washington Capitals and San Jose Sharks, it's that they maintain the league's preeminent power plays, and have for many years now.
A lot's been written about what makes these teams tick with the man advantage. It's a combination of factors – they feverishly move the puck at a San Antonio Spurs-like pace, have the right guys playing pivot to control the pace of the cycle, and are loaded with finishing talent.
They've also maintained impressive consistency through numerous coaches. Even pre-dating the likes of Barry Trotz and Peter DeBoer, the two organizations have consistently held the top two spots in both goals generated per-60 minutes on the power play and shots generated per-60 minutes on the power play.
Basically, outside of divine intervention, there's no good answer for what to do on the penalty kill against these two clubs. Joe Thornton is going to find his shooters in the mid-slot area. Nicklas Backstrom and a litany of other playmakers are going to find Alexander Ovechkin in his favourite shooting area just inside the circle. Your team is bound to bleed goals against.
One would imagine that opposing coaching staffs, from Peter Laviolette to Mike Sullivan (and Darryl Sutter and Dave Hakstol in previous rounds) have preached the importance of not taking penalties. San Jose and Washington are both very talented teams, but it's not exactly a state secret that the power play drives success in both cities. Keep them at 5-on-5, and you've got a puncher's chance. Spend half of the game killing penalties, and you might be in big trouble.
It's easier said than done. Since San Jose and Washington can control the run of play and own a good portion of the puck every game, teams are caught chasing and, from time-to-time, have been sent to the penalty box. It's been especially true for San Jose's foes. The Sharks, through the first two rounds of the playoffs, maintain the best penalty differential. Both teams are getting about six minutes per night on the power play, a shade higher than league average.
What's happened? It has been the usual blitzkrieg of shots and goals.
Let's compare the eight remaining teams by power-play performance to illustrate the kind of disparity we are talking about. First we'll look at shot volume, or how frequently opposing goaltenders are put under pressure by the man advantage attack.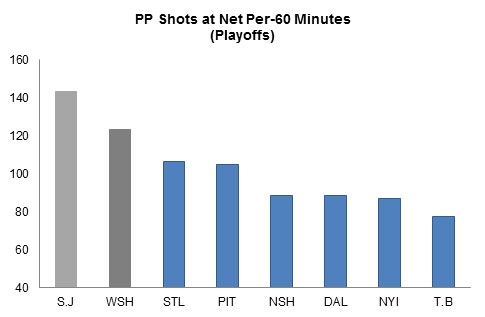 To put these shot volumes into perspective, I went back and looked at the most productive power plays on record since the start of the 2007-08 season. Here are the shot leaders by year and how the 2015-16 playoff versions of the Sharks and Capitals stack up.
Power Play Shot Leaders
| Season | Team | PP Shots Per 60 |
| --- | --- | --- |
| 2015 | San Jose | 143.3 |
| 2010 | San Jose | 135.3 |
| 2015 | Washington | 123.2 |
| 2011 | San Jose | 120.3 |
| 2008 | Detroit | 119.3 |
| 2013 | San Jose | 118.6 |
| 2015 | Boston | 118.3 |
| 2009 | San Jose | 117.1 |
| 2014 | Washington | 115.4 |
| 2012 | San Jose | 112.9 |
| 2007 | Detroit | 109.5 |
This sort of shot generation is really unprecedented territory, certainly so for any non-San Jose and non-Washington team. It captures precisely what we see with our eyes when both of these teams draw a penalty – two specialized units who can attack the neutral zone with control of the puck, cycle under pressure, generate shots from prime scoring areas and, in the event the shot misses, an undeniable talent to collect the rebound and start the sequence over again.
As you might have guessed, this relentless attack has meant a lot of goals. Again fixed to per-60 minute intervals, the Sharks and Capitals are out-scoring their playoff peers – in some cases, considerably so.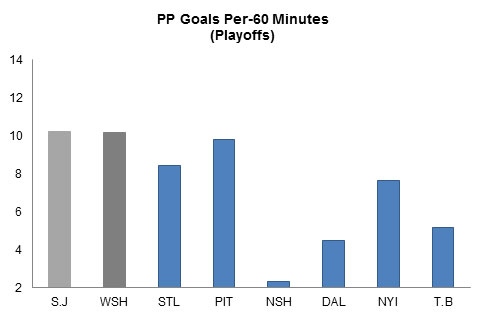 It's not lost on me that the Sharks are head-to-head with a Predators team that's completely at the other end of the spectrum. Unless Nashville completely overwhelms San Jose at even strength or just stops talking penalties for the rest of the series, power-on-power is just a total mismatch in favour of San Jose. (Attention Nashville: Stop taking penalties!)
The other matchup in the Eastern Conference is interesting too, but for different reasons. Pittsburgh's power play has been pretty damn good in its own right. That might be something worth watching, since Washington – unlike San Jose – has had their own issues with taking penalties.
Altogether, the advice remains the same: teams have to stop sending the San Jose and Washington power plays to the ice. Teams will always have the chase-down, had-no-choice minor penalties to deal with, but the lazy offensive zone forecheck penalties and tired-legs defensive zone penalties are absolutely inexcusable at this stage of the game.
Keep sending those power plays out there, and San Jose and Washington are going to find their way to the third round.