Lightning owner: I hope Game 7 'goes 4 OTs'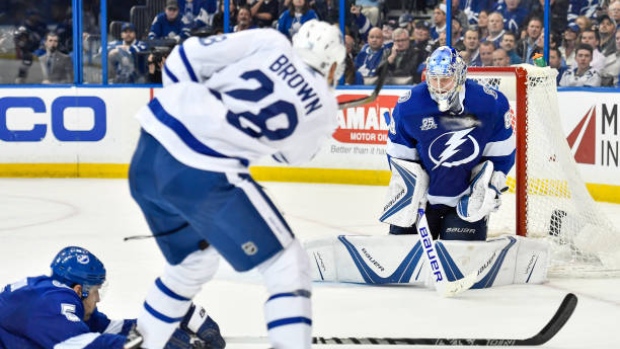 The Tampa Bay Lightning are awaiting the result of Wednesday's Game 7 between the Toronto Maple Leafs and Boston Bruins to determine their second-round opponent.
The Lightning returned to practice on Tuesday and at a groundbreaking for a Marriott hotel in Tampa Bay, Lightning owner Jeff Vinik revealed his hope for the Game 7 result.
"I hope they go four overtimes and beat the crap out of each other," Vinik joked, according to Joe Smith of The Athletic.
The Lightning advanced to the second round with their Game 5 win over the New Jersey Devils on Saturday. The team emerged from their first-round series at close to full health and will get close to week off between games.
Though they're unlikely to admit it, the Lightning would likely prefer to face the Maple Leafs in the second round, based on the season series. The Lightning posted a 3-1 record against the Maple Leafs this season, outscoring Toronto 13-10. Against the Bruins, the Lightning went 1-3 and were outscored 10-8.
The Lightning used the following lines during Tuesday's skate, per NHL.com:
Miller-Stamkos-Kucherov
Palat-Point-Johnson
Killorn-Cirelli-Gourde
Kunitz-Paquette-Callahan
Hedman-Girardi
McDonagh-Stralman
Coburn-Sergachev
Extra: Koekkoek, Sustr and Dotchin
Forward Adam Erne, who missed the team's entire first-round series with a lower-body injury did not part in the skate.