Longtime TSN curling analyst Moore retires from broadcasting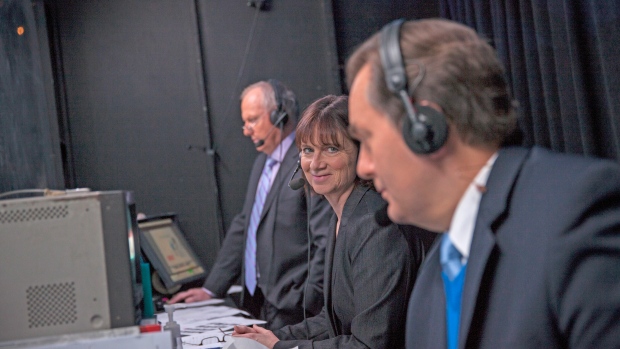 TORONTO – TSN today announced that curling analyst Linda Moore, a 25-year veteran of the network's curling broadcast team, is retiring from broadcasting. Moore, a national and world champion and Calgary 1988 Olympic Winter Games gold medallist, is stepping away from the broadcasting world due to a chronic health condition.
Moore has been part of TSN's curling broadcast team since 1989, working alongside acclaimed curling play-by-play voice Vic Rauter. TSN curling analyst Russ Howard, a two-time Brier champion and 2006 Olympic gold medallist, has been a mainstay in the booth with Moore and Rauter since 2008.
TSN will introduce a roster of guest analysts to its best-in-class curling coverage throughout the 2014-15 season, which is set to begin Wednesday, Dec. 3 at 10:30 a.m. ET with opening draws from the 2014 HOME HARDWARE CANADA CUP.
"I've been a part of the TSN curling family since 1989. I have had 25 wonderful years at TSN that I will cherish," said Moore. "Unfortunately, I am physically unable to keep doing the job that I love. I had to make a very difficult choice, but it's time that I focus all of my energy on my well-being."
Continued Moore:
"I want to thank Vic Rauter for being my guide during those years, as well as Russ Howard and Ray Turnbull for sharing the booth with me. Thanks as well to Scott Higgins and all our incredible producers; Andy Bouyoukos and the other talented directors; my colleagues Cathy Gauthier and Bryan Mudryk; and everyone involved with TSN curling. This is a group of talented people who are passionate about sharing the superb skills of curlers with fans, and I have been proud to be a part of the crew for so long. I wish the TSN crew all the best for the coming season."
"As well, thanks to the fantastic curlers, hard-working event host committees, and the fans who have let me into their homes for so many years. You may still see me at your local curling clubs, helping to coach a team at a practice or bonspiel."
"Linda is one of the best analysts to work in curling broadcasting," said Mark Milliere, Senior Vice-President of Production, TSN. "She has been consistently astute, thoroughly prepared, and she understands the mental side of the game better than anyone in the sport. On behalf of everyone at TSN, our heartfelt thanks to Linda for elevating our broadcast coverage over the past 25 years. Linda, you will be sorely missed."
"Linda is not only an excellent curling analyst, she's also an excellent broadcaster," said Scott Higgins, Senior Producer, Curling on TSN. "She has been incredibly well-researched, with a natural ability to tell stories. Her greatest strength is her depth of knowledge, and her insights into the game within the game."
About Linda Moore
For a quarter-century, Linda Moore has provided colour commentary for TSN's highly acclaimed curling coverage, including Season of Champions events such as the Tim Hortons Brier, Scotties Tournament of Hearts, and the men's and women's World Curling Championships.
She also served as a curling analyst for Canada's Olympic Broadcast Media Consortium during the Vancouver 2010 Olympic Winter Games.
Moore won the 1985 Canadian and World Championships, and took home the gold medal in Calgary at the 1988 Winter Games when curling was a demonstration sport. She was a professional curler for eight years and retired from competitive play in 1988.
Following her retirement from competitive curling, Moore served as Executive Director of CURL BC for 19 years, promoting the sport and developing curling programs throughout the province. She also served as executive director of the Sandra Schmirler Foundation from 2005-06.
As a Level 4 certified coach, Moore has been actively involved in coaching for many years.
Moore was inducted into the Canadian Curling Hall of Fame in 1991 and the BC Sports Hall of Fame in 1990 as part of the 1985 World Championship team.