Lowry bounces back, Raptors even series with Heat
Kyle Lowry bounced back into all-star form to lift the Toronto Raptors to a 96-92 overtime victory over the Miami Heat on Thursday, evening their playoff series at 1-1. Lowry had 18 points, including two clutch baskets in the final minute of regulation.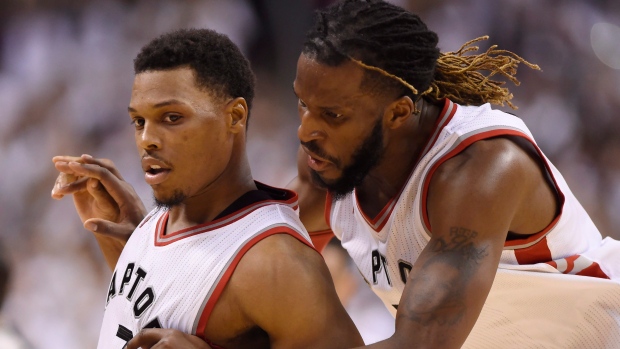 TORONTO — DeMarre Carroll came up big for the Toronto Raptors both on and off the floor Thursday.
Carroll showed some tough love for struggling all-star Kyle Lowry, and then went out and scored a team-high 21 points to lift the Raptors 96-92 over the Heat in overtime, to send the series to Miami tied at one game apiece.
And moments after Lowry scored on a key jump shot with 15 seconds left in regulation, Carroll pulled the point guard aside and said "I told you so."
"Because I've been texting Kyle, I kind of do the rough brother texting with Kyle, I tell him you're Kyle Lowry, you need to play like you got a chip on your shoulder," Carroll said. "I remember the Kyle Lowry in Memphis that got traded. And that's the biggest thing for Kyle is he gotta remember who he is. He's a blue-collar, gritty, grimy type of person."
Two days after perhaps the worst game of his career, Lowry had 18 points, including two clutch baskets in the final 46 seconds of regulation, plus six assists, four rebounds and three steals.
Jonas Valanciunas had 15 points and 12 rebounds, DeMar DeRozan chipped in with 20 points, and Terrence Ross added 10.
In what's been a roller-coaster post-season for the Raptors, it was another wild night.
The Raptors roared out to a 14-point lead, and looked poised to romp to a relatively easy victory over Miami, but the Heat had all the momentum in a horrible third quarter for Toronto and took a 65-63 lead into the fourth.
Luol Deng capped an 8-0 Heat run with a three-pointer to give Miami a seven-point lead with six minutes to play. But the Raptors clawed their way back over a thrilling final few minutes of regulation.
"Our sense of urgency was there," said Raptors coach Dwane Casey.
After Lowry's jumper with 15 seconds to play, Goran Dragic, who played the second half with eight stitches in his lip, sunk a heartbreaking three with 10.5 seconds left to send the game into overtime tied 86-86.
Toronto dominated in OT, virtually the reverse of Tuesday's game. Miami missed its first five shots, and the Raptors had baskets from DeRozan and Valanciunas, who was huge down the stretch. A Deng dunk made it a four-point game, but free throws in the dying seconds from Cory Joseph, DeRozan and Lowry iced the victory for Toronto.
DeRozan and Lowry laughed when asked if they think the Raptors will have a playoff game that resembles the consistent squad of the regular-season.
"Man, it's been ugly," DeRozan said.
"Uh-gly," Lowry added.
"When we do, I'm pretty sure you will know," said DeRozan, to which Lowry piped in: "IF we do."
"It's a grind man, honestly," DeRozan said. "We know nothing was going to be pretty, as long as we can come out with a W, doesn't matter how we play. It's going to come."
Carroll had a superb night, shooting 7-for-13 and grabbing four steals and five rebounds with his hustle play.
Lowry, meanwhile, had been limited to just seven points in a horrible performance in Game 1, and stayed on the court until 1:15 a.m. shooting alone. He said the next day the Raptors can't win the series without him playing well.
The two-time all-star had moments where he looked like his post-season slump might be a distant memory. He scored early on a mid-range jumper, then followed it up with a beautiful pass to Carroll for a three-pointer. And when he tossed up a three of his own late in the first quarter, the Air Canada Centre crowd of 20,906 went nuts.
"I felt great," Lowry said. "I got so many phone calls and texts from people who just care about me in general, fellow NBA players, and just friends of mine supporting me. And then knowing I have the support of my teammates, I just had to come out and have fun and be myself.
He shot just 7-for-22 on the night, while DeRozan, his right thumb taped after his jammed it on the final play in Game 1, shot just 9-for-24, and made just two of his eight free throws.
"I don't think I ever missed that many free throws," DeRozan said. "But it's just something I've got to deal with it. It's my first game playing with it hurt, sore like it was. . . another day of rest and icing and I should be alright the next game."
Game 3 is Saturday in Miami, while Game 4 is Monday.
The Raptors won five of their last six regular-season matchups with Miami, but the Heat claimed the series opener 102-96 on Tuesday, ruining a thrilling comeback by Toronto to force overtime on a half-court Lowry buzzer-beater.
The Air Canada Centre was painted in black and white T-shirts that spelled out "6IX," the Drake-inspired nickname for Toronto. Maple Leaf Square outside drew a packed crowd of T-shirt waving fans.
The Heat raced out to an early-six point lead but the Raptors found their rhythm with a 17-3 run, and took a 29-19 advantage into the second quarter.
Miami cleaned up its turnovers in the second, giving up just one, and pulled to within five points before a Carroll basket sent the Raptors into the halftime break up 48-41.
The Raptors shot just 6-for-20 in the third quarter, and the Heat ended the frame on a 13-2 run to take their first lead since early in the first.