Lowry highest-rated Raptor in SI rankings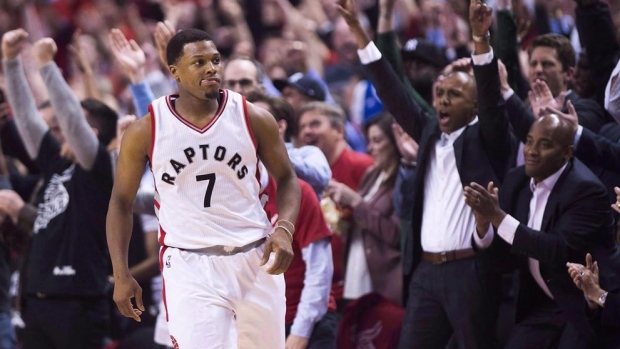 Toronto Raptors point guard Kyle Lowry ranks 19th on this year's edition of Sports Illustrated's top 100 NBA players rankings. Lowry's rank for the 2017-18 season is five spots lower than it was a year ago.
Lowry is the fourth, and most likely, final Raptor to appear on the list. His backcourt running mate, DeMar DeRozan, checked in at No. 39, which is up seven spots from 46th last year, but still didn't satisfy DeRozan.
In frustration with his ranking this year, DeRozan tweeted "F SI...#ProveEm".
Big men Serge Ibaka and Jonas Valanciunas ranked 56th and 80th, respectively.
Ben Golliver, one half of the SI duo that complied the list, had this say about Lowry's slip in this year's rankings: "Lowry (22.4 PPG, 4.8 RPG, 7 APG) has fallen down a few pegs in the crowded conversation concerning the league's top point guards, as he missed 22 regular-season games due to injury and then fizzled out amid nagging health issues during Toronto's humbling postseason. When he was on the court, the hard-nosed, well-rounded floor general was as effective as ever, ranking in the top 25 of four major advanced statistics (PER, Win Shares, Real Plus-Minus, WARP), setting new career-highs in scoring, assists and three-point percentage, and leading the East's second-best offense. An excellent pick-and-roll threat who improved Toronto's offensive efficiency by nearly seven points when he was on the court, Lowry had success helming the Raptors' starting unit and a lethal bench mob group."
The 31-year-old was named an All-Star for the third consecutive time last season. The Raptors squad made their fourth straight playoff appearance.
So far, SI has released Nos. 100 to 11 on their list. Lowry is older than all eight of the players ranked above him, which includes three other point guards: No. 18 Mike Conley (Memphis Grizzlies) No. 17 Damian Lillard (Portland Trail Blazers) and No. 13 John Wall (Washington Wizards).