Lowry scores career-high 39 points to lead Raptors past Jazz
Kyle Lowry scored a career-high 39 points on 13-of-22 shooting as the Toronto Raptors sent the Utah Jazz to their seventh straight loss, 123-104 Wednesday night.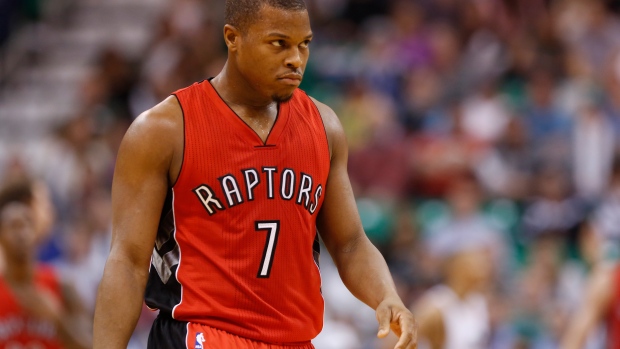 SALT LAKE CITY - Without DeMar DeRozan in the lineup, Kyle Lowry understands he has a greater responsibility to score when Toronto needs quick baskets.
Lowry scored a season-high 39 points on 13-of-22 shooting to help the Raptors beat Utah 123-104 on Wednesday night, handing the Jazz their seventh straight loss.
Greivis Vasquez and Lou Williams each had 17 for the Raptors, who had six players score in double figures. None had a bigger impact than Lowry, who is averaging 26.3 points in eight road games this season.
"I know I got to score a little bit more and be more aggressive," Lowry said. "I could do it with DeMar (healthy), but as a point guard, I like to get my teammates involved. Right now, I got to be a little bit more assertive."
Derrick Favors and Enes Kanter scored 19 points apiece for Utah. Gordon Hayward added 16 points and Trey Burke had 15 and eight assists for the Jazz, who trailed through the final three quarters.
Toronto faced little defensive resistance. The Raptors shot 45 of 79 overall, including 12 of 21 on 3-pointers, and won their sixth consecutive game this season when shooting at least 50 per cent.
"We came in to take care of business," Toronto coach Dwane Casey said. "There wasn't any laughing and joking around. Guys came in with a focused attitude to start the game."
The teams traded baskets for most of the first quarter and the Jazz led 20-18 after Kanter converted a three-point play with 3:21 left in the period.
The Raptors began hitting shots all over the floor at that point to take control. Williams made a pair of baskets to start and finish a 9-2 run that gave the Raptors a 31-24 lead going into the second quarter.
Toronto then scored on eight of its first nine possessions in the second quarter and by the time Lowry capped that stretch with a 3-pointer, they led 50-32.
"We set good screens to get each other open," Toronto forward Patrick Patterson said. "We were able to draw fouls and get to the free throw line. We hit shots. We didn't have that many assists, but the opportunities we had at the rim and the opportunities we created for ourselves, we capitalized on and finished."
Utah used an 11-2 run to cut Toronto's lead down to nine early in the third, closing to 71-62 on Hayward's jumper.
The Jazz drew within nine several times in the quarter but could get no closer. After Utah cut it to nine a final time on a layup by Hayward that made it 84-75 with 4:24 remaining in the third, Toronto pulled away for good.
Williams made six free throws to fuel an 8-0 spurt that gave the Raptors a 92-75 lead with 3:00 left in the quarter.
TIP-INS
Raptors: The Raptors swept the season series with Utah for the second straight year and just the third time in franchise history. ... Lowry has scored at least 20 points in four straight contests and six of Toronto's last eight games. ... Vasquez's 17 points marked a season-high. He has now scored in double figures over five straight games.
Jazz: Shooting guard Alec Burks did not play after injuring his left shoulder against Denver on Monday. ... The Jazz used their fourth-youngest starting lineup in team history. Utah's five starters average age was 22 years, 351 days old. . Derrick Favors matched his career high with five assists to go with 19 points and six rebounds. . Utah committed a season-low eight turnovers.
DEFENSIVE WOES: Toronto's 123 points were the most an opponent has scored on Utah this season. The Jazz are allowing 103.2 points per game and are 2-10 when giving up at least 100 points. "It's just a mental thing," Favors said. "Everybody is trying to learn the defensive system and try to do the right thing, but I think it's just a mental thing."
CLOSING OUT: Toronto improved to 13-0 this season when leading after three quarters. The Raptors are 48-2 dating to the start of the 2013-14 season when leading entering the fourth quarter. "It shows our ability to stay focused," Lowry said. "We're taking advantage of the opportunities that we have when we have a lead."
UP NEXT
Raptors: Host Cleveland on Friday.
Jazz: Host Orlando on Friday.