Lowry scores first NHL goal to help Jets past Hurricanes
Adam Lowry's first NHL goal helped the Winnipeg Jets snap a four-game losing streak with a 3-1 victory over the Carolina Hurricanes on Tuesday. Andrew Ladd and Dustin Byfuglien also scored for the Jets (2-4-0), who won their first game at home this season.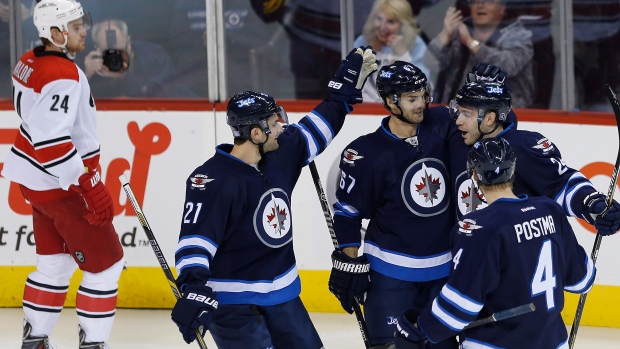 WINNIPEG - Rookie Adam Lowry was sporting a smile and a special grey helmet after he scored his first NHL goal in Winnipeg's 3-1 victory over the Carolina Hurricanes on Tuesday.
Lowry's game-winning goal snapped Winnipeg's four-game losing streak. His teammates chose him player of the game, so he got to wear the special fighter-pilot type of helmet.
"It's something I've dreamed about for a long time," the 21-year-old native of Calgary said about his first NHL goal.
"So it's a pretty special feeling to tip it and see the puck go through (goalie Anton Khudobin's) legs."
Ondrej Pavelec made 20 saves in the win, while Khudobin faced 26 shots.
Andrew Ladd and then Dustin Byfuglien on a breakaway also scored for the Jets (2-4-0), who won their first game at home this season.
Jiri Tlusty scored on the power play for Carolina (0-3-2), which is still looking for its first win of the season and had been coming off back-to-back overtime losses.
Ladd opened the game's scoring with his first goal of the year at 1:57 and Lowry netted his 40 seconds later.
Carolina head coach Bill Peters said his players couldn't overcome the bad start.
"We got away from our structure and then we were freelancing and then it just made it harder than it needs to be," he said.
Peters said it'll take an attitude adjustment to get the season's first win.
"It's going to take responsible play by all 18 guys," he said.
"Everyone's got to be on the same page, everyone's got to be hungry in order for it to happen."
Ladd's goal was reviewed after a scramble in front the net led to the puck going onto Khudobin's back and then down his pad and across the goal-line.
Lowry redirected Grant Clitsome's shot from the point at 2:37.
It was a reversal of fortune for the Jets, who had three goals scored on them in just under seven minutes last Sunday in a 4-1 loss to Calgary.
The two goals also equalled the number the Jets had scored during their four-game losing skid.
Clitsome smiled and said the players didn't realize right away it was Lowry's first NHL goal. If they had, he said, they would have celebrated more.
"I think spirits are good now," Clitsome said. "It was a pressure game. We needed the win and we've been talking a lot about it in the room. Not only did we get the win, but I thought we played really well.
"We eliminated their chances, we shut them down along the neutral zone and didn't give them a whole lot."
Jeff Skinner, Carolina's top goal-scorer last season, made his season debut after missing the first four games with a concussion. Defenceman Andrej Sekera was also on the ice after sitting out the last game with an upper-body injury.
Skinner's first game back was more memorable for the two penalties he got, while Sekera had one.
The Jets carried a power play into the third period on Skinner's high-sticking penalty, and then had 11 seconds with a two-man advantage when Sekera was called for hooking. Winnipeg made five shots on net.
"It was good to have him back, but we need Jeff Skinner, you know what I mean?" Peters said.
"People think you're going to parachute in the lineup and be a star, it's not the way it works. We need him to get assertive and play responsibly."
Tlusty's fourth goal of the season off a rebound at 7:03 of the first period was reviewed to ensure his stick touched the puck before it went past Pavelec.
Winnipeg outshot the Hurricanes 11-9 in the opening period.
The second period was scoreless until Byfuglien made it 3-1 at 16:26.
Carolina couldn't hang on to the puck in Winnipeg's end and Byfuglien picked it up, used his speed to stay ahead of defenceman Justin Faulk and then shot a backhand between Khudobin's pads.
"We got some good blocks and some good second efforts at those critical times and some good saves," Jets head coach Paul Maurice said.
Both teams had difficulty getting shots in the second period, with Carolina having the 5-4 edge.
Winnipeg was 0 for 5 on the power play. The Jets haven't scored a power-play goal this season after 19 opportunities.
Carolina was 1 for 5 with the man advantage.
Winnipeg hosts Tampa Bay on Friday for the third game of a five-game homestand.
Carolina heads off to Calgary for its third game of a five-game road trip through Western Canada on Thursday. The Hurricanes face Edmonton Friday and Vancouver on Oct. 28.
Notes — Winnipeg's four-game losing streak was the longest since Paul Maurice took over as head coach last Jan. 12. Under Maurice, the Jets' longest stretch without a win lasted six games (0-3-3) … It was the first time Maurice faced his former team on home ice. He was Carolina's head coach for 775 games during two stretches in his career.