Lucic: 'Fortunate' to draw fine for Joseph hit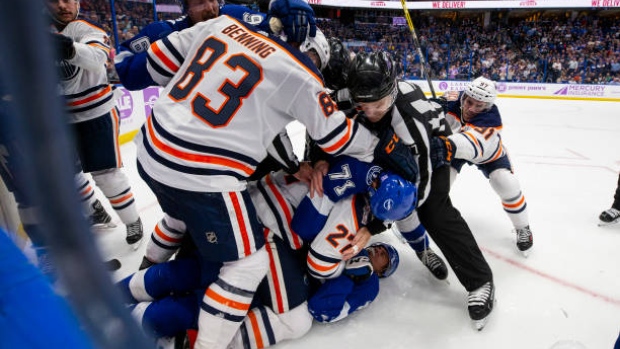 Edmonton Oilers forward Milan Lucic said Thursday he was "fortunate" to only draw a $10,000 fine for going after Tampa Bay Lightning forward Mathieu Joseph on Tuesday night.
Angered by a cross-check Joseph put on Edmonton defenceman Kris Russell earlier in the period, Lucic followed him down the ice once the Lightning forward came onto the ice for a shift. He slashed Joseph when he first came off the bench, then tracked him into the Lightning end and hit him to the right of the Tampa Bay net while he was without the puck. Lucic then appeared to throw a punch at Joseph while the rookie was lying on the ice, sparking a melee between the two teams.
Lucic said he felt the fine was a fair punishment since he did his best to throw a clean hit on Joseph, despite the Lightning forward not having the puck.
"I think I'm fortunate that I got away with a fine," Lucic told the Edmonton Journal on Thursday. "From talking to [head of NHL player safety] George [Parros] and his team, I think they made the right decision fining me, but at the end of the day, they also explained there are different ways to go about retaliating.
"It was loud and clear and I don't think it was just a message to me, it's a message to the whole league that there are different ways of going about it. At the end of the day, I hit a guy who didn't have the puck … I expressed to [Parros], that yeah it was retaliatory, but I was conscious of making it as clean and as safe as possible so I didn't hurt the player.
"If Joseph was my teammate and someone took liberties on him I would have stuck up for him the same way. That's the person I am, but it's a lesson learned. It is the new NHL so you have to adjust."
The fine, which was officially labelled as roughing and was the maximum allowable under the CBA, likely did not sit as well with the Lightning. Steven Stamkos called referred to the incident as "a premeditated, blindside hit" after his team's win on Tuesday.
Oilers coach Todd McLellan said Tuesday night that part of Lucic's job on the team "is to take care of teammates and he did that." The 30-year-old has just one goal and four points in 16 games this season, though McLellan believes he's been better than his stats indicate.
"Milan's presence is very important for our group and he's been playing in straight lines and he's been physical. He polices things out there," said McLellan. "He's created chances for other guys and when he's been on the power play he's been around the net and whacking away. He's had the puck on his tape in good areas. He's had much better looks than he did last season."
Lucic went through a 29-game goal drought last season and has a current slide of 15 games since scoring in the team's opening game. He said Thursday he's keeping his focus on the team's success this season, rather than his own statistics.
"I'm doing everything I can to stay positive… [it would] be easy to get frustrated," Lucic said. "My mindset coming into this year was stay positive and optimistic, no matter what happens. More for the team. The team's playing well and that's the most important thing. If I get down, that can have a trickle-down effect throughout the rest of the group.
"One hundred per cent I feel better about my game now than I did last year. It would be easy to get frustrated with no results. I'm trying to go back [years] to just shooting, not placing shots, shooting hard and those are the times you go post and in and high glove.
"I spent some time looking at old video of myself scoring goals. It's reminding yourself you're a good player."
The Oilers, who fell 4-1 to the Florida Panthers on Thursday night, are 8-7-1 this season.