Lundqvist recovered from WHC knee injury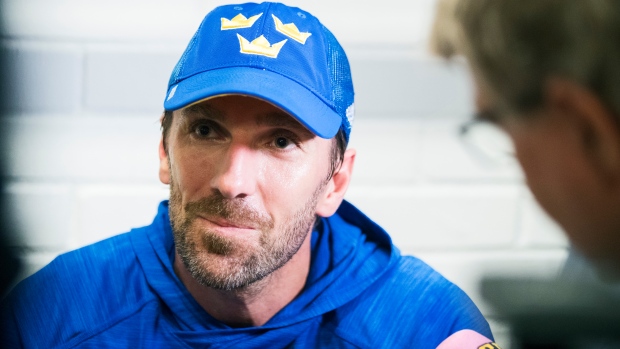 Henrik Lundqvist has recovered from the knee injury he sustained at the world hockey championship and will be ready when the New York Rangers open training camp next month.
Lundqvist told NHL.com he's returned to the ice after rehabbing a Grade MCL sprain incurred while backstopping to Sweden to a gold medal in June.
"I've been skating a few times now and I feel good," Lundqvist said Thursday. "Obviously, I have some work ahead of me, but it's a similar feeling. … When you step on the ice, that's the time for me when I really ramp it up and increase the workload, and I enjoy that."
Lundqvist, 35, joined Sweden following the Rangers' exit from the Stanley Cup playoffs, falling to the Ottawa Senators in the second round. He told the league's website the injury occurred during Sweden's 4-1 semifinal win over Finland. He played the gold medal game and posted 42 saves against Canada before Sweden won in a shootout. Lundqvist, who won the title alongside his twin brother Joel, was memorably tackled by Toronto Maple Leafs forward William Nylander in celebration following the victory.
He said after the tournament he would need four-to-six weeks to recover.
The Rangers netminder posted a 31-20-4 record last season with a 2.47 goals against average and .910 save percentage - both career worsts. He said Thursday he hopes to even out his play next year and stay consistent.
"The highs were as high as any other year. The lows were a little too low," Lundqvist said. "But I also had a lot of stretches where I felt like I was right there, I was playing the way I can play and should play and need to play. But, obviously, when you're a starting goalie, you can't have too many bumps because then that will affect the overall feeling, the overall rating, I think."