Malkin, Crosby lift Pens over Blues in OT
Evgeni Malkin scored 1:03 into overtime and Sidney Crosby broke out with two goals to lift the Pittsburgh Penguins over the St. Louis Blues 4-3 on Wednesday night.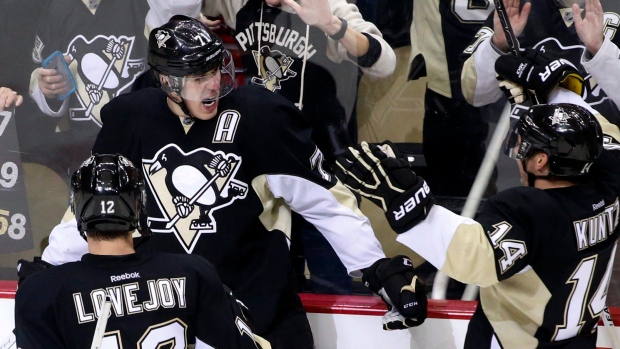 PITTSBURGH, Pa. - All is right with the Pittsburgh Penguins and Sidney Crosby.
Crosby broke out with two goals and Evgeni Malkin scored 1:03 into overtime to lift the Penguins over the St. Louis Blues 4-3 just hours after a report surfaced that there was a rift between the Penguins' captain and team owner Mario Lemieux.
"I honestly don't even know what to say to that," Crosby said. "If people are going to make stuff up, it's totally out of my control. I feel stupid even commenting on it. That's ridiculous."
Lemieux publicly denied the claim, saying it was "silly" and "absolutely not true" that he was feuding with Crosby. The current Penguins star lived with Lemieux early in his career.
Crosby appears to be breaking out of an early-season slump at the right time. The two-time NHL MVP went scoreless in eight of his first nine games but now has a three-game points streak with 10 points in his last 12.
"I don't know if it's a coincidence that something like that comes up when you're struggling and the points aren't coming," Crosby said. "In my experience, that's usually the case."
Crosby scored his fourth and fifth of the season and now has a goal against every NHL team — he had five assists in 10 career meetings against St. Louis. It was also the first time Crosby scored two regular-season goals since Feb. 12 against Ottawa, a span of 47 games.
Malkin scored after taking a lead pass from Phil Kessel. He goaltender Jake Allen on the backhand for his eighth of the season and league-leading fifth game-winner.
Ben Lovejoy also scored to help the Penguins finish 3-1 during a four-game homestand after dropping three of their previous four.
Marc-Andre Fleury made 29 saves for his 11th win of the season.
Alex Pietrangelo tied the game 3-3 with 5:41 left in the third period for the Blues. St. Louis also got goals from Paul Stastny and Robby Fabbri.
Stastny scored his second of the season in his second game back after missing the previous 16 with a broken foot. He has points in five of seven games played this season.
Fabbri scored his fourth and Pietrangelo his second. The Blues had won five of their previous seven against the Penguins. They've now dropped five of their last eight overall, allowing 26 goals during that span. Allen stopped 30 shots.
"We've got too much slowness in our game," Blues' coach Ken Hitchcock said. "From where we were before, we were really on attack mode and we're way too much on our heels now."
The Blues twice rallied from one-goal deficits in the third period.
Fabbri initially tied the game just 1:12 into the third. Pietrangelo capitalized on a Penguins' turnover and squeezed a shot underneath Fleury's arm to force overtime after Lovejoy briefly put Pittsburgh ahead. Five of the last eight meetings between the two teams needed overtime.
"It's not easy playing comeback hockey," Pietrangelo said. "Good character shown coming back, but we have to find a way to get up on teams early and bury them."
Crosby's second career goal against St. Louis, a re-direction from the slot, came on the power play, giving Pittsburgh the lead midway through the second period.
"I should have had more," Crosby said. "It was a good game and I was able to get lots of opportunities."
NOTES: The Penguins snapped a three-game losing streak against St. Louis in Pittsburgh, beating the Blues for the first time at home since October 2009. ... The Penguins opened the season with three power-play goals in 10 games but have now scored 10 in the past 12. ... Pittsburgh is 10-0 when leading after two periods and 10-3 in one-goal games. ... Blues D Kevin Shattenkirk has a seven-game points streak. ... Penguins' D Olli Maatta skated on his own Tuesday for the first time since suffering an upper-body injury Nov. 17 against Minnesota. He is expected to miss about a month. ... Ryan Reaves replaced Scottie Upshall in the Blues lineup, returning to action after missing three games. ... Blues D Robert Bortuzzo played his first game in Pittsburgh since the Penguins traded him to St. Louis in March for D Ian Cole. .. The Penguins play five of their next six on the road beginning Friday at Columbus. St. Louis will host Columbus on Saturday.