Man City looks to continue historic streak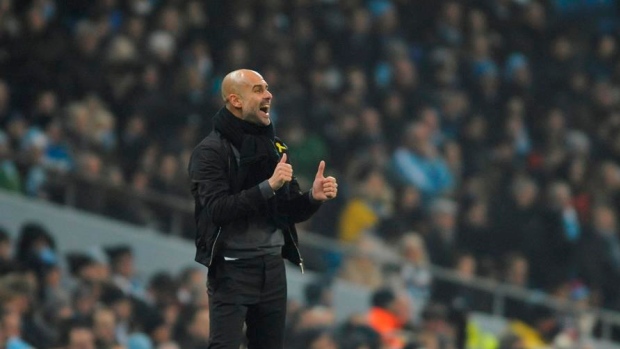 It is 16 straight victories and counting for Manchester City.
And there's no sign of the team's record winning run in the English Premier League coming to an end anytime soon.
Under Pep Guardiola, City has won every league game since snatching a 2-1 victory over Bournemouth on Aug. 26 thanks to Raheem Sterling's goal in the seventh minute of injury time.
A 2-1 win at fierce rival Manchester United on Dec. 10 made it 14 in a row, a record for a single English top-flight season, and beating Swansea three days later gave City the mark for consecutive victories in any English league.
Having beaten Tottenham 4-1 on Saturday, City now faces Bournemouth, Newcastle and Crystal Palace — teams currently lying in the bottom seven of the league — to round off 2017.
Here's a look at how City's historic winning run compares to those in Europe's other big leagues, with Guardiola the architect of records in Spain and Germany, too:
___
SPAIN
Fittingly, Guardiola set a record of 16 straight wins in the Spanish league while coaching Barcelona in the 2010-11 season. Real Madrid equaled that mark under Zinedine Zidane in 2016.
Barcelona's run started with a 2-1 win over Valencia on Oct. 16, 2010 and concluded when the team drew 1-1 at Sporting Gijon on Feb. 12, 2011. The streak included a historic 5-0 thrashing of Jose Mourinho's Real Madrid at Camp Nou.
Barcelona went on to win its second Champions League title under Guardiola that season, in addition to its third consecutive Spanish league.
Madrid won 16 in a row over two seasons, finishing 2015-16 with 12 victories to almost catch Barcelona for the league title. Zidane's team then added four more wins to start the next league campaign. Overall, the run started with a 3-1 win at Levante on March 2, 2016, and ended with a 1-1 draw against Villarreal on Sept. 21.
— By Joseph Wilson.
___
GERMANY
In the 2013-14 season, when Bayern Munich dominated the Bundesliga like never before to clinch the title in March, the team did so on the back of 19 consecutive wins culminating in the 3-1 victory at Hertha Berlin that sealed Guardiola's firstGerman championship.
Bayern was unbeaten at the time and had racked up 25 wins from its 27 games. The streak started on Oct. 19 and ran through March 25.
Perhaps as a consequence of the title celebrations, Bayern drew the next game, 3-3, at home with Hoffenheim.
With the title secured, Guardiola's side concentrated on the German Cup and Champions League as it sought to repeat the treble won under Jupp Heynckes the season before. Bayern slipped to two losses and two more draws in its remaining league games after Hoffenheim.
Bayern still finished 19 points clear of second-place Borussia Dortmund, which it also defeated in the German Cup final. Eventual Champions League winner Real Madrid denied Bayern the treble.
— By Ciaran Fahey.
___
ITALY
Inter Milan holds the Serie A record at 17 straight wins, established during the 2006-07 season under Roberto Mancini.
With Hernan Crespo and Zlatan Iibrahimovic scoring most of the goals, Inter's run began in late September with a 4-1 home victory over Livorno and ended in late February with a 1-1 draw at home with Udinese.
Later that season, Inter won its second straight Serie A title but first on the field since 1989. Inter was awarded the previous season's championship when Juventus was stripped of the honour due to the Calciopoli refereeing scandal.
It was an Inter team consisting of Julio Cesar in goal; Marco Materazzi and Walter Samuel in central defence; Javier Zanetti and Maicon at fullback; and Luis Figo, Dejan Stankovic, Patrick Vieira, Olivier Dacourt and Esteban Cambiasso in midfield.
Adriano, the powerful Brazilian striker who had been a force in previous seasons, scored only five goals in 23 Serie A appearances.
— By Andrew Dampf.
___
FRANCE
Defending champion Monaco holds the record for consecutive league wins with 16, starting in late February and crossing over into early this season.
Led by the firepower of veteran striker Radamel Falcao and teen sensation Kylian Mbappe, Monaco won the final 12 games of last season on the way to the championship.
Despite selling Mbappe to Paris Saint-Germain, the title defence began in style as Monaco won the first four matches this term — scoring 14 goals in the process — before a 4-0 loss at local rival Nice on Sept. 9.
Monaco's run of 16 surpassed the previous record of 14 set by Bordeaux when it won the 2008-09 title under coach Laurent Blanc.
— By Jerome Pugmire.
___
Steve Douglas is at www.twitter.com/sdouglas80