Manziel shines at Thursday's Tiger-Cats practice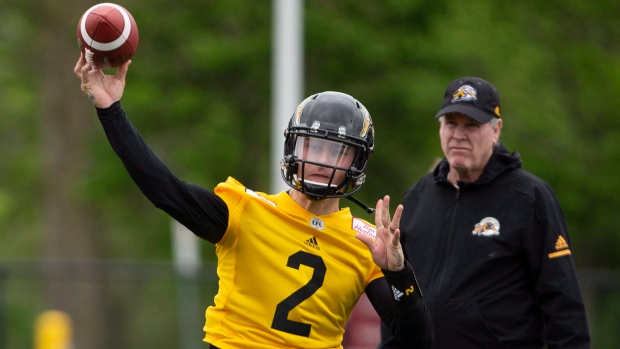 Thursday marked Johnny Manziel's fourth day practicing with the Hamilton Tiger-Cats at the team's training camp. Manziel has been getting more and more reps after being more of an observer on his first day with the team.
On Thursday, the Heisman Trophy-winning quarterback showed that he's starting to get a bit more comfortable on the field with his new team. Manziel ran plays with the Tiger-Cats' second-team offensive players to end practice, going five-for-seven for 70 yards and a touchdown pass, per TSN CFL Reporter Matthew Scianitti.
Among the plays on the drive was a designed run-call for Manziel, which, of course, he's done a lot of at every stop in his career. Manziel did make a minor error on the drive – he called the wrong play at the line of scrimmage - but in true Johnny Football fashion, he improvised on the fly and made the play work.
"Just watching him, he's a different person, said Tiger-Cats head coach June Jones after Thursday's practice. "He's going to be a good quarterback up here."
TSN CFL Insider Dave Naylor said on Thursday that he believes that the Tiger-Cats' brass must be pleased with what they've seen so far out of Manziel during camp. Naylor added that Manziel is starting to look comfortable on the field and is starting to make many of the instinctual plays that he's been known to make dating back to his days at Texas A&M.
Even though Manziel did look good on Thursday, Naylor still expects last year's starter Jeremiah Masoli to enter the regular season as the Tiger-Cats' No. 1 QB. But with that said, Naylor said he can could see a scenario arising during the season in which Manziel could win the job.
"In any sport, the player with the higher ceiling will always get an opportunity. At some point, Masoli is going to have a bad half - all quarterbacks do - or he's going to get injured, and Manziel will go in…
"At that point, I think that it's possible that we could have an in-season competition for the No.1 job. If Manziel isn't ready, Masoli will resume the No. 1 job and I think the idea would be that Manziel gets as much experience as possible to be ready to fight for that No. 1 job in 2019."
Naylor likens Manziel's current situation to the one that CFL Hall of Famer Doug Flutie experienced as a rookie with the Calgary Stampeders in 1990-91. Flutie took only half of the team's snaps that season, but he, of course, went on to become one of the best players to ever play in the CFL.
Manziel will get his first live CFL game action on June 1 when the Tiger-Cats host the Toronto Argonauts on TSN.