Maple Leafs 'flipping' over Kapanen's speed
The flip pass is becoming a weapon around the NHL. The Leafs possess the perfect mix of skill and speed to execute the difficult play, Mark Masters writes.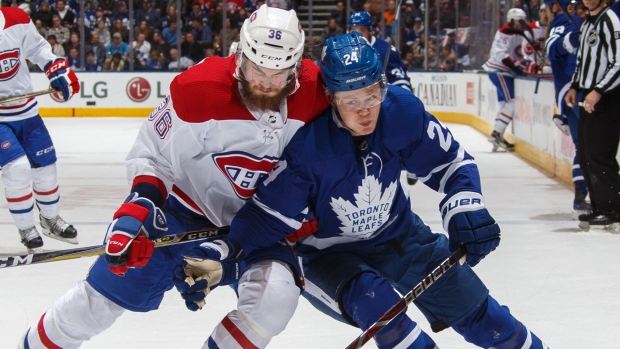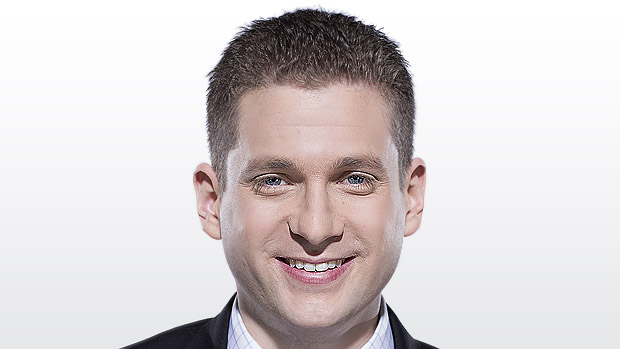 TSN Toronto reporter Mark Masters checks in daily with news and notes on the Maple Leafs. The Leafs (optional) and Golden Knights skated at Scotiabank Arena ahead of tonight's game.
---
Teammates often refer to Kasperi Kapanen as the fastest skater on the Maple Leafs and on Saturday night in Pittsburgh that speed was a big-time weapon.
At one point in the win, Nazem Kadri flipped the puck from below the dot in his own zone to the Pittsburgh blue line and watched Kapanen blow by a couple Penguins defencemen – Olli Maatta and Jamie Oleksiak ​– to get in all alone.
"Me and Nazzy talked about it," Kapanen said, "and whenever he gets the puck, I try to take off and get some separation from the D-men and he saw I was available and just flipped it out there and just a great play by him."
It's not the first time the Leafs have employed that play and it definitely won't be the last.
"The league is up so tight on you now," said head coach Mike Babcock. "Everyone talks about entries and stuff like that. Three-quarters of the time there's no entry because people are on top of you so hard, the space is behind people. Good D-zone coverage, real good pop by [Jake] Gardiner into Naz and then Naz made the play with speed off the puck. It works better for the guys who skate good."
More and more the flip pass is becoming a weapon around the league, but it's not easy to execute. You need the perfect mix of skill and speed.
"It's a hard play for sure," said Kapanen. "For him to kind of predict where I'm going to be going and he threw the puck out and it stopped on a dime and that was a great play. So, we do that a lot. They put it in and it's going to be icing and they want me to go get it. It's a great play. I like it. I want to go get it and be first on the puck."
Kapanen scored on a similar play against the Blackhawks in the third game of the season after being promoted to the Auston Matthews line.
"Mats made a nice [flip pass] in Chicago earlier this year to really put the opponent on their heels," recalled John Tavares. "You feel [Kapanen] barreling down on you, can't be a good feeling."
"It's pretty tough," agreed Travis Dermott, providing a defenceman's perspective, "especially with a guy with that speed. It's kind of a weird situation where you're looking up at the puck, but you also, obviously, have to be watching the guy coming down on you and if he's as fast as Kap it's definitely pretty tough to defend."
The only thing that was missing on Saturday was the finish. The puck rolled off Kapanen's stick and the 22-year-old was seen shouting an expletive back at the bench afterwards.
"It didn't really ever settle down, but still not an excuse," he said. "I mean, I should've put that one in. It just didn't go my way that time. But, it's okay. I know I'm going to have a lot more chances, a lot more breakaways this year."
----
Nine of Kapanen's 12 points have come on the road this season and a lot of his teammates have similar splits. For whatever reason, the puck hasn't been going in for the team in Toronto where the Leafs are 3-5-0 on the year, including a loss against Dallas last Thursday. But Babcock isn't worried about his team's outlook at home. He notes the effort in Saturday's impressive win in Pittsburgh was similar to the one against the Stars.
"To be honest with you, it's pretty much the same performance as we had against Dallas," Babcock noted. "We dominated territorially, we got to the puck to the net, it's just, I mean, the puck goes in right now on the road."
The Leafs have the worst home shooting percentage in the NHL (6.75 per cent) and the top road shooting percentage (16 per cent).
TSN's Kristen Shilton has more on the Leafs seeking a fresh start at home here.
----
Leafs and Knights players and coaches were asked what they took away from the Ottawa Senators Uber video situation.
Here's a sampling of the responses:
Babcock: "We're all totally aware any time someone says to you, 'This is off the record,' nothing is off the record in your life. Let's get that straight. The second thing is everywhere you go, there's someone taking your picture or a camera is on and you know that as well. You can call it an invasion of privacy, sure. But, is that not what we all live with now every single day? I don't know how all this is any different than anything I'm doing living right here. To me, we all know that, that's part of the job. But, what really matters is the people that sit at your kitchen table. It's what they think. The rest is kind of overrated."
Dermott: "They're wanting to win and talking amongst teammates, it's kind of a tough situation to put yourself in that way, but hockey is hockey. Everyone wants to win, so talking amongst your teammates like that, it happens, but you try to be as respectful as you can about it, of course. You have to always be aware. There are always eyes on you. If you're going to talk like that, probably should make sure you are pretty safe about it. It's a tough bounce for them, they are going to have to deal with that, but it could happen to anyone, really."
Knights coach Gerard Gallant: "All the players talk about coaches all the time, believe me, and vice versa. We talk about them all the time, too. It's unfortunate the incident happened. It shouldn't happen."
----
Ryan Reaves potted his fourth goal of the season in the Knights win over Carolina on Saturday matching his entire total from last year. Afterwards, Knights team insider Gary Lawless joked with the veteran tough guy that he's made the front of the net his office of late much like Wayne Gretzky back in the day.
"Yes, very Gretzky-esque, but with a little bit of a better tan," Reaves quipped.
However, the 31-year-old wasn't thrilled with how he reacted to his latest goal apologizing to Vegas fans for what he called a "trash" and "garbage" celebration.
"I had a couple in mind and I think I got caught in between two," he explained on Tuesday morning. "I'll be better next time, don't worry."
As a team, the Knights have struggled to score (2.29 goals per game, 30th in the NHL), but​Reaves and linemates Pierre-Edouard Bellemare​ and William Carrier have been an early-season surprise.
"They've been real good," said Gallant. "From the first game of the season they've fore-checked well. They do a good job. They don't give up a whole lot and they create chances every night for us. Reaves has four goals, Belly has two, Carrier one so that's pretty good for a line that's supposedly called, 'The fourth line.'"
----
​Out since taking a big hit from Tampa Bay's Braydon Coburn on Oct. 26, Max Pacioretty participated in Knights practice Monday and skated on a regular line at Tuesday's morning skate.
There was nothing official afterwards, but all signs point to the former Canadiens captain getting back in tonight after a four-game absence.
Pacioretty has scored 19 goals in 38 games against the Leafs, which is more than against any other opponent. He's potted nine goals in 15 games in Toronto. Per the Elias Sports Bureau​, the only other active players to score nine or more goals over their first 15 games as a visiting player in Toronto are Alex Ovechkin (15) and Sidney Crosby (10).
"Going through the rebuild, we seemed to have a lot of success against them in the past," Pacioretty said. "However, this team right now is completely different. The skill, obviously, everyone knows what they have here. We've dug a little bit of a hole for ourselves so we want to come in here and try and steal two points by outworking them."