Maple Leafs trade F Winnik to Penguins
The Toronto Maple Leafs' sell-off continued Wednesday as forward Daniel Winnik was traded to the Pittsburgh Penguins for centre Zach Sill and two draft picks.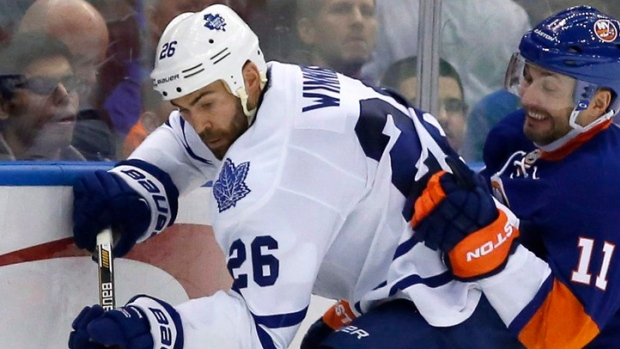 TORONTO - When the Pittsburgh Penguins' offer proved worth taking, the Toronto Maple Leafs decided it wasn't worth waiting until deadline day to trade Daniel Winnik.
The Leafs got a 2015 fourth-round pick, a 2016 second-round pick and centre Zach Sill in exchange for Winnik, a versatile 29-year-old forward who is set to be an unrestricted free agent this summer. The Penguins had expressed strong for more than a week, and Toronto general manager Dave Nonis said their offer got better in the past 48 hours.
"If we felt that the offer wasn't fair and that there was going to be more coming, then we would've waited," Nonis said on a conference call Wednesday. "But we're happy with the return, and I think Pittsburgh's got a good player for their playoff push."
Winnik was the Leafs' best trade chip left after sending defenceman Cody Franson and forward Mike Santorelli to the Nashville Predators on Feb. 15. The Toronto native who was on a US$1.3-million, one-year deal had seven goals and 18 assists this season and was excellent, particularly in the past couple of months.
"He fit in well with every line he played on, was a very good penalty killer for us, and teams recognize that," Nonis said. "His play put him in a position where he was wanted and it put us in a position to get some quality assets back."
Other teams were interested in acquiring Winnik, seemingly the ideal rental player at the deadline, but Nonis said some were looking for a "bargain." With the Leafs able to cash in on the pending free agent and given his play of late, Winnik was not going to be a bargain.
Sill is in the last year of his contract, as well. And while the Leafs will give the 26-year-old a chance to see if he's a "long-term fit," the key to this deal was stockpiling draft picks.
"The two picks, getting the second and the fourth, were important for us to add those picks into our system and try to put more players in the system going forward," Nonis said.
The Leafs already got a first-round pick from the Predators along with prospect Brendan Leipsic in the Franson/Santorelli trade. Expect them to continue to be active with a couple of other pending unrestricted free agents (defenceman Korbinian Holzer and winger David Booth) and others available before Monday's 3 p.m. deadline.
"It's not that business is done," Nonis said. "Will we be active on the deadline day? I still think there's a chance that we do make some other moves. Whether it's players that are under contract or not remains to be seen, but we're not going to stop looking to see if there's any options available to us."
One advantage the Leafs have is the ability to retain salary in trades. They kept 50 per cent of Winnik's to facilitate this move to the cap-strapped Penguins.
"That wrinkle of the CBA is important for making deals now," Nonis said. "In the past that was not something you could do. You had to find matches that were dollar-for-dollar, and now you can work with teams to try to get a deal done."
Winnik recently acknowledged that being on a one-year deal with a team out of contention made him a trade candidate. And he knew he was being evaluated every game.
On Wednesday he wrote on his verified Twitter account he was very excited to join the Penguins and looking forward to the opportunity to win the Stanley Cup. Pittsburgh is in third place in the Metropolitan Division.