Marchand, Crosby lead Canada past Russia
There was a moment, an unsuspected punch to the gut, where Team Canada faced the slightest bit of adversity for the first time in the World Cup of Hockey. TSN Senior Hockey Reporter Frank Seravalli reports on Canada's 5-3 semifinal victory over Russia.
Frank Seravalli, TSN Senior Hockey Reporter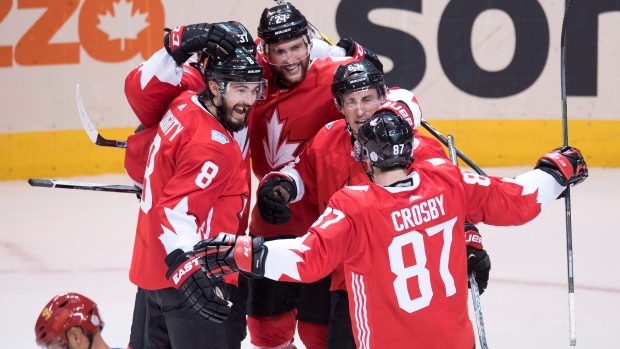 TORONTO — There was a moment, an unsuspected punch to the gut, where Team Canada faced the slightest bit of adversity for the first time in the World Cup of Hockey.
It didn't feel like a legitimate surge, considering Team Russia went nearly the first 10 minutes of the second period without a shot before scoring on Carey Price, but Canada was nonetheless trailing on Saturday night.
Sergei Bobrovsky was channeling his inner Kristers Gudlevskis from the 2014 Sochi Olympics. It was gut check time, time to stand up and answer.
And it took Brad Marchand only 72 seconds to respond.
"I think that was big. We felt like we were controlling the play and doing a lot of good things and we were down 2-1," Sidney Crosby said of Marchand's goal, the one he orchestrated. "The way we were playing, we believed we were going to score. But anything can happen sometimes, so it was good to get that."
Marchand struck again in the opening two minutes of the third period, breaking a tie with a goal that simultaneously removed any fantasies of a Russian upset, and pushed Team Canada to a methodical 5-3 victory at Air Canada Centre.
Team Canada will face the winner of Sunday's other semifinal between Team Europe and Team Sweden in a best-of-three final series for the World Cup of Hockey.
What makes Team Canada special - aside from Crosby, who now leads the tournament with seven points - is that their roster is stacked with relentless champions.
If it's not Crosby throwing the dagger, like he did when he opened the scoring for the third time in Canada's four games, it is Corey Perry pumping in the insurance goal. Perry, who has won two Olympic gold medals, a World Championship, a World Junior Championship, and a Memorial Cup in addition to a Stanley Cup and Hart Trophy, was a late injury replacement on this roster.
Think about that for one second. That is why Team Canada has now won 14 straight best-on-best international contests dating back to the 2010 Vancouver Olympics.
Marchand, a 37-goal scorer in the NHL last season, was originally panned as a possible selection for Team Canada because many thought he couldn't keep up with the skill. This is a player who scored twice in a Game 7 of the 2011 Stanley Cup final in Vancouver.
"I think that it's been a whirlwind here being part of a group like this and at this level has been special," Marchand said. "I'm still trying to take it all in. It's been a blast."
Alex Ovechkin summed up the difference quite succinctly. Ovechkin has never registered a point in four games for Team Russia against Team Canada when facing Crosby.
"They have talented guys, all the guys," Ovechkin said.
That's why Mike Babcock felt so confident in his message to the troops during the second intermission.
"There's no chance they can keep up if we keep doing what we're doing," Babcock recalled telling his team. "And, that proved to be true."
With Marchand and Patrice Bergeron, Crosby's line has accounted for eight goals and 16 points in the four games. Even Babcock is flabbergasted how quickly his entire lineup has generated chemistry. His lines have not varied in four games, other than to give Ryan Getzlaf a night off.
"I don't even know what happened here, but, no, usually it's not like that," Babcock said. "It's a work in progress and you grind and you grind and you try to make it better. We have had success this far, but let's not get carried away."
Babcock tried to reign in expectations, but Russia blew the best chance to knock off Team Canada in the World Cup. Anything can happen in a single elimination game. But to beat Canada twice in three games on home ice?
Good luck.
"Definitely," Sergei Bobrovsky agreed. "We had a good opportunity to beat them tonight, to get through to the final."
Saturday also marked the official death of the Canada-Russia rivalry on-ice. The players, most of them born well after the 1987 Canada Cup, have little emotional connection to the matchup now other than what they've heard or seen on video.
And for there to be an actual rivalry, there needs to be a little back and forth. Canada is now 8-3-2 against Russia in the Canada Cup / World Cup series. And Canada has never looked stronger on the world stage, trailing just 2:41 (1.1 per cent) of the time in this tournament.
"Now we have a chance to compete for the real prize," Babcock said. "That's what we have all came for. We have all given up like, I don't know, three weeks - it seems like four months. We now have an opportunity to have success, but we're going to be measured on what happens next."
Contact Frank Seravalli on Twitter: @frank_seravalli