Matthews denies any rift with Babcock
Toronto Maple Leafs forward Auston Matthews insists there was no falling out during the playoffs with head coach Mike Babcock and isn't sure how rumours of one started. "Good, it's been good," Matthews said of his relationship with Babcock. "I don't know why I'm getting all of these questions about it."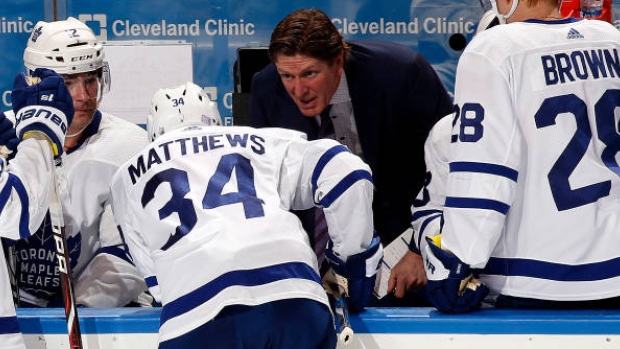 Toronto Maple Leafs forward Auston Matthews insists there was no falling out during the playoffs with head coach Mike Babcock and isn't sure how rumours of one started.
"Good, it's been good," Matthews said of his relationship with Babcock. "I don't know why I'm getting all of these questions about it."
Matthews was asked about a report that Babcock "lost him" during the team's series with the Boston Bruins that saw the Leafs drop the deciding seventh game on Wednesday night, but flatly denied any substance to it.
"No, I don't know what that's all about," Matthews said of the report. "Our relationship is fine and, obviously, you guys can speculate all you want, but it's pointless."
Matthews, who registered a goal and an assist over the seven games, hopes the team can take away something from the loss to build on for the future.
"We had a great regular season," Matthews said. "Obviously, it's disappointing to lose in the first round, but nobody said it was going to be easy to go through adversity and these learning curves. You take what you can and move forward."
Babcock said Friday he asked Matthews about the report a rift between the two on Friday morning and said Matthews, along with likely the rest of the team, was "pissed off" in the final 10 minutes of Wednesday's Game 7. Babcock said he's lucky to get to coach Matthews and said he believes the two have a good relationship.
Though Matthews says he isn't seriously injured, he admits to not being 100 per cent and has decided against representing the United States at next month's world hockey championship in Denmark. The 20-year-old Scottsdale, Ariz., resident will return to his home later this week to recuperate.
Babcock said Friday Matthews dealt with a back injury in November and his skating never recovered fully afterwards. He noted Matthews missing a month in February/March due to a head injury also had an impact on his skating later this year.