Matthews, Marner stick to script in wake of Shanahan's call for financial sacrifice
Maple Leafs stars steering clear of contract talk with media after team president's comments, Mark Masters writes.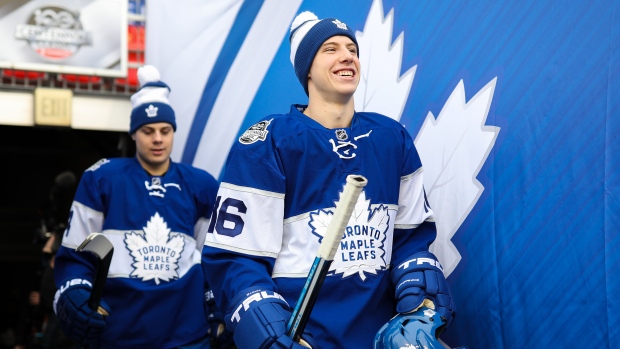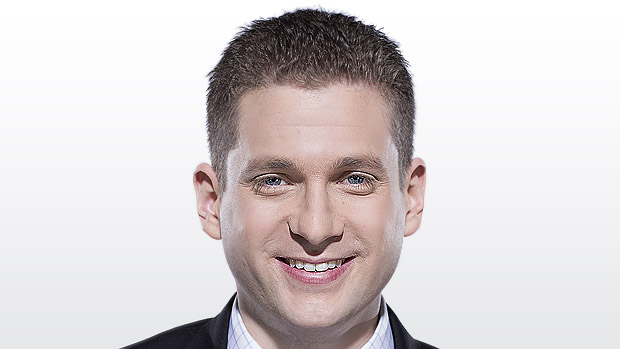 TSN Toronto reporter Mark Masters checks in daily with news and notes on the Maple Leafs. The team practiced at the MasterCard Centre on Friday.
Before Wednesday's season opener, Brendan Shanahan sent a message to Toronto's rising stars. In a rare media availability, the Maple Leafs president urged the team's "young leaders" to resist the urge to set a new bar with their next contracts. Such a sacrifice, while still earning a fair contract, would help keep the core together and the championship window open as long as possible, he argued.
What did Auston Matthews and Mitch Marner, both in the final year of their entry-level deals, think of the comments?
"That's what we have agents for," said Marner. "The agents will talk to the team about all that kind of stuff. We have confidence in this room that this team's going to stay together for a long time."
"That's why we have agents," said Matthews, who was also asked about the matter post-game on Wednesday. "So I'll keep repeating myself. Let them handle it."
What is Matthews directing his agent, Judd Moldaver, to do? Does he want to get a deal done sooner than later?
"I mean, that's kind of a private conversation so I don't think I'm really going to tell you anything," the 21-year-old from Arizona said.
With restricted free agent William Nylander now missing regular-season games while awaiting a new contract, are Matthews and Marner concerned that may happen to them?
"Not at all," said Marner.
"It's quite a ways away, so not really," said Matthews.
Shanahan pointed to John Tavares as an example the younger players could follow. As an unrestricted free agent, Shanahan noted, Tavares took less money to sign in Toronto.
"Everyone's situation is different," Tavares said after Friday's practice. "There's not a doubt in this locker room [that] everyone is buying in and wants to buy in to what's going on here. I certainly saw that from talking to a lot of the players during the interview process. I certainly got that sense and it's why I felt strongly that things can work here ... it's a negotiation and, you know, things take their own time, their own process and sometimes there's some tough moments through it."
Tavares doesn't expect the business side of the game to become a distraction.
"When I came here I really got a sense of their character and their ability to handle the spotlight at a young age and do what they do on the ice and being able to handle everything that comes with it."
Marner is taking precautions by instructing his agent, Darren Ferris,​ to keep him out of any negotiations unless a deal is imminent.
"If there's any talking, I don't want to hear too much of it," Marner said, "just let those two talk about it. If it gets there and it gets finished then, obviously, that'd be great for us, It'd be awesome to sign that. But we're not pressuring each other. We're here to do the best we can this season and see what happens in the summer."
----
Tavares opened a new chapter in his hockey life on Wednesday, scoring a goal in his Leafs debut. Backup goalie Garret Sparks indicated on Twitter that Tavares may have called his shot when it comes to the second-period tally against Carey Price.
"Well, I don't want him sharing secrets," Tavares said with a wry grin. "You try to prepare as best you can for who you're playing against. Just trying to be ready when the chances come."
Meanwhile, the Islanders opened their season on Thursday winning their first game since Tavares moved on. Was the ex-Islanders captain keeping tabs?
"It's obviously on TV. I don't think there's really hiding what goes on around the league," he said. "They got a big win and it's good for them. I'm just worried about what I got to do here."
----
The Leafs were far from a happy group after Wednesday's win with Matthews describing it as "ugly."
The numbers certainly suggest Toronto can be much better. Montreal controlled possession at even strength outshooting the home side 30-20 in that category.
"We can focus on working harder, but at the same time working smarter is probably a better-case scenario," Matthews explained, "because we're just not getting the puck in their zone. They kind of know what's coming at them every time and I think we just need to be more deceptive and when we get the puck in their zone not throwing it away – just hanging on to it and making the right play and if it's not there, starting over again."
Mike Babcock objected to the notion that the problem lies on the blueline.
"Our defence is just fine," the Leafs coach insisted. "But I can tell you this right now, if you never play in the offensive zone, you don't put any pressure on the other team's D, then your D never looks very good. It's a five-man unit that has to make that happen and that didn't happen."
Babcock pointed out that the Leafs had 19 faceoffs in their own end at even strength versus just 10 in the offensive end.
So was the issue not having a good enough forecheck or was it in breaking out of the defensive end?
"What comes first," Babcock asked rhetorically, "the chicken or the egg?"
----
Lines at Friday's practice:
Hyman-Tavares-Marner
Marleau-Matthews-Ennis
Leivo-Kadri-Brown
Johnsson-Lindholm-Kapanen
Gauthier
Rielly-Hainsey
Gardiner-Zaitsev
Dermott-Ozhiganov
Marincin-Holl
Andersen
Sparks
Power play units at Friday's practice:
Rielly
Matthews-Kadri-Marner
Tavares
Gardiner
Ennis-Johnsson-Leivo
Marleau