Matthews, Nylander working to regain their form
Toronto Maple Leafs head coach Mike Babcock says it will be a "slow crawl" for both William Nylander and Auston Matthews to get their games back to the high-octane level the star forwards are accustomed to, Kristen Shilton writes.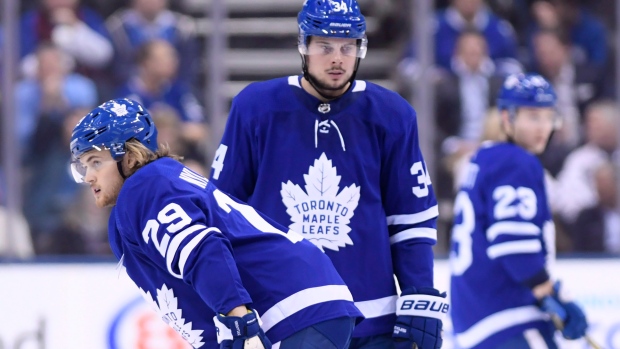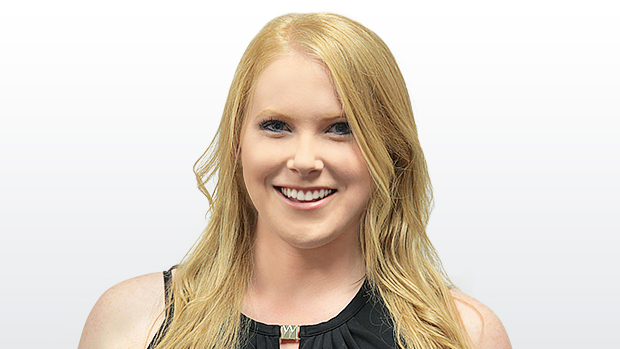 TSN Toronto reporter Kristen Shilton checks in daily with news and notes on the Maple Leafs. The team held a noon practice at MasterCard Centre on Friday.
When the Maple Leafs fell 5-4 to the Detroit Red Wings in William Nylander's season debut on Thursday, head coach Mike Babcock said the winger's 12:29 ice time (and lack of play entirely through the final 11:37 of the third period) wasn't a reflection of his preparedness, but rather that it will be a "slow crawl" for both Nylander and Auston Matthews to get their games back in top form.
In Nylander's case, it had been nearly 230 days since he'd last played in an NHL game before Thursday's contest, while Matthews was playing in only his fourth game back from a shoulder injury that held him out for more than a month which translated into 14 missed games.
"Did I expect [Nylander] to be any different than he was? Not really. Do I think this is going to take some time? For sure," Babcock said after the Leafs practice on Friday. "But I don't think Willy is too wound up about it, I'm not wound up about it. It's no different than Auston. When these guys come back, it takes you a period of time to be feeling as good as you can so your legs work and your brain work at the same time."
Yet, it's not as if Matthews, at least, hasn't been a key part of Toronto's offence since his return to game action on Nov. 28. Over his first three games alone, Matthews amassed five goals and two assists, including one overtime winner.
"They're really good players so they're going to be able to do things in the meantime anyway," Babcock said. "But for them to feel as good as they want to feel and know they have rhythm and know that it's going, their best is going to take them some time. But they're confident in their abilities, we're confident in their abilities, we're not letting that get in our way."
Managing expectations is part of the job for both players, and Matthews didn't think anyone could judge Nylander based on Thursday's season debut alone, especially not when his first practice since signing a six-year extension last Saturday was Friday.
"I don't know how I would feel if I was literally just jumping into a game from summer skates for the last couple months," Matthews said. "Willy is a guy who can slow things down [on the ice] but when you haven't played a hockey game and you jump into Game 29, it's pretty tough."
"It's going to take a couple games before you get there," admitted Nylander. "Practices and stuff are going to help speed the process up. You have to practice the way you play. It was pretty fast out there, the game was going pretty fast so it felt better and better as the game was going on."
That's how Matthews has been feeling lately, too. While he played 11 games prior to getting hurt and was able to skate throughout his recovery, his starts haven't been as strong since coming back, and they might not be up to par for a while yet.
"It really takes about a month almost to get back and game by game you want to feel more like yourself," Matthews said. "These last couple games, the first period has been really tough for me to kind of get myself going because you just haven't played hockey in a while. In the second and third I start to feel much better, but I want to feel good the whole game."
----
It was with his recent injury in mind that there was a collective cringe when Matthews was sent flying into the endboards on Thursday by Red Wings defenceman Niklas Kronwall. At first look, it appeared Matthews had led with his right shoulder, an area he hurt last season. Babcock theorized it was actually his back that took the heaviest contact, which was another injured spot for Matthews last year.
But on Friday, Matthews said there was nothing to worry about.
"I was fine. Just kind of lost my wind for a second," he said. "I didn't really feel anything there [on the shoulder], was just kind of one of those things."
Matthews didn't miss a shift against Detroit, and once his health was established a larger question loomed – did the centre's teammates do enough coming to his defence? Toronto is a team brimming with speed and skill, but lacks tough guys like Matt Martin, Leo Komarov and Roman Polak who all departed via trade or free agency last summer, leaving the Leafs short on physicality.
Still, Morgan Rielly did rush into the fray after Matthews initially went down, but tensions were quickly extinguished as Kronwall was assessed a two-minute penalty for boarding.
Babcock wasn't exactly surprised that's where the Leafs' reaction ended.
"I just think you look at our personnel, you look at what we got; we are what we are," he said. "Our toughness is our power play; take all the penalties you want."
It's not that Babcock wants his players to avoid mixing things up entirely. He would just rather see them display toughness in different ways.
"I would like our team to be physical on offence," he said. "What that means to me is when you get the puck, you hang onto it, you get your ass out, you protect the thing – you play heavy in the offensive zone. To me that's physical for our group. I'd like to finish checks when checks [are] there; when a guy is twice as big as you I'd like to cut off his arms."
At this point, the hit on Matthews is an isolated incident. There hasn't been a pattern this season of opponents taking a run at Toronto's stars, and the Leafs want to keep it that way. Just not at the expense of potentially winning hockey games.
"At that point in time [midway through the second period when Toronto was trailing 4-1] we realized we still had a chance to get back in the game," said Nazem Kadri. "The last thing you want to do is try to be revengeful and put your team down another man and they score on the power play and the game is really said and done. For us, you just try to be play hard, try to play physical and remember."
----
After only seeing two periods of action together, longtime linemates Nylander and Matthews were separated at Friday's practice – Matthews had Andreas Johnsson and Kasperi Kapanen on his flanks, while Nylander was on Kadri's line with Connor Brown (Patrick Marleau, who missed the session with a maintenance day, is expected to take that spot on Saturday against the Boston Bruins).
While he was looking forward to getting in a groove with Matthews again, the change is suiting Nylander just fine for now.
"I've played with Naz in the past a lot [last season]. I think there's some chemistry there and we had it going today in practice," Nylander said. "We want to get some speed and o-zone time and create some scoring chances and work hard every shift."
And Kadri could certainly use a player with Nylander's potential to play with, too. The veteran has registered just one goal and three assists in his last 11 games, and knows how much of a difference-maker Nylander can be for those around him.
"It's just another great player you have to worry about," Kadri said. "For other teams, just having that matchup quality out there and being able to decide who's going to play against who is a tough decision for a lot of teams to make and that certainly gives us the advantage."
The focus immediately, though, has to be getting Nylander comfortable at game speed again. That's when the possibilities really start to expand for the Leafs' offence.
"I think just the physical aspect of having that contact [is hard]," Kadri said. "You may think you're in shape and he may have done everything he can on and off the ice to be ready, but once you add the physical and contact component, it really changes it. For him, I think just getting his rhythm back…he's a great player, he's going to be fine."
----
In the first three games after Matthews returned from injury, Toronto's power play looked like it was firmly back on track. Those units had produced a slight 4-for-26 record in the 11 games prior to Matthews coming back, and then went on a scorching 4-for-7 run in their next three games.
Then against Detroit, the Leafs' power play was far from being on fire, even with Nylander slotting onto the second group. They finished the night 0-for-4, the first time Toronto had posted a record that poor in a game since Nov. 9.
"We just couldn't really set anything up," Matthews said. "They did a really good job, you have to give credit where it's due. I think we have to look at it as a power play and maybe get a little more hungry out there, keep things a little more simple, get the puck in, get guys down there."
A lack of urgency, not just on the power play but everywhere, was also evident to Babcock. That made it hard for him to single out just special teams as the culprit in why Thursday's game went off the rails through the first 40 minutes.
"Our power play has been great. Last night we weren't very good on it," he said. "I didn't think we were good at lots of things. So we're going to just put [it] aside and get on with life."
It's a logical conclusion to draw, though, that other teams will try to duplicate what the Red Wings did to stifle the NHL's sixth-ranked power play (26.7 per cent) in the future.
"Sometimes you're not going to be threading the needle every time and backdoor plays aren't going to be open every game, so teams will penalty kill differently," said Matthews. " I'm sure teams are going to look at what [Detroit] did last night and try to do what they did because they did a really good job, so now it's our job to respond."
----
Leafs lines at practice:
Forwards
Hyman-Tavares-Marner
Johnsson-Matthews-Kapanen
Brown-Kadri-Nylander
Ennis-Lindholm-Gauthier
Maintenance day: Patrick Marleau
Defencemen
Rielly-Hainsey
Gardiner-Zaitsev
Dermott-Ozhiganov
Marincin-Holl
Goaltenders
Andersen
Sparks