Maturation of Matthews puts Leafs on cusp of ending drought
Maple Leafs head coach Mike Babcock called Auston Matthews' performance last night in Game 5 the best 200-foot game of the playoffs for Matthews. It was yet another sign of how he's matured in his third NHL season, Mark Masters writes.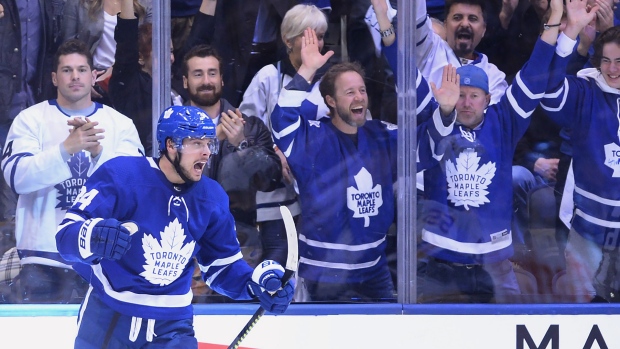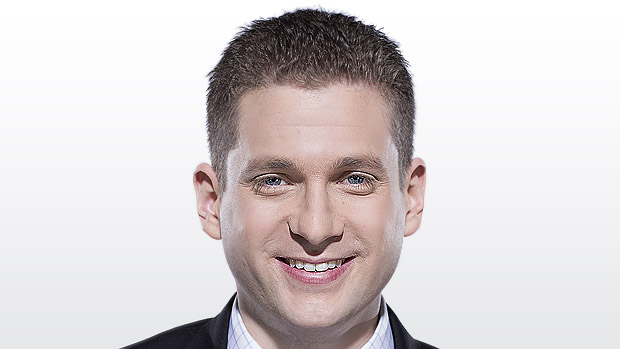 TSN Toronto reporter Mark Masters checks in daily with news and notes on the Maple Leafs. The Leafs practised at Scotiabank Arena Wednesday morning ahead of Game 6.
---
Auston Matthews scored a huge goal Friday night in Boston, but it was a subtle play he made later in Game 5 that Mike Babcock chose to focus on after the nervy 2-1 win. The Leafs coach pointed out that his 21-year-old centre was in perfect position to receive a pass from Ron Hainsey before feeding Morgan Rielly for a quick break out from the defensive zone leading to the game-winning goal by Kasperi Kapanen.
"He's right there for the D on the play and makes that play coming out of the D-zone," Babcock noted. "People just think because you are a good player that you know how to do that. You don't know how to do that, because you didn't have to when you were a kid."
Babcock called it the best 200-foot game of the playoffs for Matthews. It was yet another sign of how he's matured in his third NHL season.
"It's come a long way since my first year," Matthews acknowledged. "It's obviously really important to hone in that defensive aspect, because you have the puck more and as an offensive guy I want the puck as much as possible."
Why's it sinking in now?
"Well, I don't think it's just sinking in now, it's just he's a young player in the National Hockey League and you're playing centre and it's hard and it takes time," Babcock said. "It takes a ton of work. You got to get up and down the rink, up and down the rink 82 nights a year and then in the playoffs .... what you find is it's hard to do it right all the time, it's a lot easier not to do it right."
It's also tougher when you're playing alongside two inexperienced wingers as Matthews is right now with 24-year-old Andreas Johnsson (11 NHL playoff games) and the 22-year-old Kapanen (18 playoff games) on his flanks. Even harder when you're matching wits with Patrice Bergeron as was the case for much of Game 5.
"It's a process," Babcock said. "I think John Tavares being here has probably helped him, but just his overall commitment and understanding, as you get to be a better skater and you get stronger and you get more comfortable in the league, you have a chance to get better at it."
Matthews believes he's communicating better with teammates on the ice, which is helping facilitate break-outs. That's something the defence corps certainly appreciates.
"When games get a little hectic, a little crazy, a little tense, it's nice to have a voice in the middle of the ice," observed Jake Muzzin, "another set of eyes for you. Sometimes as a d-man you're going back for pucks and your back is to the play, you're facing the end wall and to hear one of your guys yelling for the puck, it helps out a lot."
"All guys are on the same page in the defensive zone," said Matthews, "and just having that trust in one another, that we work on it all the time, breaking out the puck, and making sure you're in the right spot for your teammate."
Matthews seems prepared to meet this moment. Last year, he scored just once in the seven-game loss to the Bruins. After a quiet opening two games this year, the offence is flowing now with Matthews potting four goals in three games.
"First two games it didn't go in and you get a chance and you capitalize on it and it gives you a boost in confidence and you want to keep it rolling," he said.
"You can see that he's pretty confident and not much has changed since the regular season," said good friend Patrick Marleau. "But I think this is something he's been waiting for all season long is to get in the playoffs and prove that he can do it and help the team win."
And now the kid from Arizona has a chance to lead this Original Six franchise to its first playoff series win in 15 years.
"The city's just as hungry as the players," Matthews said. "You see (Maple Leaf) Square outside after we score goals and after last night's win, I mean, you see videos inside bars and restaurants, just how crazy it is and how passionate they are so we, obviously, want to get the job done.
"We're so fortunate to play in a market like this in Toronto and have such passionate fans and when you see stuff like that I think you can't help but smile, because this city and these fans are just so passionate about each and every one of the guys on this team. It's truly amazing."
And while Matthews is taking on a starring role on the ice, off the ice he's keeping a low profile.
"It gets amped up, especially this time of year," he said before breaking into a smile, "I mean, I don't get out much. I like to just stay at home most of the time. I got my mom in town so eat at home for the most part. But when you do go out you sense excitement throughout the city."
And Matthews is a big reason for it.
----
The young Leafs core is unfamiliarity territory: looking to close out a series at home.
"We know the formula for us to win tomorrow," Babcock said. "We know that. Now we've got to do it. It's great to know you have answers, but now you've got to do it every day. That's the hardest part. Sometimes at home you get a little carried away. Let's just play."
Only five players who will dress for Toronto on Sunday have made it past the first round of the Stanley Cup playoffs: Muzzin, Hainsey, Marleau, Tavares and Frederik Andersen.
"You don't sit back, that's for sure," Muzzin said of the mindset. "You go after it. It's the toughest game to win, because they're desperate, alright, so we have to be just as desperate and hungry. We can't sit back and let them take the game to us."
"We got to kind of have that killer instinct from the start," Matthews said. "We're in a good position, we're on our home ice, we know the atmosphere is going to be amazing so, for us, got to stay focused and come in and everybody's got to do their job."
But being back home can bring some distractions.
"I'm kind of learning how much hockey means here in Toronto," Muzzin said with a grin. "Not that it didn't on my previous team, but it's another level here, for sure, with the fans in the city and the support so I'm learning how important it is, yeah."
What stands out?
"Just seeing whatever that Square is over there, that's nuts," he said with a laugh. "Just seeing people, everyone's got Leafs gear on, you know, I'm learning, yeah."
The Leafs took their eye off the ball in a disappointing Game 4 loss on home ice and are determined to learn from the mistake.
"There hasn't been a whole lot of momentum carried in the series," Babcock said. "There's actually been none. So, I think it's important we understand how we have to play and get prepared to do that and then play. I think it's important to enjoy the crowd and the atmosphere and all that, but we've got to get down to business and take care of the puck."
----
The Leafs will be playing only their second afternoon game of the season on Sunday having lost the previous midday showdown on Jan. 3 (4-3 v Minnesota).
How will the 3 pm start time impact the preparation?
"I guess no nap, but that's about it," Matthews said.
Boston played 12 afternoon games this season, including their regular season finale.
Babcock will address reporters at 12:45 pm on Sunday.
----
The Leafs held a brief 15-minute practice on Saturday. Zach Hyman and Marleau were the only position players absent.
"It was optional today for everybody," said Babcock, who was on the ice overseeing things. "Those are the guys that took the option so they'll play tomorrow."
Andersen worked with goalie coach Steve Briere ahead of the main session before departing the ice ahead of the main group. Joseph Woll occupied the second net at practice alongside Michael Hutchinson.