Mayweather says he's out of retirement for possible McGregor bout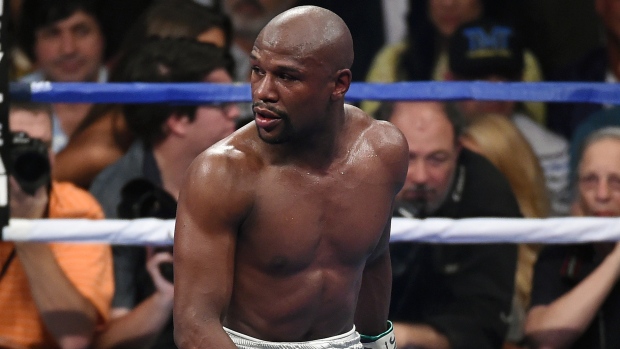 Floyd Mayweather says he is officially out of retirement and wants to fight UFC lightweight champion Conor McGregor and is targeting a summer date for the cross sport giants to meet in a boxing ring.
"Conor McGregor, I'm officially coming out of retirement just to fight Conor McGregor," Mayweather said during a stop on his UK Undefeated Tour. "I don't wanna hear any more excuses about the money. Sign the paperwork with the UFC so you can fight me in June, simple and plain. Let's fight in June. You're the B-side; I'm the A-side."
One of the snags in the reported negotiations for this fight has been the amount of money each fighter will be paid. While many numbers have been thrown around, the only on the record amount was offered by UFC president Dana White, who said he would pay both men $25 million plus PPV money.
There was a report in February that the fighters had, independent of the UFC, agreed to terms for the fight, but no contracts have been signed.
Mayweather for his part continues to urge McGregor to accept less money than the boxer for the bout.
"When I faced Arturo Gatti, I went to his turf and he was the A-side I was the B-side," said Mayweather. "I beat him and I didn't cry or I didn't complain."
Mayweather has not fought since earning a unanimous decision victory over Andre Berto in September of 2015, running his undefeated record to 49-0.
Previous to that, the 40-year-old beat Manny Pacquiao via unanimous decision in another highly anticipated fight.
McGregor's last fight was a second round TKO victory over Eddie Alvarez that earned him the UFC lightweight title, making him the only person to hold two UFC belts at the same time, as he was also the featherweight champion.
He was subsequently stripped of the featherweight belt by the UFC.
The 28-year-old received a boxing licence in December of 2016 in the state of California.