McDavid's first hat trick lifts Oilers over Stars
Connor McDavid got his first career hat trick, helping the Edmonton Oilers beat the Dallas Stars 5-2 on Saturday night to end a five-game skid. McDavid, the first overall pick in the 2015 draft, ended a 10-game stretch without a goal.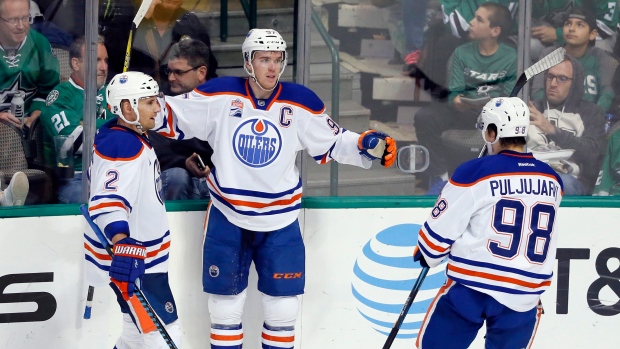 DALLAS — Connor McDavid, among the league's most electrifying young stars, got his first career hat trick behind a few fortunate breaks Saturday night.
McDavid scored once off a defender's stick and put back two other juicy rebounds, and his three goals helped the Edmonton Oilers beat the Dallas Stars 5-2 to end a five-game skid.
McDavid, the first overall pick in the 2015 draft, ended a 10-game stretch without a goal.
On the first, Dallas defenceman John Klingberg knocked the puck into his own net with his stick. The second came on a rebound from short range with goalie Kari Lehtonen out of the play, and the third was on a rebound with a wide-open net.
"Three pretty lucky goals," the 19-year-old McDavid said. "It's a funny league that way. You get grade-A chances and they're not going in, then you start putting it there and they are going in. It's weird that way. Definitely happy to get off that slump."
McDavid is now tied for the NHL scoring lead at 22 points with Winnipeg's Mark Scheifele and Tampa Bay's Nikita Kucherov. Dallas coach Lindy Ruff didn't like having him break out against his team.
"The shot that went in got him going early," Ruff said. "That's not the type of guy that you want to get going."
Tyler Pitlick got his sixth goal of the season for Edmonton, and Oscar Klefbom also scored. Cam Talbot made 31 saves.
The Oilers led 4-0 early in the second period when Ruff swapped out Lehtonen for Antti Niemi.
Patrick Eaves and Jamie Benn scored for Dallas during a 4-minute power play late in the second. Eaves scored in his fifth straight game, the longest streak of his 12-year career.
McDavid, named the NHL's youngest ever captain prior to this season, has eight goals after getting one in each period of this one. It's his second multigoal game this season and fifth in 64 career games.
He finished the hat trick midway through the third period by scooping up a rebound in the left circle and flicking it past a sprawled Niemi.
Anton Slepyshev and Jesse Puljujarvi each had two assists for Edmonton.
Pitlick scored with 8:24 left in the first on a 2-on-1 break, connecting off a pass from Drake Caggiula, who played his first NHL game. Another assist went to Matt Hendricks, playing for the first time since getting a lower-body injury in the preseason.
Edmonton got goals 56 seconds apart in the second to make it 4-0. Klefbom's drive from the left point went in off defenceman Patrick Nemeth's skate at 5:21, and McDavid found himself alone with the puck to the right of the net at 6:17.
Eaves scored unassisted with 4:23 left when his wrist shot went in off a goalpost. About a minute later, Benn tipped in Klingberg's drive from the top of the slot.
Lehtonen made nine saves, and Niemi had 15.
NOTES: Dallas LW Patrick Sharp returned after missing 14 games because of concussion-like symptoms. ... Edmonton RW Zack Kassian, who drew the double minor in the second period, was playing in his 250th game. ... Benn has 10 points (five goals, five assists) in his last nine games against the Oilers. Jason Spezza, who assisted on Benn's goal, has 22 points (seven goals, fifteen assists) in 20 career games vs. Edmonton.
UP NEXT
Oilers: Return home to play Chicago on Monday night.
Stars: Host Minnesota on Monday night to end a four-game homestand.