McDavid shrugs off Kadri questions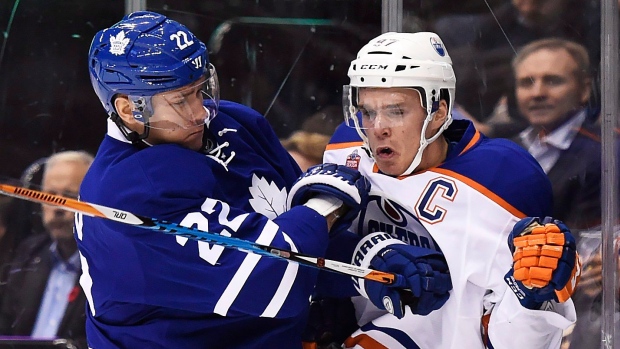 TSN Toronto reporter Mark Masters checks in with news and notes from Maple Leafs practices and game-day skates. The Maple Leafs and Oilers both skated in Edmonton this morning ahead of tonight's game.
- Connor McDavid was asked how the Maple Leafs slowed him down on Nov. 1 when the Oilers captain was held without a point in a 3-2 loss in Toronto. "They play a tough game," McDavid said. "They made a pretty big emphasis on not letting me come through the middle with any speed or really touch the puck at all so it's nothing I haven't seen before. I'll have to figure it out." Nazem Kadri was matched against McDavid that night and did his best to get under the 19-year-old's skin. "You expect it," McDavid said. "They're not reinventing the wheel here. This isn't something I haven't seen before. They did a good job last game and that's good for them, I guess. I don't know." McDavid then shrugged his shoulders. "Looking forward to tonight, I guess." Oilers head coach Todd McLellan said McDavid's performance against Kadri was nothing to be worried about ahead of tonight's rematch. "When I look at Ryan Kesler, Anze Kopitar, Jamie Benn, a number of these high-end players that Connor has to play against every night, he's done a real, real good job against all of those players. Sometimes you got to play through it and sometimes our checkers need to do a good job on their skill as well."
- Kadri likes to run his mouth at times when he's out on the ice. Did McDavid respond at all in their first meeting? "I don't think he said much," Kadri noted before smiling. "I think I fired him up a couple times." Kadri is hoping the Leafs can match him against McDavid again tonight despite not having the advantage of last change. And if he's out there with the teenaged phenom his strategy remains the same. "I don't know any of those skillful players who like being bumped and the opposing team being physical on them. As a skilled player, when you don't get time and space to make plays and the puck's bouncing and every time you look up somebody's on top of you, that becomes very frustrating." That said, the Leafs are expecting it to be difficult to completely shut down McDavid, who had five points last season when Toronto visited Edmonton. "McDavid looks like he's different than everybody else," head coach Mike Babcock said. "The last time I saw someone go faster than the entire league it was Bobby Orr and I was nine years old. This guy's faster than the entire league, it's incredible to watch."
- Babcock raised eyebrows by criticizing McLellan's use of McDavid during the showdown earlier this month. "McDavid played 8:15 in the first period so that helped us too because that's a lot of minutes, I don't care who you are going out," Babcock said at the time. "That helped us because Naz had only played five – he didn't penalty kill. He was allowed to be fresher." When asked specifically if he thought McDavid fatigued, Babcock didn't back away from his comments. "You jam a guy out there every shift and three in a row, stuff like that, hard to have the same pop ...I never expected the guy to play that much. He's a good player and all that but so is [Ryan] Nugent-Hopkins." Babcock phoned McLellan a couple days later to clear the air. "It's all on me," Babcock said Tuesday morning. "All my fault ... It was not right and Todd McLellan is going to be a friend of Mike Babcock's and my family for a long time after hockey." The moral of the story? "Don't get in the way of yourself and keep your mouth shut," Babcock said to laughs. "No, but it was ridiculous and it's not right and we had a fine chat this morning." McLellan, who once served on Babcock's staff in Detroit, gave his old boss a tour of the new Edmonton arena this morning. "He's an emotional guy and that was an emotional game for both teams," McLellan said. "It wasn't the way he wanted it to come out. I will say this, I used to work for a really good coach that used to always tell me it's really hard to coach in the league so just coach your own team."
- Babcock confirmed that William Nylander will start tonight's game as the centre on the fourth line alongside Matt Martin and Ben Smith. "The guys played really well the other night when he wasn't in so he's starting there," Babcock explained. "He's going to play on the power play and we'll see what happens as the game goes on." The coach also wanted to clarify that the Leafs medical staff kept Nylander out of Saturday's game. It wasn't a decision made by Nylander.
- Peter Holland didn't make the trip with the Leafs. "He met with [GM] Lou Lamoriello and they had his agent [Joe Resnick] on the phone and they decided he wasn't coming on the trip," Babcock announced at the start of his media session. Holland has played in just eight of Toronto 21 games this season.
* Lines at Leafs morning skate:
Forwards
van Riemsdyk-Bozak-Marner
Hyman-Matthews-Brown
Komarov-Kadri-Soshnikov
Martin-Nylander-Smith
Extra: Leivo
Defence
Rielly-Zaitsev
Gardiner-Carrick
Hunwick-Polak
Extras: Marincin-Corrado
Goalies
Andersen starts
Enroth