McDavid tops Central Scouting rankings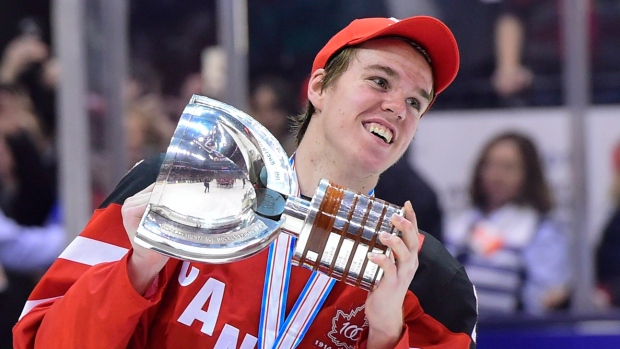 Connor McDavid is out in front of Jack Eichel in NHL Central Scouting's 2015 mid-season prospect rankings.
While the two players are the consensus top two prospects for the 2015 Draft according to most rankings, the NHL's list has the Erie Otters centre in the No. 1 spot at the season's halfway point. McDavid returned to action during the 2015 World Junior Championship after breaking his hand in mid-November. He won a gold medal with Team Canada at the tournament and has scored five goals and four assists in four games since returning to Erie on Jan. 8.
Eichel, who captained the U.S. World Junior team that finished fifth at the tournament, has 34 points in 20 games this season with Boston University.
Rounding out the top five North American skaters are Boston College blueliner Noah Hanifin, Kingston Frontenacs winger Lawson Crouse and McDavid's Erie teammate Dylan Strome.
The top international skater is Swedish blueliner Oliver Kylington, who missed the World Juniors due to injury.
European skaters playing in the Canadian Hockey League help make up the Top 15 on the North American skaters list, including Pavel Zacha (Sarnia) and Jakub Zboril (Saint John), as well as Russian defender Ivan Provorov who plays for the Brandon Wheat Kings.
Barrie's Mackenzie Blackwood and Magnitogorsk 2's Ilya Samsonov were named the top North American and International goalies, respectively.
Also notable in the goalie rankings is the fourth-ranked international goalie, Denis Godla. The Slovakian netminder made headlines as a fan favourite at the World Juniors as the tournament's best goaltender and Most Valuable Player.
Read the Top 30 list for the North American and International skaters below, along with the Top 10 North American and International goaltenders.
North American Skaters
| RANK | NAME | TEAM (LEAGUE) | HT | WT | POS. |
| --- | --- | --- | --- | --- | --- |
| 1 | Connor McDavid | Erie (OHL) | 6-0 | 195 | C |
| 2 | Jack Eichel | Boston University (NCAA) | 6-2 | 196 | C |
| 3 | Noah Hanifin | Boston College (NCAA) | 6-2 | 203 | D |
| 4 | Lawson Crouse | Kingston (OHL) | 6-2 | 211 | LW |
| 5 | Dylan Strome | Erie (OHL) | 6-3 | 187 | C |
| 6 | Zachary Werenski | Michigan (NCAA) | 6-2 | 206 | D |
| 7 | Mitchell Marner | London (OHL) | 5-11 | 155 | C |
| 8 | Pavel Zacha | Sarnia (OHL) | 6-3 | 210 | C |
| 9 | Mathew Barzal | Seattle (WHL) | 5-11 | 175 | C |
| 10 | Ivan Provorov | Brandon (WHL) | 6-0 | 191 | D |
| 11 | Jakub Zboril | Saint John (QMJHL) | 6-0 | 184 | D |
| 12 | Timo Meier | Halifax (QMJHL) | 6-1 | 208 | RW |
| 13 | Nicholas Merkley | Kelowna (WHL) | 5-10 | 191 | C |
| 14 | Kyle Connor | Youngstown (USHL) | 6-1 | 177 | LW |
| 15 | Thomas Chabot | Saint John (QMJHL) | 6-1 | 181 | D |
| 16 | Brandon Carlo | Tri-City (WHL) | 6-4 | 198 | D |
| 17 | Filip Chlapik | Charlottetown (QMJHL) | 6-0 | 194 | C |
| 18 | Jansen Harkins | Prince George (WHL) | 6-0 | 177 | C |
| 19 | Paul Bittner | Portland (WHL) | 6-4 | 206 | LW |
| 20 | Daniel Sprong | Charlottetown (QMJHL) | 6-0 | 189 | RW |
| 21 | Evgeny Svechnikov | Cape Breton (QMJHL) | 6-2 | 199 | LW |
| 22 | Jordan Greenway | US U-18 | 6-4 | 222 | LW |
| 23 | Jeremy Roy | Sherbrooke (QMJHL) | 5-11 | 189 | D |
| 24 | Jake DeBrusk | Swift Current (WHL) | 5-11 | 171 | LW |
| 25 | Nicolas Roy | Chicoutimi (QMJHL) | 6-4 | 199 | C |
| 26 | Travis Konecny | Ottawa (OHL) | 5-9 | 174 | C |
| 27 | Colin White | US U-18 | 6-0 | 183 | C |
| 28 | Brock Boeser | Waterloo (USHL) | 6-0 | 191 | RW |
| 29 | Thomas Novak | Waterloo (USHL) | 6-0 | 179 | C |
| 30 | Guillaume Brisebois | Acadie-Bathurst (QMJHL) | 6-1 | 170 | D |
International Skaters
| RANK | NAME | TEAM (LEAGUE) | HT | WT | POS |
| --- | --- | --- | --- | --- | --- |
| 1 | Oliver Kylington | AIK (SWE2) | 6-0 | 181 | D |
| 2 | Mikko Rantanen | TPS (FIN) | 6-3 | 211 | RW |
| 3 | Jens Looke | Brynas (SWE) | 6-0 | 180 | RW |
| 4 | Michael Spacek | Pardubice (CZE) | 5-11 | 187 | RW |
| 5 | Jacob Larsson | Frolunda Jr. (SWEJR) | 6-2 | 191 | D |
| 6 | Gabriel Carlsson | Linkoping Jr. (SWEJR) | 6-4 | 183 | D |
| 7 | Denis Gurianov | Togliatti 2 (RUSJR) | 6-2 | 183 | RW |
| 8 | Filip Ahl | HV 71 Jr. (SWEJR) | 6-3 | 211 | LW |
| 9 | Sebastian Aho | Skelleftea (SWE) | 5-9 | 165 | D |
| 10 | David Kase | Chomutov (CZE2) | 5-11 | 169 | RW |
| 11 | Roope Hintz | Ilves (FIN) | 6-2 | 185 | LW |
| 12 | Jonas Siegenthaler | Zurich (SUI) | 6-2 | 220 | D |
| 13 | Yegor Rykov | SKA St. Petersburg 2 (RUSJR) | 6-1 | 216 | D |
| 14 | Alexander Dergachyov | SKA St. Petersburg 2 (RUSJR) | 6-4 | 200 | C |
| 15 | Jesper Lindgren | Modo Jr. (SWEJR) | 6-0 | 161 | D |
| 16 | Sebastian Aho | Karpat (FIN) | 5-11 | 172 | RW |
| 17 | Robin Kovacs | AIK (SWE2) | 6-0 | 172 | RW |
| 18 | Artem Volkov | MVD Balashikha 2 (RUSJR) | 6-1 | 189 | D |
| 19 | Lucas Carlsson | Brynas Jr. (SWEJR) | 6-0 | 180 | D |
| 20 | Lukas Jasek | Trinec (CZE) | 5-11 | 165 | RW |
| 21 | Julius Nattinen | JYP 2 (FIN2) | 6-1 | 191 | C |
| 22 | Joel Eriksson Ek | Farjestad Jr. (SWEJR) | 6-1 | 180 | C |
| 23 | Denis Malgin | Zurich (SUI) | 5-8 | 163 | C |
| 24 | Erik Cernak | Kosice (SVK) | 6-3 | 203 | D |
| 25 | Aleksi Saarela | Assat (FIN) | 5-10 | 198 | C |
| 26 | Vladislav Gavrikov | Yaroslavl 2 (RUSJR) | 6-2 | 205 | D |
| 27 | Jan Ordos | Liberec Jr. (CZEJR) | 5-11 | 176 | LW |
| 28 | Jan Dufek | Brno Jr. (CZEJR) | 5-11 | 172 | RW |
| 29 | Dmitri Yudin | St. Petersburg (RUS) | 6-2 | 185 | D |
| 30 | Roman Dymacek | Brno Jr. (CZEJR) | 6-0 | 175 | LW |
North American and International Goaltenders
| RANK | NAME | TEAM (LEAGUE) | HT | WT |
| --- | --- | --- | --- | --- |
| NA1 | Mackenzie Blackwood | Barrie (OHL) | 6-4 | 215 |
| NA2 | Callum Booth | Quebec (QMJHL) | 6-2 | 199 |
| NA3 | Samuel Montembeault | Blainville-Boisbriand (QMJHL) | 6-2 | 164 |
| NA4 | Matej Tomek | Topeka (NAHL) | 6-2 | 180 |
| NA5 | Luke Opilka | US U-18 | 6-1 | 192 |
| NA6 | Michael McNiven | Owen Sound (OHL) | 6-0 | 205 |
| NA7 | Michael Lackey | US U-18 | 6-2 | 214 |
| NA8 | Nick Schneider | Medicine Hat (WHL) | 6-1 | 160 |
| NA9 | Adin Hill | Portland (WHL) | 6-3 | 198 |
| NA10 | Connor Hicks | Belleville (OHL) | 6-3 | 189 |
| INT1 | Ilya Samsonov | Manitogorsk 2 (RUSJR) | 6-3 | 200 |
| INT2 | Daniel Vladar | Kladno (CZE2) | 6-5 | 185 |
| INT3 | Felix Sandstrom | Brynas Jr. (SWEJR) | 6-2 | 191 |
| INT4 | Denis Godla | Bratislava (RUS) | 5-11 | 176 |
| INT5 | Adam Huska | Slovakia U-18 (SVK2) | 6-3 | 189 |
| INT6 | Adam Werner | Farjestad Jr. (SWEJR) | 6-4 | 185 |
| INT7 | Veini Vehvilainen | JYP 2 (FIN2) | 6-0 | 180 |
| INT8 | Christian Heljanko | HIFK Jr. (FINJR) | 5-10 | 169 |
| INT9 | Ales Stezka | Liberec Jr. (CZEJR) | 6-3 | 178 |
| INT10 | George Sorensen | Herning (DEN) | 5-10 | 172 |