McEwen, Sweeting find their way with new rinks this season
Mike McEwen and Val Sweeting were the centrepieces of two major curling shakeups this past off-season. Both are hoping the moves will net them their first Canadian championship in the near future.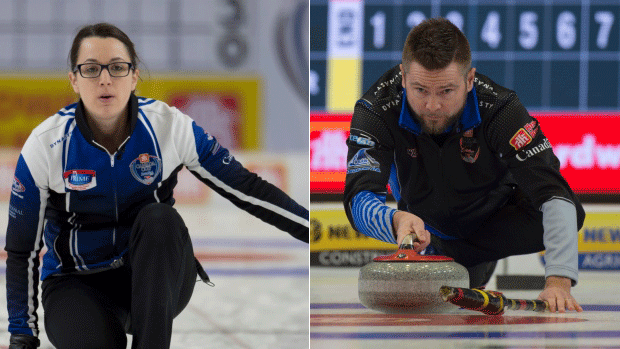 ESTEVAN, Sask. - Mike McEwen and Val Sweeting were the centrepieces of two major curling shakeups this past off-season. Both are hoping the moves will net them their first Canadian championship in the near future.
After over a decade together and being a single win away winning the Canadian Olympic trials in Ottawa last year, it was time for McEwen's Winnipeg squad to part ways. Further west, following three consecutive seasons without a Scotties Tournament of Hearts appearance, Edmonton's Team Sweeting also decided to break up the band.
Sweeting was one of four skips who came together in Winnipeg to form the super team led by Kerri Einarson, a squad that has turned out to be one of the stories of the season so far with four wins on the World Curling Tour and a 42-12 overall record.
McEwen, on the other hand, joined forces with good buddy and Manitoba curling rival Reid Carruthers. Originally McEwen played third, but he's now throwing last rocks and calling the game this week at the Canada Cup after the team missed the playoffs in three of their last four events.
"We hit the reset button as a team a couple weeks ago," McEwen told TSN.ca after a tough final- shot loss to Team Brad Jacobs on Thursday morning. "It's hard to hit the reset button mid-season. We're just trying to get used to each other still. We need more games."
Team Carruthers is 0-3 after Draw 4 at the Canada Cup. After spending the past 11 years with B.J. Neufeld, Matt Wozniak and Denni Neufeld, McEwen admits it was a little weird playing with new faces but is slowly getting more comfortable.
Despite some very promising early season returns, namely an appearance in a Grand Slam final and a victory at the StuSells Toronto Tankard, the rink has yet to find a good stretch of consistency and holds a 23-14 record.
McEwen, 38, knew coming in it was going to take some time to find their identity.
"We've obviously changed our lineup, so that's going to take time to see how that works. It adds a new dimension. It's not something that's easy to deal with. Especially since you can go and play average. It's just not that type of field," explained McEwen. "We've had moments where we've played really well, but we haven't been able to put together a complete game. We've played good in spurts, but it hasn't been enough."
McEwen says the off-ice dynamics with Carruthers, a curler he has faced in several Manitoba finals, has been seamless thanks to their friendship, but notes it doesn't always translate instantaneously on the ice during games.
"Friendship can be interesting on the ice. Everybody is so focused and [at a] high-level of intensity, wanting to win badly. Sometimes friendship can actually change your interactions – sometimes good, sometimes not – so it's a management thing," said McEwen.
Sweeting, who had skipped her entire pro career, admits changing roles involved a learning curve.
"I'm enjoying it. Playing that more supportive role on the team and it has been fun so far," Sweeting said. "I think I was a pretty good skip, but definitely looking forward to trying to be the best third out there."
The 31-year-old lost in back-to-back national finals in 2014 and 2015 and fell in the Alberta provincial final the following two seasons.
"I was just looking forward to a change," Sweeting said. "Kerri is a great shooter. Shannon [Birchard] and Briane [Meilleur] are great shooters. It was just how things lined up and it was good. I'm just trying to learn and develop as a curler overall and a good third."
This is not the first time skips have come together to form new teams. Wayne Middaugh, who had skipped teams in Ontario for 17 years, took a vice role for Glenn Howard in 2011, and the move paid major dividends with a Brier and world title in their first season together.
John Morris won two world junior gold medals as a skip in the late 1990s and held the same role for a nearly a decade to start his pro career. He captured a silver medal at the 2002 Brier, but eventually decided to make the move out west and join curling legend Kevin Martin. Today's he's considered one of the best thirds of all-time, with two Olympic gold medals, three Brier and one world title to his name.
McEwen doesn't see this being a major trend for how curling teams are formed but knows it can work.
"I think it has to be the right situation," he said. "And for anybody to step into the third role – it's a different role and we're still figuring out what that looks like. So Reid's doing a good job now in doing that role. I just don't think you're going to see that situation a ton, but it's hard to say."
The Canada Cup continues through Sunday on TSN.