McKenzie: Pat Burns always felt he was the luckiest ex-cop in the world
When Pat Burns' widow, Line Gignac Burns and his son Jason accept the Hockey Hall of Fame honour tonight on Pat's behalf, the message they deliver will likely be that there was never a day Pat didn't feel like he was the luckiest ex-cop in the world. And as TSN Hockey Insider Bob McKenzie writes, it will cap off an emotional few days - and years - for the entire Burns family.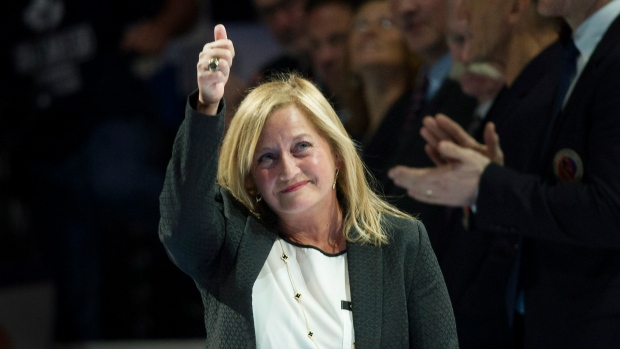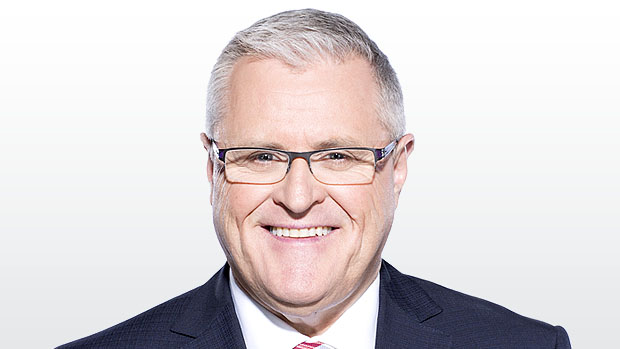 It was June 22, 2010, and it was blast furnace hot in Las Vegas, site of the NHL Awards ceremonies.
I may have been a little hung over, or perhaps a lot, when I stepped outside of The Palms Casino into the relative quiet of the parking lot to make a phone call to Robin Burns and get what I expected would be good news, my first step that day towards what I thought would be feeling a lot better.
"He didn't get in," Robin Burns said to me solemnly. "Can you (expletive deleted) believe it? He didn't get in."
"He" was Pat Burns. "In" was inducted to the Hockey Hall of Fame, a voting process that takes place in late June of each year.
It was the snub heard round the hockey world and Pat's big, burly Irish Quebecker cousin Robin said it exactly as so many of us felt it.
Can you (expletive deleted) believe it?
Everyone knew NHL coach Pat Burns was dying of cancer, that the odds of him making it another year were virtually non-existent. The reality that day was Pat Burns would not live to see his induction into the Hockey Hall of Fame, which, of course, finally happens tonight in Toronto.
It is, as the saying goes, far more than a day late and a dollar short. If that still sticks in the craw for some of us, it shouldn't.
No longer.
Two days before the fourth anniversary of Pat's death (Nov. 19, 2010), it's time to let it go.
Finally.
It's what Pat wanted.
"Before he died, that was one of the things Pat told me he wanted to make clear, to make sure everyone knew," Robin Burns said Sunday. "Pat told me: 'Tell everyone I'm not upset I didn't get in. Everyone who got in (that year, Jimmy Devellano and the late Daryl 'Doc' Seaman in the builders' category, Dino Ciccarelli in the players' category as well as women players Cammi Granato and Angela James) deserved to get in.' Pat was happy for those who got in, especially the girls (Granato and James). He told me he was just happy to be nominated, to be considered. He was very emphatic about that. He said: 'Please, please tell everyone not to be mad.' Pat knew his friends and family were very upset and angry, but he wasn't. He was okay with it, he was at peace with it."
The truth is Pat Burns -- the larger than life ex-cop who won NHL coach of the year honours in three Original Six cities (Montreal, Toronto and Boston) - had too much reverence for the game to feel any other way. As belligerent or brusque as Burnsie could be behind the bench or when the microphones were thrust in his face, there was never a day when he didn't feel like he was the luckiest ex-cop in the world to be as deeply involved and successful in the game as he was.
That was his reward.
I'm sure when Pat's widow, the lovely Line Gignac Burns, and Pat's son Jason accept the HHOF honour tonight on Pat's behalf, that will no doubt be the message they deliver loudly and clearly.

It's been quite a few days in Toronto for Pat's family and friends - his widow Line and her family, Pat's son Jason and daughter Maureen, cousin Robin, Pat's sisters Phyllis, Violet and Diane although Lillian can't be there tonight because she is at home battling cancer, and Pat's brother Sonny (Alfred).
The inductees were honoured on Friday night at the Hall of Fame game between Toronto and Pittsburgh at the Air Canada Centre. All of them - Rob Blake, Peter Forsberg, Dominik Hasek, Mike Modano, referee Bill McCreary and Line Burns - were at the TSN broadcast position in the ACC. It's always a wonderful time to congratulate Hall of Famers but it was especially so for me with Line Burns.
I was able to tell her how happy I was for my old friend Pat, and his family and friends, that he was finally getting the recognition due him. She told me how much that means to them all and I was humbled when she told me how Pat felt about me. It was a special moment I'll never forget, not unlike the last time Pat and I ever talked to each other, six weeks before he died.
There were an assortment of HHOF-related events and functions over the last four or five days and Pat's family and friends couldn't help but be warmed by the outpouring of emotion and happiness for Pat on this occasion, especially in the city where he made such a tremendous mark with the Maple Leafs.
"Pat would have been in his glory," Robin said. "It's been amazing. The standing ovation he got at the game on Friday was incredible. I was out with one of Pat's best friends Chris Woods and we were having a few (drinks) in Pat's honour. We were at Harbour 60 (a steakhouse/bar not too far from the Air Canada Centre) and there were a lot of Pat's friends there…Mats Sundin, Tie Domi. John McDermott (the Irish tenor who often sings the national anthem at Leaf games) was there and asked if he could sing a song for Pat. You've got this noisy bar and restaurant and it goes completely quiet, you could hear a pin drop, and John McDermott sang Danny Boy for Pat. Have you heard John sing Danny Boy? Beautiful, just beautiful. Now there's a moment."
Just as tonight will be a special moment for Pat Burns and his family and friends, devoid of any anger or resentment for what could have or should have been.
Pat would not have wanted it any other way.