Cammalleri: Sky is the limit for Oilers
The Edmonton Oilers are hoping the acquisition of Mike Cammalleri will help spark an offence that has scored more than three goals in a game just four times this year.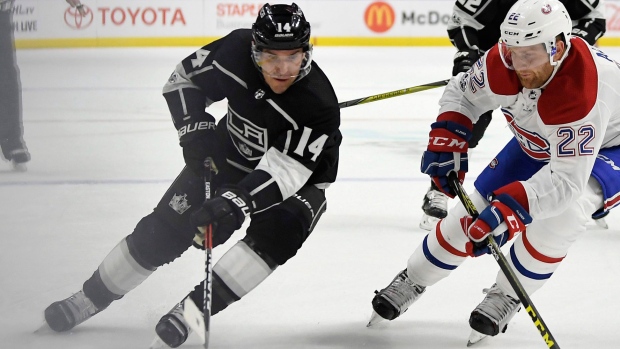 Mike Cammalleri will make his Edmonton Oilers debut on Thursday night against the St. Louis and he has high expectations for his new team.
"The sky is the limit for this team," Cammalleri said Thursday after skating with the team for the first time.
The Oilers are hoping the acquisition of Cammalleri will help spark an offence that is averaging just 2.6 goals per game - a number buoyed by an 8-2 win over the Vegas Golden Knights on Tuesday night.
Cammalleri joined a line with Ryan Strome and Iro Pakarinen in practice on Thursday and is expected to play with that duo against the Blues. He also saw time on the team's second power play unit, playing with Strome, Ryan Nugent-Hopkins, Patrick Maroon and Matt Benning.
The Oilers got Cammalleri from the Los Angeles Kings for forward Jussi Jokinen on Tuesday night, before their win over Vegas.
Oilers head coach Todd McLellan said Wednesday the team is hoping Cammalleri's shoot first mindset will lead to more goals.
"He's a shooter," McLellan told the Edmonton Sun. "Since he's entered the league, the one thing he has is an incredible shot and a quick release. He knows where the net is.
"Given (our) lack of scoring, we think he can come in and use that shot. It's not that we haven't created opportunities, we just haven't finished a lot of them. If we can continue to create and he happens to be the receiver of some of those passes, maybe we can get a little more offence out of him."
In 15 games with the Kings this season, Cammalleri owns three goals and seven points. Jokinen posted just one assist in 14 games, serving as a healthy scratch in three contests.
A veteran of 855 career games, Cammalleri owns 290 goals and 620 points since entering the league during the 2002-03 season.
He owns a career 12.3 per cent shooting percentage, with his mark for the season sitting just above at 12.3 per cent.