Mendes: Senators' Ryan hears from Flyers fans after extension
After signing his seven-year contract extension with the Ottawa Senators, Bobby Ryan saw his Twitter feed light up with a wave of Philadelphia Flyers fans who were crushed that the forward had chosen to stay with Ottawa instead of becoming a free agent and returning to his hometown near Philadelphia.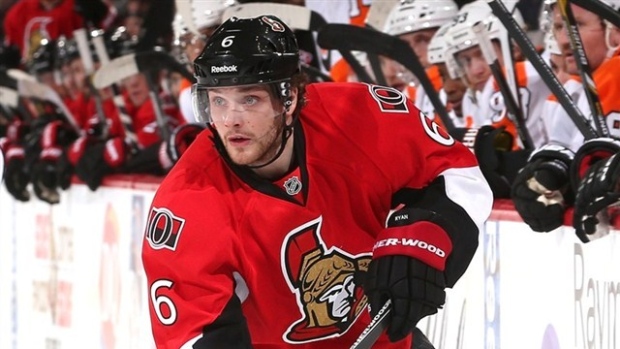 Yesterday evening - a few hours after he signed his new contract extension with the Ottawa Senators - Bobby Ryan posted a fairly harmless tweet about the Thursday night NFL game.

@b_ryan9: Oh man. Is Rodgers going to throw for 450 tonight?

The reaction was immediate and harsh. And no, it wasn't from Minnesota Vikings fans who were upset with Ryan's comment about how Aaron Rodgers was carving up their defense. Instead, the first responders to the tweet were a wave of Philadelphia Flyers fans who were crushed that Ryan had chosen to stay with Ottawa instead of becoming a free agent and returning to his hometown near Philadelphia.

A small sampling of the responses:
@SauceItup: @b_ryan9: Are you coming to Philly? Should answer your question. :(
@FlyersNation: @b_ryan9: Why Bobby why
@FlyersTime: @b_ryan9: you betrayed us #flyers
@jDundon29: @b_ryan9: Well well it's Bobby "no Philly" Ryan

So after his media scrum ended this morning, I decided to ask Ryan if he paid much attention to the negativity coming out of Philadelphia since he signed his contract extension 24 hours earlier. He immediately started to laugh and pulled out his phone from his pocket. "Actually, I got to show you the best one, because the picture was so good."

Ryan showed me the image that he now has saved onto his phone. It's a fairly popular internet meme with a person eating a popsicle - and the caption about how a disappointing and salty taste has been left behind for Flyers fans.

"I had to laugh," Ryan said when he saw that picture. "I sent it to my Mom and I was like 'you're going to love this'."

The irony of course, is that everybody in Philadelphia assumed that Ryan wanted to come home and play near his family and friends. Instead, Ryan shared a good laugh with his mom over the disappointment that Flyers fans were feeling.

His Twitter feed being flooded by Philadelphia fans is nothing new for Ryan, who says that he has constantly been bombarded by them over the years.

"I was getting like 100 (tweets) per day at one point last summer and it was incredible," Ryan explained. "But I think anybody who has social media goes through that from their hometown, but mine was just a little more in the media because of the trade rumours.

"It's daily and it's constant what I get from Flyers fans -- and they're great. They are awesome and I understand they want a hometown kid to play there."

As for the mood from Flyers fans yesterday, Ryan said that the majority of them were actually fairly good-natured about his decision to stay in Ottawa instead of testing the free agent waters next summer.

"Most of them were pretty good. They said congratulations and we wish you luck anyway. I had a couple of ignorant ones where you just end up blocking the guy," said Ryan. "But the most outpouring was from Sens fans and it was great.

Flyers fans can be forgiven for assuming that Ryan would want to return to Philadelphia as an NHL player because for a while, it looked like the script was playing out perfectly. After his trade from Anaheim to Ottawa last season, many signs pointed to Ryan possibly testing out free agency on July 1, 2015. Even the 26-year-old Ryan -- who grew up in suburban Philadelphia -- admitted that the thought of returning home had crossed his mind.

"I always felt like it was -- not that it was destined -- but the way the stars were aligning over the past couple of years, that maybe it was a potential. But I never gave it much thought beyond that. I thought, 'Maybe it would be cool'. And it was always flattering," he said.

Ryan said he was extra cautious over the past year to make sure he didn't create a social media firestorm by favouriting or re-tweeting someone's tweet about him going to the Flyers. Other NHL stars like Steven Stamkos and Evander Kane have gotten into hot water for doing similar things, so Ryan said he made sure he only interacted with some well-known parody accounts or people who were clearly joking about him going back to Philadelphia.

"I'll retweet or favorite some of those guys, but that's about it. You really have to pick your spots because people take things the wrong way way too often on Twitter. They can't pick up sarcasm on Twitter a lot of the time," Ryan said.

For the record, Ryan's first visit to Philadelphia this season is on January 6th and if the Flyers fans live up to their reputation, he can probably expect to hear a chorus of boos when he touches the puck at the Wells Fargo Center.