Messi leads Barcelona past Las Palmas in empty stadium
Lionel Messi scored two second-half goals as Barcelona defeated Las Palmas 3-0 for its seventh straight Spanish league victory in a game played behind closed doors amid the disputed referendum over Catalonia's independence on Sunday.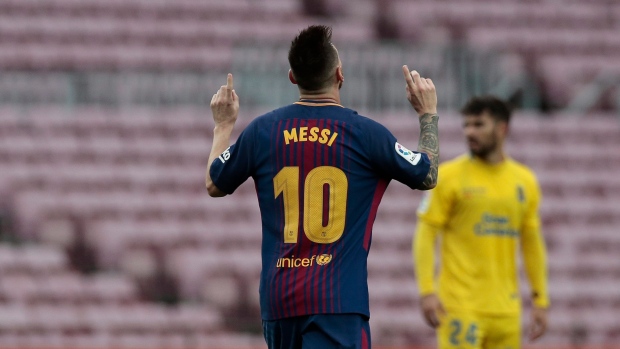 MADRID — In a day marked by demonstrations over Catalonia's disputed independence vote, Barcelona won its seventh game in a row and Real Madrid earned its first victory at home in the Spanish league on Sunday.
Barcelona defeated Las Palmas 3-0 to stay perfect with two goals by Lionel Messi and one by Sergio Busquets in a game played in an empty Camp Nou Stadium to protest the Spanish government's attempt to halt Catalonia's referendum.
Real Madrid beat Catalan club Espanyol 2-0 with a pair of goals by Isco in a match in which Madrid fans displayed cards with the Spanish flag colours.
The cards were raised in the 12th minute in a reference to the supporters being the club's 12th player.
Some of the few Espanyol fans at the Santiago Bernabeu Stadium held up the colours of the Catalan flag, although coach Quique Sanchez Flores did not want to get involved.
"I'm not going to mix sports and politics," he said. "I'm not going to be part of this spectacle."
Las Palmas added a Spanish flag to the shirts that the players wore against Barcelona to show its support for a unified Spain.
By day's end, Catalonia's health services said 844 people had been treated in hospitals for injuries, including two in serious condition, as Spanish authorities tried to stop the independence vote that the central government said was unconstitutional. Thirty-three police were also injured.
Barcelona, which openly backed the referendum, wanted to postpone the game but its request was denied by the Spanish league. It decided to play to avoid losing points, but kept the stadium empty "to show the entire world that we were not pleased with what happened (in Catalonia)," club president Josep Bartomeu said.
Barcelona maintained a five-point lead over second-place Sevilla, which on Saturday defeated Malaga 2-0 at home.
Unbeaten Valencia moved to third place, six points behind Barcelona, with a 3-2 win over Athletic Bilbao.
Fourth-place Atletico Madrid could not manage more than a 0-0 draw at Leganes on Saturday, staying six points off the lead.
___
HOME WIN
Isco scored from close range after a neat through pass by Cristiano Ronaldo in the 30th minute and added to the lead in the 71st with a shot from inside the area to give Madrid its first home league win this season, beating Espanyol 2-0.
Madrid had drawn twice and lost once at the Bernabeu, although it had won its Champions League game at the stadium against APOEL. It had also beaten Barcelona in the Spanish Super Cup final.
"The key for the team was to be patient," Real Madrid coach Zinedine Zidane said.
Right back Dani Carvajal was left out of the squad after the team said he had a viral infection related to his heart, but Zidane said it was not serious.
___
NO FANS
Sergio Busquets opened the scoring at an empty Camp Nou with a header early in the second half, and Lionel Messi added his goals seven minutes apart toward the end of the game, as Barcelona beat Las Palmas 3-0.
Messi's first goal deserved a bigger audience, with the Argentine dribbling his way past the goalkeeper before finding the open net in the 70th minute. His second was an easy shot from close range after a pass by Luis Suarez.
Messi reached 14 goals in 11 matches this season. He is the league's scoring leader with 11 goals in seven matches.
Las Palmas was debuting coach Pako Ayestaran, who was hired last week after Manolo Marquez resigned.
Andre Iniesta came off the bench at halftime but had to leave near the end of the game with a left leg muscle injury which the club said will sideline him for about 10 days.
___
UNBEATEN VALENCIA
Valencia stayed near the top of the standings by defeating Athletic Bilbao for its third straight win.
Simone Zaza, Dani Parejo and Rodrigo each scored at Mestalla Stadium to keep Valencia unbeaten this season.
The result extended Athletic's winless streak to six games in all competitions.
___
BAKAMBU'S NIGHT
Cedric Bakambu scored a hat trick as Villarreal defeated Eibar 3-0 on a successful debut for coach Javi Calleja.
Bakambu scored once in the first half and twice after the break to lead the hosts to their first win in three matches.
___
THRILLING DRAW
Diego Llorente scored in the 86th to help Real Sociedad avoid defeat in a thrilling 4-4 game against Real Betis.
Betis had just taken the lead with Sergio Leon in the 84th minute at Sociedad's Anoeta Stadium.
The result extended Real Sociedad's winless streak to five matches in all competitions. It had opened the Spanish league with four straight victories.
Real Betis had its three-match winning run halted, but it remained near the top of the standings with 13 points, three more than Real Sociedad.
___
More AP Spanish soccer coverage: https://apnews.com/tag/LaLiga
___
Tales Azzoni on Twitter: http://twitter.com/tazzoni