Mid-season rest to pay dividends for Lowry, Raptors veterans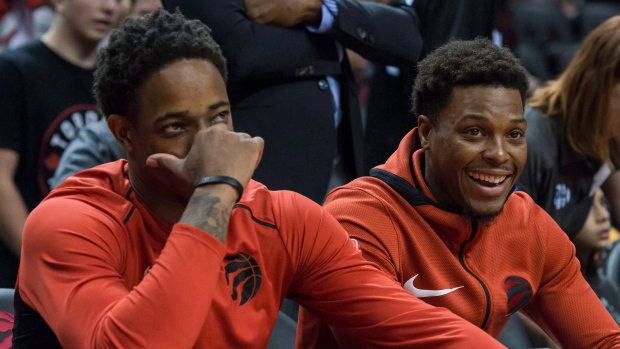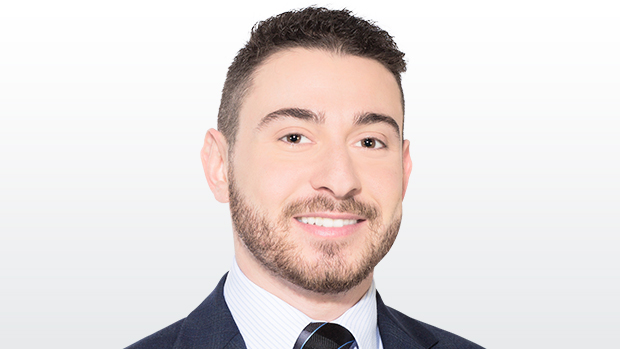 TORONTO – Kyle Lowry has worn many hats for the Toronto Raptors over the years, but his latest role is probably not one that he would have expected to fill: fourth-quarter cheerleader.
As the Raptors put the finishing touches on Sunday's 123-103 smackdown of the Charlotte Hornets, Lowry and the rest of the team's veteran starters were putting on a different kind of show from the visitors' bench.
They were seated when C.J. Miles opened the final frame with a three-pointer. On the next possession, Miles picked off a pass and went coast-to-coast for the dunk, which got them on their feet. By the time Miles hit another corner-three a couple minutes later, Lowry was literally dragging DeMar DeRozan across the sideline in delight.
That would become the broadcast formula for the rest of the afternoon – Raptors bucket, cut to a shot of the bench and their zany celebrations. Lather, rinse, repeat until it was in the books, at which point Lowry crashed DeRozan's post-game interview using paper cups as binoculars. Life is good right now.
For the first time in franchise history, the Raptors have won five straight games by at least 15 points and, amazingly, none of those contests required Lowry, DeRozan, Serge Ibaka or Jonas Valanciunas to log a single minute in the fourth quarter.
What's that been like for the four-time all-star point guard, who is averaging under 26 minutes per game over that stretch?
"Boring," Lowry joked on TSN 1050 Radio Monday afternoon. "No, it's awesome, man. That group, the bench mob, they've been so unbelievable that we just sit back and watch. It's been fun."
When Dwane Casey laid out his plan to scale Lowry's minutes back before the season started it was met with justifiable skepticism. That's something they've talked about doing before, usually in the fall, but by December they tend to realize it's easier said than done. He's simply too valuable. Last season, Toronto outscored opponents by a team-best 358 points when Lowry was on the floor but was bested by 13 points when he wasn't. The year before they were plus-380 with him and minus-11 without him.
Their bench ranked among the best in the league during each of those seasons but the caveat – and it's a big one – was that Lowry often shared the court with the second unit, essentially propping them up, but also piling onto his already sizeable workload. They've seen what happens when they don't manage his usage.
Lowry's last three seasons have been carbon copies of each other. He's generally at his best in December and January. By February the wear and tear of the season and his frenetic, physically punishing style of play starts to take its toll. Over that span, he played in all but one of his team's games prior to the all-star break (161 of 162), but he only appeared in just over half of them after it (46 of 84).
The injuries he battled late in those seasons and into the playoffs weren't fluke things, but rather nagging ailments that accumulated and were made worse over time. In 2014-15 it was his back, the following season it was elbow bursitis and last year it was a lingering wrist issue that required surgery. The end result each time: Lowry wasn't himself in the postseason and, not unrelated, neither were the Raptors.
With that in mind, project preservation had never been more important than it was this past training camp. The Raptors had just invested $100 million in Lowry, who will turn 32 next month. Casey approached the veteran guard about playing fewer minutes in this, his 12th NBA season, and the conversation went a whole lot better than it would have a few years ago, when the idea of taking a small step backwards to take a big step forwards may have been a tougher sell.
"That wouldn't have happened [then]," Casey noted. "It wouldn't have happened with either [Lowry or DeRozan], I don't think."
"Kyle and DeMar have allowed that to happen [now]. A lot of superstars say that, that they want less minutes to lengthen their careers or to help the team but once the battle starts they start looking at you cross-eyed, [like] 'How come I'm not in the game?' "
"It [speaks] to their growth and maturity. My thing has always been: that's how you grow in this league. Because young players are still scratching and clawing for their place in the league, for their turf, [but] players who have [made] an All-Star Game, who have made it, that have been rewarded with contracts, they tend to understand the big picture, and that's where Kyle and DeMar are now. They want to win, they want to be a part of what we're doing but yet still they understand the big picture because they've been there."
Going into last year's all-star break, Lowry was third in the NBA in total minutes played. This season, he ranks 45th. He's logging five fewer minutes each night. Not only have they been successful in lightening his workload, but there's rarely a drop off in play when he goes to the bench. They're still outscoring teams by 259 points with him on the court, only now they're also a plus-198 without him.
That's where the team's promising young second unit deserves credit. Without them and their self-sufficiency, keeping Lowry – and the other starters – fresh just wouldn't be possible. The all-reserve lineup of Fred VanVleet, Delon Wright, Miles, Pascal Siakam and Jakob Poeltl is outscoring opponents by 32.8 points per 100 possessions – the best net rating of any five-man unit that's played at least 100 minutes together in the NBA this season. That group is a ridiculous plus-83 during Toronto's five-game winning streak. In other words, they're the biggest reason why Lowry and company have been able to enjoy the fourth quarter from their courtside seats.
The hope for Casey and the Raptors is that this additional rest, on top of the week off they're all about to get over the league's extended all-star break, will pay dividends down the road. When Casey inevitably increases the workload of his stars come playoff time, he can do so with confidence, knowing those guys should be in better shape – both physically and mentally – than in years past. Lowry says he can already feel the difference.
"It's been great, man," Lowry told TSN in an exclusive interview on Monday. "I feel great. I was just telling someone that I haven't gotten off the plane one time yet where I've been like 'Yo, I can't get off this plane because I'm sore,' and that's a plus. We've talked about it before, the last couple years, getting my minutes down and this year we've been able to do it. That's coach doing it and then the second unit being unbelievable. If those guys play like that, I'll live with playing 25 to 27 minutes a game."
"Kyle and DeMar have allowed the second unit to grow and to prosper," Casey said. "Because there are a lot of veteran players that would have fought it, they would have fought it as far as [saying] 'Hey, I want my minutes, I want my touches' or whatever. That's another area of growth for Kyle and DeMar is the fact that it's not about them. They're playing selfless basketball. They're playing for the team."
"So that's a tribute to them that they allowed it. They're over there cheering for them and pulling for them on the bench while the second unit is producing and growing. It's been good and it's going to help both Kyle and DeMar, their freshness, the minutes they don't have to put on their bodies."