Mighty Heart draws No. 8 post for Breeders' Stakes
Mighty Heart will start his run for the Triple Crown from the No. 8 post Saturday. The Queen's Plate and Prince of Wales champion was named the even-money favourite in the draw Wednesday for the $400,000 Breeders' Stakes.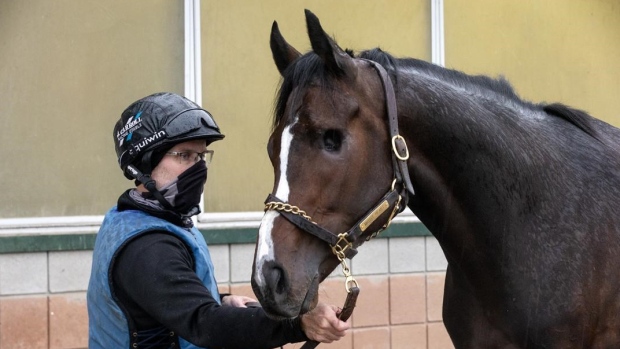 TORONTO — Josie Carroll could prove to be the biggest threat to Mighty Heart's Triple Crown quest.
The Carroll-trained Mighty Heart was installed as the early even-money favourite Wednesday for the $400,000 Breeders' Stakes. A win in the 1 1/2-mile turf race would cap the one-eyed colt's remarkable run and make him just the eighth OLG Canadian Triple Crown winner since the series began in 1959 and first since Wando in '03.
Carroll would become the first female trainer to condition a Canadian Triple Crown champion.
But a big obstacle in Mighty Heart's way is none other than Belichick, another horse conditioned by Hall of Famer Carroll. Belichick finished second to Mighty Heart in the $1-million Queen's Plate on Sept. 12 and was listed as the 7/2 second choice for the Breeders' Stakes, which goes Saturday at Woodbine Racetrack.
"He's a horse to potentially upstage our Triple Crown chances so there's mixed emotions," Carroll said Wednesday following the Breeders' draw. "But it's also very rewarding to train a horse of his calibre.
"I think from the moment (Belichick) came into my barn he showed a great deal of ability. If anything has surprised me it's that it's taken this long for him to really blossom. I thought he'd be a horse right from the start that would impress."
But it's been Mighty Heart who's been most impressive over the first two legs.
He went wire-to-wire to win the Queen's Plate by a whopping 7 1/2 lengths as a 13-1 longshot. Just 17 days later, Mighty Heart came from third off the final turn to capture the $400,000 Prince of Wales at Fort Erie Racetrack as the 6/5 favourite.
Heady stuff for a horse that lost his left eye in a paddock accident as a foal and didn't race as a two-year-old. And after finishing fourth and 10th in his first two career starts — both at New Orleans' Fair Grounds — Mighty Heart was an afterthought to many heading into the Plate as one of Carroll's three race entries behind heralded filly Curlin's Voyage and Belichick.
Since July, Mighty Heart has won three-of-four races and amassed career earnings surpassing $911,000.
"Am I completely flabbergasted? No," Carroll said. "Did I think he was going to rise above some of my other horses that have had much more early success?
"I really didn't expect that, no."
Mighty Heart, with jockey Daisuke Fukumoto again aboard, will break from the No. 8 post Saturday in the 12-horse field. Belichick, who'll be ridden by Luis Contreras, drew the No. 9 spot.
The remainder of the field with post, horse, jockey and odds, includes:
1) Meyer, Sahin Civaci, 30-1; 2) Enchant Me, Steven Bahen, 50-1; 3) Clayton, Rafael Hernandez, 6-1; 4) Olliemyboy, Patrick Husbands, 12-1; 5) English Conqueror, Emma-Jayne Wilson, 12-1; 6) Glorious Tribute, David Moran, 30-1; 7) Deviant, Jerome Lermyte, 30-1; 10) Kunal, Emile Ramsammy, 50-1; 11) Told It All, Kazushi Kimura, 12-1; and 12) Muskoka Giant, Justin Stein, 20-1.
The Breeders' Stakes is the longest of the three Triple Crown races but that's not the only challenge Mighty Heart will face. It has rained a lot already this week with more expected leading up to the race, which could make the E.P. Taylor Turf course softer than normal.
"I can't tell you how he's going to handle a yielding turf," Carroll said. "In North America, we very seldom get the chance to run on very soft turf (but) I believe he'll handle the grass.
"We had him up on the E.P. course the other day and he just skipped across it. Pedigree-wise, we have every reason to think he'll handle (the distance) but until a horse does that, you really don't know.
"It's a very, very challenging thing to be asking him to do right now. This horse has run two hard races and now you're asking him to go a mile and a half on a possibly tiring course. Hopefully, he's up to the challenge. He's trained well into it but it is a big unknown."
The COVID-19 pandemic forced Woodbine to drastically alter its 2020 race schedule and stage the Triple Crown events in the fall instead of usually over the summer months. But should Mighty Heart complete the sweep, Woodbine Entertainment CEO Jim Lawson says there'll be no asterisk beside his name.
"Absolutely not," he said. "This is quite a feat.
"To have all this come together with a horse like this that's overcome so much is just a wonderful story for us to tell and people are cheering for him. We're lucky to be in a position to promote this at a time where it's been a difficult year for the industry and everyone involved in it.
"This is something that brings tremendous excitement to our sport."
Carroll remains very aware of the historical significance of Saturday's race but admits with preparing two horses for the event, she's had little time to let it all sink in.
"I really haven't had time to do much else but be focused on what we're doing," she said. "The opportunity to win a Triple Crown, I can't really put into words what that would mean.
"It's not something that's been accomplished very often and if this horse could do it for us, it would be a huge thrill."
This report by The Canadian Press was first published Oct. 21, 2020.