MLB Off-Season Watch: Jays looking at Robertson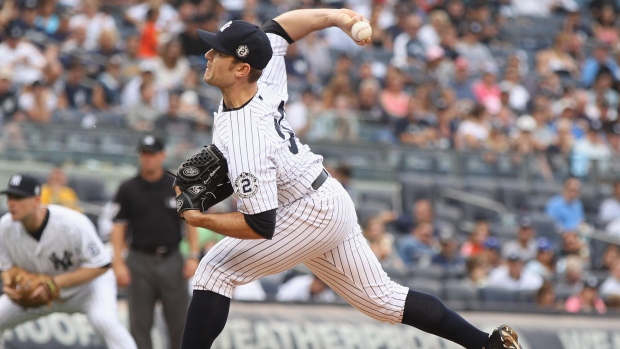 With the MLB Off-Season underway, many teams are looking to upgrade, find replacements, and make major renovations to their clubs. TSN.ca looks at the day's hottest off-season rumors and speculations.
Jays in Love
With the Casey Janssen era apparently over in Toronto, the blue birds are looking for a new hurler to take the ball in the ninth inning.
An industry source told the New York Post that the Blue Jays are "in love" with former New York Yankees closer David Robertson, who may not return to New York with the emergence of flame-throwing Dellin Betances.
Even if the attraction is there for Robertson, Toronto officials remain skeptical about the chance of acquiring the righty, while they have also shown interest in free-agent reliever Luke Gregerson.
Robertson notched 39 saves while striking out 96 batters in 64.1 innings last season.
Tu Trade him, or not Tu Trade him
The Colorado Rockies are listening to inquiries for star shortstop Troy Tulowitzki, though at this point there is reportedly nothing serious in the works.
CBS Sports' Jon Heyman reports Tulowitzki would potentially only accept a move to about six teams, which include the Yankees, Los Angeles Dodgers, Los Angeles Angels, San Francisco Giants and the St. Louis Cardinals.
The 30-year old is coming off a couple of injury-plagued seasons and also holds a contract of $118 million-plus through 2020, which ultimately might scare off some teams not wanting to take on the contract while giving up a plethora of young talent.
Tulowitzki hit 21 home runs and knocked in 52 while hitting an impressive .340 in 91 games last season.
The Chase is on
With Pablo Sandoval and Josh Donaldson recently moving to the American League East, another team within that division is reportedly hoping to retain the best third baseman currently on the market.
The Yankees are hoping to re-sign Chase Headley, whom they acquired last season. While there is mutual interest among both parties, Jon Heyman suggests the Giants might be leading the chase for the 30-year old's services as they are looking for a replacement for Sandoval.
The Miami Marlins and Houston Astros have also inquired, but it looks like it has come down to the Yankees or Giants.
Headley finished last season with a .243 average, 13 home runs and 49 RBIs between the San Diego Padres and the Yankees.