MLB Rumours: Should Jays sell Stroman, Osuna?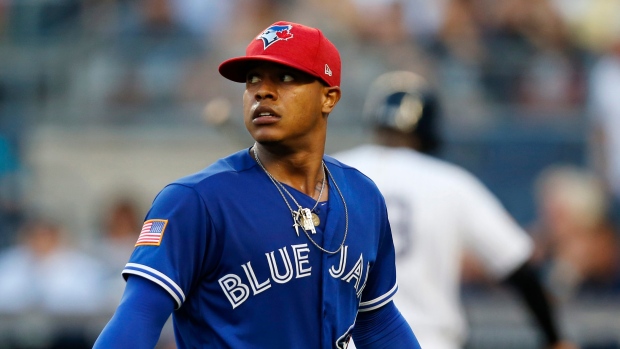 The MLB trade deadline is July 31. Before then, teams will be looking to be buyers, sellers, or possibly both in hopes of making their squads better immediately, or simply to better position themselves long term.
---
Should the Blue Jays gut their pitching staff?
If the Toronto Blue Jays front office believes the club is need of major roster changes or even a measured sell-off, ESPN's Buster Olney says Toronto should consider selling off some of its pitchers. Appearing on Naylor and Landsberg in the Morning today, Olney named pitchers Marcus Stroman, Roberto Osuna and Marco Estrada as potential Blue Jays trade chips.
Stroman has been the best arm in the Blue Jays' starting rotation this season and has performed well overall with a 3.10 earned run average and a record of 9-5. Olney says that dealing Stroman should return Toronto upper-echelon prospects. He speculates that the Houston Astros, who own the MLB's best record, would probably be interested in the 26-year-old starter as well as the New York Yankees, if the Blue Jays were willing to trade Stroman to a division rival.
An All-Star this season, 22-year-old Osuna will be eligible for arbitration next season and will become more expensive going forward. Olney says that if the Jays choose to be sellers, even small ones, it would make sense to deal Osuna as the club's chances of winning in the interim will be reduced.
Estrada has been disappointing this season, posting a 5.33 ERA, which is up from the 3.48 in 2016. The 34-year-old starter's salary isn't favourable - he's owed $4 million for the last two months of the season - but Olney thinks the Jays may be able to move the 10-year veteran because of his experience, if the team is willing to eat some money. He says Estrada could potentially fill out the back-end of a rotation for clubs looking to acquire pitching.
--
Yankees, Athletics in talks?
Fox Sports' Ken Rosenthal reports that an Oakland Athletics scout recently attended a Charleston RiverDogs game, the New Yankees Single-A affiliate, presumably looking at Bronx Bombers' prospects. The last-place A's currently sit at 42-51 and are 20 games out of first place in the American League West. With very slim playoff hopes, Billy Beane's team could consider selling off its assets. Rosenthal believes that starting pitcher Sonny Gray and first baseman Yonder Alonso would fit in nicely on New York's roster.
The 27-year-old Gray is 14-5 on the season with a 3.72 ERA. While Alonso, 30, is batting .268 with 33 RBIs. His 21 home runs are a career-high.
--
Should Orioles blow it up?
Olney writes that the Baltimore Orioles could benefit greatly from rebuilding their roster. If the O's do elect to go this route, then Olney suggests that the club at least listen to offers for two of its biggest names in Manny Machado and Adam Jones.
Machado has 18 homers and 47 RBIs at this point, but he's batting a career low .238. Machado will be eligible for free agency after the 2018 season, and according to Olney, it is not very likely that Baltimore will be able to re-sign the 25-year-old star third baseman before he gets a chance to test the free-agent market.
The soon-to-be 32-year-old outfielder Jones is also eligible for free agency after 2018. And although Olney points out that there isn't currently much of a market for outfielders, he says it would make sense for the Orioles to try and move all of their experienced players if they truly want to rebuild.