Modern golf fashion looks good on or off the course
Presented by:

These days, not only have the major golf brands created great fashion that can be worn in almost any situation on or off the course, but designer labels have made a foray into the sport too, writes TSN's Bob Weeks.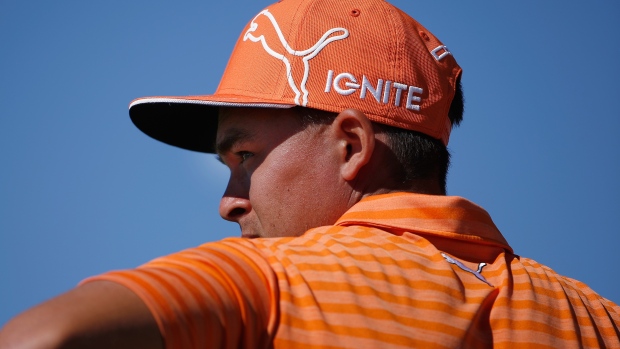 There was a time when golf fashion was considered an oxymoron. The clothing worn to play the game was reserved for the golf course and nowhere else.
But these days, not only have the major golf brands created great looks that can be worn in almost any situation on or off the course, but designer labels have made a foray into the sport too.
In 2016, one of the most innovative changes to golf wear comes from Nike, which it's calling the modern revolution of the polo.
Of course polo shirts have been the staple of golfers since players ditched the shirt and tie back in the days of Old Tom Morris. But for most of their existence, polos have been pretty much the same design. Oh, there have been different fabrics, colours, textures and even sleeve lengths, but Nike has created a revolutionary new look, headed by new collars, which take the traditional polo to a new level.
The first offering is the Fly Blade collar, which is a tapered, single-layer ribbed collar that's being worn by Rory McIlroy. It's simple, clean and stylish.
The second is the Fly Roll collar, which is a sort of new-age shawl collar. It rolls over but without the peaked ends. Instead, it tapers to an end at the front opening.
Both these shirts come in a more tapered fit and feature snaps instead of buttons. They also wear better after washing, meaning the end of that bacon-collar look with bumpy waves with frayed tips. And less material around the collar also means less distraction on the course.
This is just part of Nike's push to try and modernize the overall look of golf clothing, to bring it in line with other sports and day-to-day styles.
"The thing that's always bothered me about golf," said Patrick Rodgers, a second-year PGA Tour player who wears Nike," is that it seems really stuffy. You go to a basketball court and there are not a whole lot of rules and regulations. And the thing I hated about golf was that it just seemed like it was inaccessible for kids. It didn't seem that the masses of kids wanted to play it because it wasn't the coolest sport out there. I feel like the apparel had a lot to do with that."
That's something that Nike's trying to change throughout its 2016 line that includes tights and high-top chukka shoes.
No less innovative is the new Ultimate pant and Ultimate short from adidas. These are designed to offer some breathability (good for those stinking hot days), some stretch (good after your post-game libations), and they're water (or beer) resistant, so spills can be wiped right off.
The pants come in three styles: a chino, a dot plaid and a tapered version.
Under Armour is a relatively new player in the golf category but it has already become exceptionally popular in large part to Jordan Spieth. This year's polos include the UA Playoff, which has a variety of colours and styles, as well as a four-way stretch, a 30+ UPF protection built in, a moisture transport system to wick away sweat, and an anti-odor technology to help stop the growth of odor-causing microbes.
One golfer most notable for his fashion is Rickie Fowler, who made orange his own. While he's drifted away from dressing in all orange on Sundays (although his legion of fans still do), he hasn't strayed far from being bold in his choices on the course.
His clothes are from Puma, which offers up innovative technology as well as great looks. The PWRCOOL technology is one example. It works to keep your body cool as temperatures climb. There's also sun protection, moisture wicking and great fit that gives room to swing.
And if Rickie's choices are for your liking, you can go with the styles of Graham DeLaet, who also wears the gear.
Those are just a few of the golf-specific lines you'll find at Golf Town, but the designer labels of J. Lindberg and Hugo Boss are there, along with the California-relaxed look of Travis Mathew.
And, in the full belief that golfers are athletes, Golf Town also offers training gear at many of its stores so you can have one-stop shopping and get your clothing for the gym and the course in a single excursion.
Fit, fashion and function all add up to make your choices for what you wear on the course a little more involved, but with a wonderful outcome.